I know, you may have been looking for my Week 14 waiver-wire article, but I passed on it this week as the fantasy football playoffs are in full swing and I wanted to provide something to those who weren't fortunate enough to make the playoffs.
The beauty of daily fantasy sports – you get a fresh start every week!
So if you're still looking to scratch that fantasy football itch, I'm here to assist with some bargain play options in DFS from a DraftKings perspective. Now these plays aren't what you should build your entire lineup around, but rather bargain pieces that you can surround with those stud players that get the job done on a weekly basis to help you win some money.
So let me start by helping you build a winning week!
Dak Prescott, Quarterback, Dallas Cowboys ($5,600)
Last week was not the shootout we were hoping for when Prescott was taking on the New Orleans Saints in front of a hometown crowd. This week he get's a home matchup against division rival Philadelphia. The last time Prescott played the Eagles he put up 21.7 points and that was as Amari Cooper was just starting to get acclimated to the team. The playoffs are in line for the Cowboys and Prescott is ready to take on the challenge. In a game that should be a back-and-forth battle, Prescott should perform well at this value.
Jeff Wilson Jr., Running Back, San Francisco 49ers ($3,800) 
There were two valued running backs at the $3,800 price and I really like both, but I can't turn down the 23 total touches that Wilson got last week. Opportunity knocks and this is a good chance to put Wilson in your lineup against the Broncos. This is a game I'm not worried about if the 49ers are leading or trailing. He can run, he can catch, he can go into your flex. It's as easy as that
Jaylen Samuels, Running Back, Pittsburgh Steelers ($3,700)
Too bad he's not eligible for the tight end position – ala Yahoo Fantasy Football leagues – or he would be an "elite" option at a Black Friday price. James Conner is out with a leg injury and I have this feeling that in Pittsburgh it's just plug in the next running back and see what he can do. He gets the Oakland Raiders who held Spencer Ware in check last week, but I'm not concerned as Samuels proved to be a dual threat during Sunday night's loss to the Chargers. Coach Mike Tomlin said it will be a committee approach with Steven Ridley to spell Samuels, but to me the potential upside is too great to pass. Make sure you get Samuels into a lineup.
Get signed up for our latest giveaway – a signed Davante Adams mini helmet – sponsored by Pristine Auction!
Chris Godwin/ Adam Humphries, Wide Receiver, Tampa Bay Buccaneers ($4,900)
With DeSean Jackson being out last week, it was Godwin who went off for five catches, 101 yards and a touchdown on six targets. Lets not forget though, it was Humphries that led the team with nine targets, catching seven of them for 61 yards. Marshon Lattimore seems to be a lock to trail Mike Evans this week, so now it's just trying to understand who the No. 2 receiver will be between Godwin and Humphries. With the way Humphries has been playing, I would choose him over Godwin, but I also understand if you want Godwin at the same value. Go with whoever you feel more comfortable with.
Courtland Sutton, Wide Receiver, Denver Broncos ($4,500)
The Broncos recently suffered a major loss at the wide receiver position as Emmanuel Sanders went down with a ruptured Achilles and was immediately placed on IR. Sutton is now the WR1 in Denver and I'm looking for him to live up to the billing against San Francisco this week as he's a phenomenal talent at the position. No one is going to mistake Case Keenum as one of the league's best quarterbacks, but Sutton's skill set should help make up for the deficiencies Keenum has. If you need a bargain WR, feel comfortable this week with Sutton.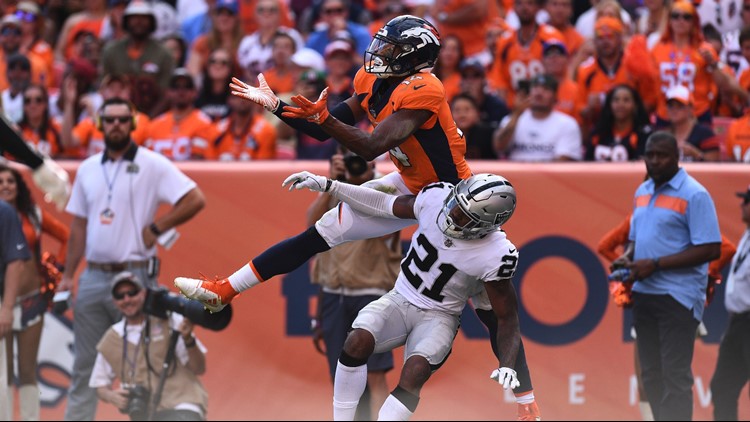 Zay Jones, Wide Receiver, Buffalo Bills ($4,200)
With the recent releasing of both Kelvin Benjamin and Andre Holmes, Jones is the clear WR1 in Buffalo and hopefully he can pick up where he left off last week (4-67-2). He was in the Millionaire Maker Lineup last week and should be inserted into lineups again this week when you can. The last time Jones went up against the Jets he put up a 8-93-1 stat line, and with the way Josh Allen is playing right now, you can definitely feel confident with Jones in your lineup. If you don't have the cap room to get Jones into your lineup, don't be afraid to use fellow teammate Robert Foster ($3,300) as a sneaky bargain play.
David Njoku, Tight End, Cleveland Browns ($3,900)
I get it, Njoku has been having an up and down season, especially last week finishing with just eight yards. It's nothing to brag about but he gets a Carolina defense that has been having a hard time defending the tight end. Sure we cringe when putting him in our lineup, but he was targeted five times in Week 12 and six times in Week 13, so the volume is there. All he needs to do in order to return value at this price point is get you a touchdown, and I like the odds of that happening this week.
Browns D/ST ($2,200)
Wow, start the Browns DST? Sure! Did you happen to see Cam Newton throw the ball last week? Something isn't right with him and this should be a good time to take advantage of the opportunity. No Greg Olsen and we don't know which version of Devin Funchess will show up, so that leaves Christian McCaffrey and Curtis Samuels as the top Panthers' offensive playmakers to take away. I'm sure these two will have fine games, but the potential sacks and turnovers that Cleveland may be in store for here could be very beneficial for the Browns' defense.
Be sure to check out the latest episode of the Loaded Box Podcast as the guys get you set for the first round of the fantasy football playoffs and provide their weekly bargains, stacks and advice for those daily fantasy lineups!
Ryan Miner is a featured blogger for the Loaded Box Podcast. Check out his article archive and find more from the Loaded Box on Twitter & Facebook