The daily fantasy stack battle competition evened up last week as Ben's Andrew Luck/T.Y. Hilton stack outperformed Ryan's Eli Manning/Odell Beckham Jr. selection, evening the series at a win apiece.
We're now set for the third week of this matchup, so read through both opinions on this week's selections and be sure to vote for the stack that you prefer by clicking on the tweet below!
Here are this week's nominees:
Ben's Stack:
Case Keenum ($6,900 FanDuel; $5,200 DraftKings) / Emmanuel Sanders ($7,000 FanDuel; $6,300 DraftKings)
The Bengals, Denver's opponent this week, are a complete disaster on the defensive side of the ball. Now with quarterback Andy Dalton out for the rest of the year, I think the entire team is going to take dive for the last five weeks of the season.
Benefiting this week is Keenum, Sanders and the rest of the Broncos' offense. As the Bengals rank second to last in fantasy points allowed to quarterbacks, look for Keenum to finish between 20-25 points on FanDuel, providing solid return on his $6,900 price tag.
He's averaging just 14.7 FanDuel points per game this season, but he's had a string of difficult matchups recently facing the sixth-ranked Steelers, ninth-ranked Chargers and the eighth-ranked Texans over the last three weeks. This week should be a breeze after facing that stiff of competition, as look what quarterbacks have done recently against the Bengals' defense.
Baker Mayfield: 26 points
Lamar Jackson: 17 points
Drew Brees: 29 points
Jameis Winston / Ryan Fitzpatrick: 32 points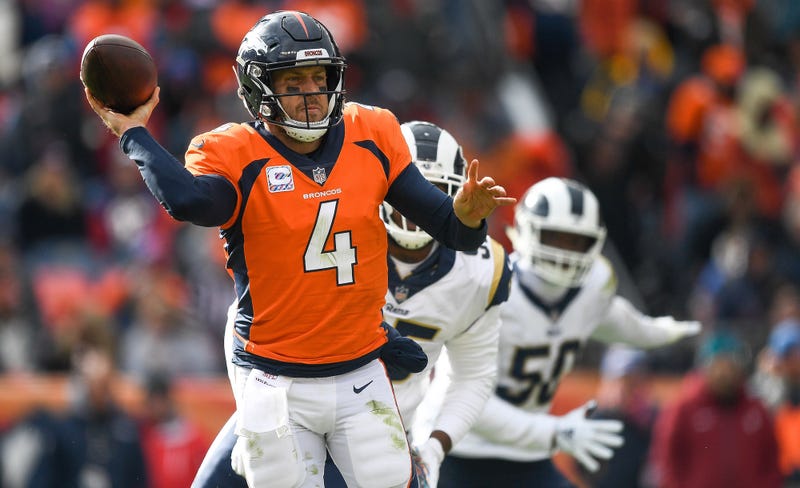 Sanders finally had a breakout game last week after posting eight or less points each of the previous three weeks. However, despite that rough stretch of games, Sanders is still averaging over 14 FanDuel points per game including reaching double digits in six of the season's first seven games.
I expect the targets to come often and early for Sanders as the Broncos will look to jump on the Bengals from the opening kickoff. After fetching 12 targets last week, his second-highest total of the season, the Broncos would be smart to get Sanders double-digit targets again this week to fully take advantage of this weak secondary.
The danger of using Keenum/Sanders would be if the Broncos get out to a big lead by halftime, similar to what the Browns did to the Bengals last week, and then basically work the clock in the second half. However, even though the Browns passed the ball just four times in the second half in last week's game against the Bengals, Mayfield still finished as the fifth-high scoring QB on FanDuel.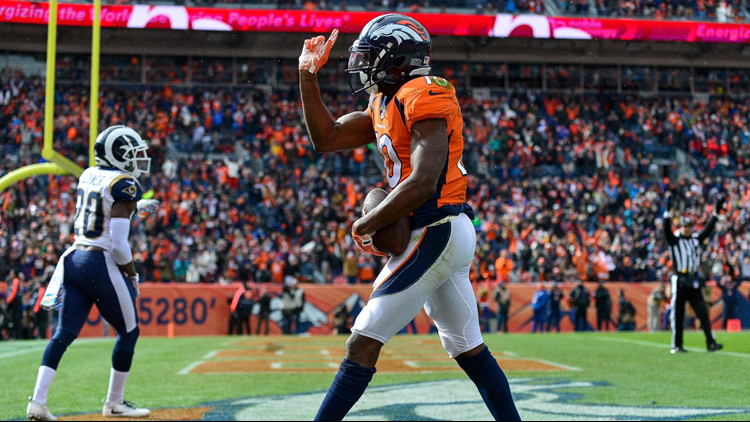 Using the bargain stack of Keenum/Sanders allows you the flexibility of using some high-priced studs with juicy matchups including Todd Gurley who gets the Lions' 19th-ranked rush defense and Christian McCaffrey who is coming off a 41-point FanDuel performance and faces a Buccaneers' defense that loves giving up points in bunches.
Sample FanDuel Lineup:
QB: Case Keenum, $6,900
RB: Todd Gurley, $9,800
RB: Gus Edwards, $6,400
WR: Emmanuel Sanders, $7,000
WR: D.J. Moore, $6,400
WR: Josh Reynolds, $5,800
TE: Cameron Brate, $4,900
FLEX: Christian McCaffrey, $8,800
D/ST: Kansas City Chiefs, $4,300
Get signed up for our latest giveaway – a signed Davante Adams mini helmet – sponsored by Pristine Auction!
Ryan's Stack:
Andrew Luck ($8,200 FanDuel; $5,800 DraftKings) / T.Y. Hilton ($7,600 FanDuel; $6,000 DraftKings)
Now this stack is one I am excited to write about this week. I know Ben and I have already done a stack with Luck and Hilton, but this value is just too good to pass up. How did the price of these two not go up? How?
Luck has thrown 3-plus touchdowns every week since Week 4. Yes, you read that right. Why is he not up there with the likes of Cam Newton? Luck is averaging 27.1 DraftKings points since Week 4, this is just too easy in my opinion.
The same goes for Hilton. Last week he was $6,500 on DraftKings, this week he drops to $6,000. Why? Because of Jacksonville? The Jaguars aren't the shutdown defense that they were last year.
In Week 10, Hilton was able to put up 77 yards against these Jaguars and now Jack Doyle is on IR and Marlon Mack is coming back from a concussion. I see this being a pass-heavy matchup and Luck will easily pass more than his 29 attempts the last time they played. I expect Luck to benefit here, and not only will he return the value, but Hilton as the 14th-most expensive WR in DraftKings is a must.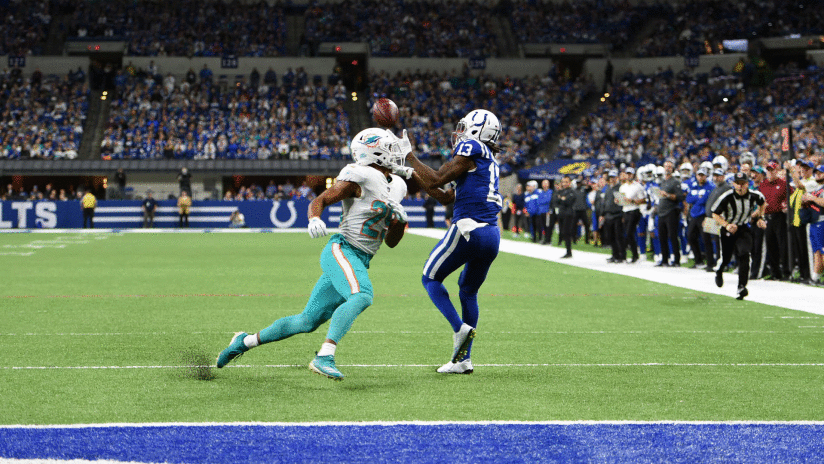 This stack gives me something fun that I want to do for a "cash" lineup. This starts with Todd Gurley. He is the most expensive player on the slate at $9,300 and that's fine with me. This is a winning strategy to start out with in cash lineups because getting the Detroit Lions in Detroit, a defense that just gets smoked by the run, is going to get smoked by Gurley himself. He should easily get over the 30 DraftKings points needed at his price point.
I also want to continue getting parts of that Rams/Lions game as I feel its going to be a nice game for Jared Goff. A speedster on the outside that the Lions won't be able to slow down is Robert Woods. He won't have Darius Slay on him, and I prefer him to his teammate at wide receiver in Brandin Cooks who is $3,000 more expensive.
Same game, just the other side, I had to go Kenny Golladay. Marvin Jones Jr. is on IR, so who is Matthew Stafford going to throw to? Babytron of course. Plus Stafford will be throwing a lot to keep up in this game, making Golladay a viable option.
Now these values are just too easy. I am glad I waited to hear the news of Kareem Hunt and his release from the Kansas City Chiefs. Not happy about the situation of what he did and you should never do that to a person at all, but you're not here for that, you're here to win money. An automatic play here is Spencer Ware. He is an immediate RB1 for this offense – and at $4,000 – he is an easy plug into my RB2 slot.
Gus Edwards is another plug in at my flex. He gets the Atlanta Falcons who are one of the worst against the run. As long as the Ravens can stay in the game, Edwards should benefit.
And really? Cameron Brate at $3,700? I'm not going to pay up this week for a tight end and Brate should easily return value. All you need is a touchdown.
Sample DraftKings Lineup:
QB: Andrew Luck: $5,800
RB: Todd Gurley: $9,300
RB: Gus Edwards: $4,800
WR: T.Y. Hilton: $6,000
WR: Robert Woods: $6,900
WR: Kenny Golladay: $6,700
TE: Cameron Brate: $3,700
FLEX: Spencer Ware: $4,000
DST: Chiefs: $2,500
Be sure to check out this week's episodes of the Loaded Box Podcast as the guys preview the upcoming fantasy football week with their daily fantasy sports stacks, bargains and advice to go along with their weekly against the spread gambling advice!