After completely destroying Ben last week in the daily fantasy stack battle, Ryan is looking to defend his title as we turn our attention to Week 12 in the NFL.
Take a second to read through both opinions and be sure to vote for the stack that you prefer for Week 12. Click on the tweet below to vote!
Here are this week's nominees:
Ben's Stack:
Andrew Luck ($8,400 FanDuel; $6,400 DraftKings) / T.Y. Hilton ($7,500 FanDuel; $6,500 DraftKings)
I'm a big fan of this stack this week – obviously since I'm electing to use it out of all the possible options this week – but you're going to have to get creative with some bargain plays if you use it since Luck is the second-most expensive quarterback while Hilton is sixth-most expensive wide receiver.
Luck has been on an absolute tear this season and is on quite the heater right now throwing for at least three touchdown passes in the last seven games. He's averaging nearly 23 FanDuel points per game and now gets an enticing matchup at home against the Dolphins who rank just 19th against opposing team's QB's this season.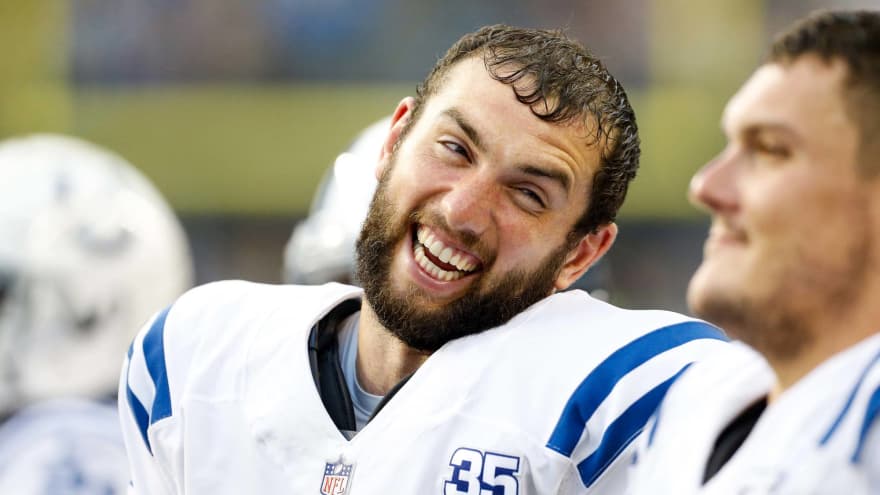 An overlooked aspect regarding using Luck in your DFS lineups this year is the fact that even though Marlon Mack and the Colts' run game has been better than expected, it hasn't come at the cost of production from Luck and the pass game. So even though Mack should find great success against the Dolphins' 30th-ranked run defense, expect Luck to get his as well.
Hilton's production has been a little spotty this season, which has been the norm for Hilton throughout his NFL career, but he should have ample opportunities to build off his 9-catch, 155-yard two touchdown performance last week.
The Dolphins have struggled to find consistency at the cornerback position outside of Xavien Howard this season, and he rarely shadows receivers for an entire game. Hilton will have a couple of opportunities to take advantage of some deep throws in this one, and even if Howard is matched up against him more often than not, Howard doesn't quite have that elite-level cornerback status yet where you avoid using receivers he's facing.
Earlier I talked about getting creative with some bargain plays in order to afford this stack, so here are a couple of potential targets.
Duke Johnson, Gus Edwards, Tyler Boyd and Cameron Brate are all players under $7,000 that I believe should provide solid return on investment.
Johnson won't likely see much action as a traditional running back, but has got the job done as a pass catcher since the Browns made their coaching change. Edwards is in line to receive the bulk of the carries for Baltimore this week against a poor Raiders' defense, especially if Alex Collins doesn't play. Boyd may take a bit of a backseat to A.J. Green if he indeed returns this week, but Boyd was actually more productive when Green was healthy, so I see Green's return as a good thing for Boyd. And Brate is now the only tight end competing for targets in the Buccaneers' offense now that O.J. Howard has been placed on IR. Plus he has his bestie, Jameis Winston, slinging him the rock.
Using these bargains in FanDuel still allows enough leftover cap space to afford Antonio Brown and either Christian McCaffrey or Odell Beckham Jr. (take your pick).
Sample FanDuel Lineup:
QB: Andrew Luck, $8,400
RB: Duke Johnson, $5,600
RB: Gus Edwards, $5,300
WR: T.Y. Hilton, $7,500
WR: Tyler Boyd, $6,800
WR: Antonio Brown, $8,500
TE: Cameron Brate, $4,400
FLEX: Christian McCaffrey, $8,400
D/ST: Jacksonville Jaguars, $4,800
Get signed up for our latest giveaway – a signed Davante Adams mini helmet – sponsored by Pristine Auction!
Ryan's Stack:
Eli Manning ($6,700 FanDuel; $5,700 DraftKings) / Odell Beckham Jr. ($8,500 FanDuel; $8,800 DraftKings)
Last week I chose to go against the Eagles' defense with Drew Brees and Michael Thomas and it went well, so this week I'm continuing to attack that Eagles' defense and go with Eli Manning and Odell Beckham Jr.
Manning is the fifth-most expensive quarterback for the Sunday slate, which is fine with me as the cheapest "starting" QB is only $1,100 less. Since their Week 9 bye, Manning as thrown five touchdowns and no interceptions. Manning has the weapons to succeed at his disposal, and with facing a banged up Eagles' defense, he should be able to throw all over them.
OBJ on the other hand is the most-expensive wide receiver for the week coming in $100 more than Antonio Brown and $1,100 more than the third-most expensive wide receiver, Mike Evans.
You may be nervous to use OBJ this week considering last week he was targeted a season- low four times, but keep in mind that prior to last week he's been target no less than nine times and is averaging over 11 targets a game.
He gets a matchup against an unhealthy defense, he is playing at home, and he should easily return the $8,800 that you are paying up for him on DraftKings.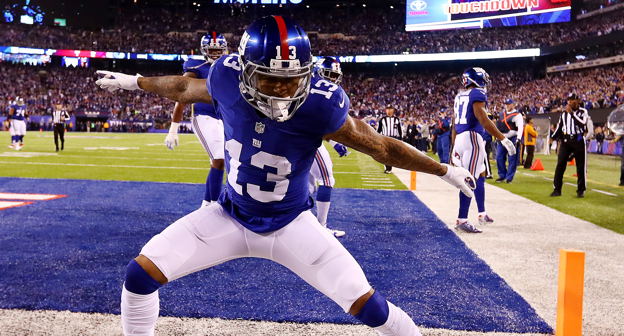 I wanted to build a stack that looks stacked this week, yet also interesting with a couple of bargains, so I went with Adam Humphries and Gus Edwards.
Humphries isn't a "bargain" play here, he's a steal. When Jameis Winston is in at QB, Humphries tends to feast and he's also facing a banged up 49ers' defense which made him an easy WR3 for me to get into my lineup.
As for Edwards… is he risky? Yes. Is he worth the risk? Absolutely.
The undrafted rookie out of Rutgers gives the Baltimore Ravens a north-south runner that they have been looking for and someone to pair with dual-threat QB Lamar Jackson. With Joe Flacco likely out again this week, plus a juicy matchup against the Oakland Raiders, I can see this Jackson/Edwards scheme working again and being worth the cheap gamble it represents.
One player I couldn't pass up this week and had to tell you guys about is Rob Gronkowski. I know he hasn't been the Gronk of old, but this is the cheapest he has been all year and if he doesn't get it done this week against the Jets, I don't think he'll get it done for your DFS lineup for the rest of the season.
Sample DraftKings Lineup:
QB: Eli Manning, $5,700
RB: Nick Chubb, $6,300
RB: Marlon Mack, $5,500
WR: Odell Beckham Jr., $8,800
WR: Jarvis Landry, $5,900
WR: Adam Humphries, $4,000
TE: Rob Gronkowski, $5,100
FLEX: Gus Edwards, $4,400
DST: Jaguars, $4,000
Looking for more daily fantasy stacks, bargains and advice this week? Check out our NFL Week 12 DFS Preview Podcast for more daily fantasy talk and be sure to catch our Against the Spread Gambling Advice Podcast as we give our thoughts on which games to bet on this week in the NFL!