Written by Mikey Ostrowski
Season-Long record: 22-10 (69%) on Start Ems, 21-11 (66%) on Sit Ems
Notable teams on week 4 BYE: Panthers, Redskins
Quarterbacks:
Start of the Week: Matt Ryan (ATL)
Ryan gets a juicy matchup against the Bengals after putting up over 40 fantasy points in week 3. The Bengals have been torn apart by quarterbacks, most recently in week 3, when Cam Newton rocked them with just under 30 fantasy points. Ryan has a full arsenal at his will and can be absolutely unstoppable. Julio Jones is covered? Throw it to Calvin Ridley. Oh, the secondary is too crowded? Dump it to Tevin Coleman. I love Ryan's matchup this week. He's in for a VERY solid fantasy week.
Start: Philip Rivers (LAC)
Listed as a Sit Em last week, Rivers still showed up with 18 fantasy points (but in all fairness, I said he's a sit only for the fact that he'll be held to less than 20 points in week 3). Still, with how the QB position has been scoring in 2018, 18 points is indeed sit worthy. This week, however, Rivers has a battle with the very hobbled 49ers. I would expect the Chargers to go up big and early, making Rivers a surefire Start Em this week.
Start: Andy Dalton (CIN)
I already talked about Matt Ryan, now let's talk about the other quarterback in this matchup: Andy Dalton. This game has shootout written all over it (spoiler alert… there will definitely be more Bengals and Falcons listed as Start Ems in this article) and Dalton should be able to reap the rewards. With the emergence of Tyler Boyd and the seeming resurrection of Tyler Eifert, Dalton (much like Ryan) has a full arsenal to play with and should show up guns-a-blazing to this shootout matchup.
Start: Eli Manning (NYG)
Manning lost Evan Engram last week and it looks like he will be without him again this week. However, the Saints have been horrific against quarterbacks this season, allowing two of the three QBs they have faced to put up 40+ fantasy points. Eli will definitely not be the third quarterback to do that, but the matchup is intriguing. If you have a guy on a BYE or if you lost someone to injury (i.e. Jimmy G), Eli could be the streaming option that you need.
Sit of the Week: Marcus Mariota (TEN)
The Eagles have a pretty decent defense. The Titans have a well below-average offense. The Eagles have good ball-catchers. The Titans have well below-average ball-catchers. But what do they have in common? They both have a quarterback who ended up on my Sit Ems for week 4. I don't think I have to tell you this, but Mariota cannot be trusted this week against Philly. In fact, I think the whole game will be low scoring, and in all honesty, pretty shitty for fantasy purposes.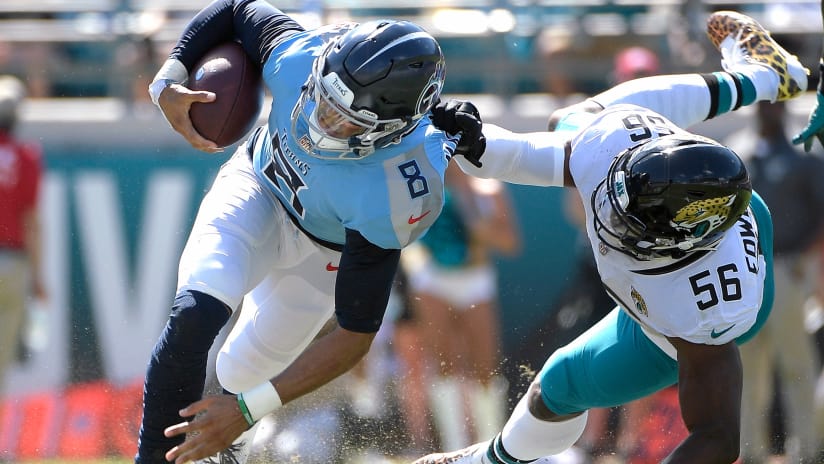 Sit: Carson Wentz (PHI)
Continuing off of that, the Philly vs Tennessee game should be the lowest scoring game of the week. They're both good on the defensive side of the ball and I just can't imagine much offense going on in this game. It's nothing against Wentz, I just don't think the game script will have him slinging the ball around all game. To all the Eagles fans out there… you'll hate me for this, but I genuinely think you can start Eli Manning over Carson Wentz this week.
Sit: Tom Brady (NE)
Miami's secondary has been… a surprise to say the least this season. I don't necessarily picture Brady "struggling" against them, but I think it's going to be a very close and conservative game. Is Brady the greatest QB of all time? Yeah (but Patrick Mahomes may have something to say about that in a few years). Will the Pats break the Dolphins win streak? You bet your ass they will. Will Brady produce solid fantasy numbers? Doubtful. Start him if you need to, sit him if you can.
Sit: Jared Goff (LAR)
Goff is coming off of a huge week against the Chargers (after making me eat my words as I called him a week 3 sit), but I am sitting him in week 4. He faces off against the Vikings, who will be looking for redemption in a big way after getting completely humiliated by the Buffalo Bills. Their secondary should be lock-down on Thursday night and should be able to hand out some hardship to Goff. Maybe I'm a hater. Maybe I'm a psychic. Only time will tell.
Running Backs:
Start of the Week: Lamar Miller (HOU)
I genuinely liked Miller as an NFL running back and I think this week could be a big one for him. The Texans have a matchup against the Colts and should finally be able to tag their first win of the season. With that being said, I can see Miller getting his normal amount of work the first half, but an abundance of work the second half with the Texans up in the game. I was buying Miller as an RB2 with big upside this offseason and week 4 could be the week that the upside comes out.
Start: Tevin Coleman (ATL)
Coleman hasn't had a game under 11.5 fantasy points this season and should draw the start again in week 4 as Devonta Freeman finishes healing his injury. Coleman should be in line for a huge game against Cincinnati, who surrendered close to 200 yards rushing to Christian McCaffrey last week. The game, as I have mentioned before, has shootout written all over it and everyone on each of these offenses could be in line for great fantasy games.
Start: Giovani Bernard (CIN)
Speaking of which, I'm starting Gio Bernard this week too. (DISCLAIMER: Joe Mixon may actually be a machine, like a literal machine, and may come rejoin his team in week 4. Bernard is only a starter if Mixon is not healthy enough to go) Bernard had a decent amount of success last week, and being that he's a decent runner and is a great receiver out of the backfield, you can look for him to find success early and often against the Falcons.
Start: Kerryon Johnson (DET)
The 100-yard rookie, Kerryon Johnson, is a high-upside start in week 4. He faces off against a Dallas defense that is "ehh" against the run. Plus, with at least three notable running backs on a BYE and 10+ running backs injured for the upcoming week, you could do a lot worse than Johnson. Carry on with Kerryon my friends!
Sit of the Week: Jay Ajayi (PHI)
I said it before and I'll say it again: Jay Ajayi is a touchdown-dependent running back. Tennessee hasn't allowed more than 68 yards to a single running back, nor have they allowed a single rushing touchdown in the first three weeks of the season. Being that he is touchdown dependent and hasn't passed more than 62 yards in a game yet this season, I'm counting him as a sure bust candidate for week 4 and will be sitting him in all of my leagues… Just kidding, I didn't buy a single share of him this year. I am NOT a fan of Ajayi most weeks.
Sit: Alex Collins (BAL)
Collins had a good game last week but could hit a wall in week 4 as the Ravens face off against the Steelers in what should be a very high-tension game. I think the Steelers will go up early in this one, which will force the Ravens to rely on their passing attack rather than the ground game. This makes Collins no better than a flex play in week 4. You can stick him on the bench.
Sit: Jordan Howard (CHI)
On paper this is a great matchup as the Buccaneers have surrendered the sixth-most fantasy points to running backs in 2018. However, not a single runner (this includes Alvin Kamara and James Connor) has recorded more than 61 rushing yards against them this season. All of the damage has been done through goal-line touchdowns and check-down passes to the running backs. Howard is definitely not the third-down back in Chicago, and is averaging less than four targets a game. I would put Howard in the "touchdown dependent" list in week 4.
Sit: LeSean McCoy (BUF)
McCoy may now officially be a player to fade in 2018. Chris Ivory looked great last week filling in for McCoy, and even if McCoy plays this week he should lose some work to Ivory. He is also still dealing with the injury and is currently being monitored extra closely by the NFL after his offseason allegations. McCoy can be sat this week and potentially for the rest of the season.
Wide Receivers:
Start of the Week: Emmanuel Sanders (DEN)
Sanders has been on a tear. Kansas City doesn't seem to have much of a defense. These two worlds are colliding Monday night and it should spell out something beautiful for Mr. Sanders. He is a must-start and has a legitimate chance to be the WR1 in week 4.
Start: Allen Robinson (CHI)
Robinson has not been on quite the tear that Sanders has, but he does draw a matchup that is just as easy. Chicago faces off against the Buccaneers, a team that hasn't had any sort of defense through the first three weeks of the season. This becomes a very winnable game for Chicago and they should rely heavily on Robinson to get their name in the win column.
Start: Sterling Shepard (NYG)
WR2s have had a tremendous amount of success against the Saints so far this year. Like, seriously they've all had 15 to 40 points against the Saints. That makes Shepard a very sneaky play in week 4. Plus, the Giants will be without Evan Engram which will open plenty of targets for Shepard. You could honestly fire him up as a low-end WR2 or WR3 with amazing upside.
Start: John Brown (BAL)
The Steelers have been having a major issue in their secondary which means this week could yet again be the John Brown show for Baltimore. He's been excellent, gathering over 13 fantasy points in each of his first three weeks, and could be in line for his first 20-point game of the season. I would expect Baltimore to really lean on him and Michael Crabtree in this one. Brown should be all systems go in your fantasy lineups!
Sit of the Week: Robby Anderson (NYJ)
Anderson will most likely draw coverage from Jalen Ramsey in this one and he's going to get absolutely annihilated by him. He was listed as a start last week and managed to get owners less than five points and I would honestly expect another down-in-the-dumps showing from him. Some people have been using him as a WR3 but I'm here to tell you to use him as absolutely nothing this week.

Sit: Brandin Cooks (LAR)
Cooks has been doing big things to start the season but has a stiff matchup against the Vikings' brutal secondary. He's going to be drawing the top coverage and won't have much room to produce. Oh by the way, the Vikings haven't allowed a single receiver to top 65 yards yet this season, which could be very dangerous for the floors of the Rams' receivers. Proceed with caution, fantasy fans, Cooks could be a bust this week.
Sit: Josh Gordon (NE)
I know everyone is excited about the Tom Brady – Josh Gordon combo, but I think the hype has to wait at least another week. He's still working through an injury and is inexperienced with the Patriots' playbook. I think that Brady and him could be a very special duo in the NFL, but I just can't see it coming to fruition in Gordon's first week with New England. Stash him on your bench for another week or two.
Sit: Amari Cooper (OAK)
Cooper is the definition of boom-or-bust and I think this week is trending in the bust direction. The Raiders are facing off against a revitalized Browns team that could spell trouble for them. I would expect Cooper to continue to draw top coverage and should be kept in check the majority of the day. Like I said, the dude is boom-or-bust. If you want to take the risk, don't let me stop you… but I would highly advise against starting him this week.
Tight Ends:
Start of the Week: O.J. Howard (TB)
I expect Chicago to be really tough on the Buccaneers… but that could be a great thing for Howard. The Bears should rush the hell out of Ryan Fitzpatrick, which could force him to target Howard more than he normally does. I genuinely think Howard is in line for a very high-volume day.
Start: David Njoku (CLE)
Okay. If Njoku doesn't finally show up I'm going to blow a gasket. He was a Sit Em last week for me (which was correct), but I did mention that he's got some real potential whenever it is that Baker Mayfield takes over the offense (what a coincidence that it was last week). I think Njoku could be a legitimate TE1 with Mayfield at the helm and this could finally be Njoku's breakout week. For the love of god, Njoku, score a damn touchdown this week!
Start: Tyler Eifert (CIN)
As mentioned a million times earlier in this article, the Bengals are facing off in a potential shootout match against the Falcons. Eifert saw eight targets last week and that trend should continue this week. We already know that Eifert can be a second-tier tight end, now it's just matter of how long it takes for him to regain that status. Last week could've been the start of something beautiful.
Start: Austin Sefarian-Jenkins (JAX)
I've always been a fan of Sefarian-Jenkins, and he faces off against his former team this weekend. I always like the "revenge game" players from a fantasy perspective, and I could see this game being a game that he becomes heavily involved in. If your tight end is on a BYE, hurt, or just being inconsistent, give Sef-Jenkins a chance this week.
Sit of the Week: Jonnu Smith (TEN)
He hasn't seen much usage after Delanie Walker went down with a season-ending injury in week 1, and I wouldn't expect that to change anytime soon. Not only would I call him the sit of the week, but I think he can be dropped (if he was ever added) in all leagues across the board. He gets a big negative rating from me.
Sit: Kyle Rudolph (MIN)
It's nothing against Rudolph, I just think this game won't be in his favor. The Rams are playing without their star cornerbacks, meaning Stefon Diggs and Adam Thielen could be in for even bigger roles than they usually get. I don't think Rudolph will be in the game script all that much and should be treated as a touchdown-dependent tight end for week 4.
Sit: Jack Doyle (IND)
Doyle should be back from injury this week but has shown no real sign of being a contributor on the Colts' offense. Ever since Eric Ebron got there, Doyle has seen much less usage than he did last year. I've seen him listed as a start in other articles this week, but I'm going against the tide. Sit Doyle this week, you'll be glad you listened to me.
Sit: Jesse James (PIT)
Jesse James is now officially useless. Vance McDonald is back and will get the large majority of tight end snaps. The Steelers are stacked and don't use too many two-tight end formations, so I think it'd be safe to say that you can bench, or even drop, Jesse James this week.
For more fantasy football discussion for Week 4 in the NFL, check out the latest episode of the Loaded Box Podcast as the guys talk daily fantasy sports stacks and bargains and give out their weekly against the spread gambling picks!
Mikey Ostrowski is a blogger for the Loaded Box Podcast.  Check out his article archive and find more from the Loaded Box on Twitter & Facebook