Written by Mikey Ostrowski
Week three had way too many injuries. We lost Christian McCaffrey and AJ Brown for a few weeks and had to play without Tee Higgins and Diontae Johnson… I'm sure there are more… I'm just sour because I roster all four of those guys and lost my two main games because of it.
Oh well, it's a long season, we can afford a loss or two here and there. However, since those injuries have started to bite us all on the ass, knowing who to start and who to sit is only going to become more important. The game gets much more difficult when your studs go down and you have to find those injury fillers. Not to mention the fact that we've got BYE weeks beginning in only two weeks. Sheesh, we've got our work cut out for us.
Last week was my first "meh" week of the year when calling starts and sits as I went (8-6-2) on starts and (7-8-1) on sits (gotta call myself out for a rough performance), but we're back this week and ready to rebound! 
Season-Long Record ("Ties": I am counting as "no-contests" for players injured either right before or in the very early stages of a game): 31-12-5 (72%) on Start Ems, 26-18-4 (59%) on Sit Ems
*All season long, I will be keeping track of all of the starts/sits I get correct. I like to keep myself honest here…*
As a quick note, I'm not telling you to start these players over guys like Christian McCaffrey or Tyreek Hill… I just don't include guys on here that are obvious every-week starters (because who in the world would that be helpful to?).
Quarterbacks:
Start of the Week: Jalen Hurts vs KC
Despite taking an absolute beating on MNF, Hurts still finished as the QB10 on the week with over 22 points. He did this with only accumulating 35 rushing yards, which means that he actually did a lot of his damage with his passing (good damage for fantasy, bad damage for real life). For fantasy purposes, he'll need to rely on his passing totals to get the job done against the Chiefs, as Kansas City is going to be absolutely starving to get back in the win column. It's not a fantastic defense to go up against, but Hurts is going to be leaned on heavily to keep the Eagles remotely competitive in this one.
Start: Taylor Heinicke vs ATL
Heinicke has been REALLY good for fantasy over the last two weeks and gets a cakewalk matchup in week four. Atlanta has been very friendly to opposing offenses and this week should be no different. While it's tough to trust Heinicke over some other options, he has had back-to-back games of 21+ points, which is all you could ever really ask for from most quarterback starters for fantasy.
Start: Matthew Stafford vs ARI
It honestly may be to the point where it's a "cop out" by putting Stafford on the start list. He's developed into a weekly must-start very quickly with the Rams and a shootout against the Cardinals will be another opportunity for him to showcase his talents. Stafford is surrounded by a very talented cast and will be leaned on heavily to get the win in this one. I'm expecting another big game from him in week four.
Start: Sam Darnold vs DAL
Darnold was a start for me last week and he did not disappoint. He had over 25 fantasy points and looked really awesome against Houston. Dallas will offer a tougher task but he'll have to shine if Carolina wants to stay undefeated. It'll be tough to do without Christian McCaffrey, but Darnold has not given us any reasons not to trust him in Carolina yet. The defense will be able to keep them in this game, but Darnold is going to have to win it for them – and I think he will. Darnold can be treated as a top-12 play at the position this week.
Sit of the Week: Daniel Jones vs NO
New Orleans' wins are going to come from its defense this year, which means they're a team I won't want my fantasy players to go up against very often. Jones was money (for fantasy) through the first two weeks but came up largely disappointing against the Falcons in week three. I'd expect this one to be a fairly low-scoring game with Jones offering very little upside. Unless you're desperate, you'd be wise to keep him parked on the bench in this one.
Sit: Ryan Tannehill vs NYJ
The Jets will be an easy task for the Titans, but I think that's bad news for Tannehill. He won't be forced to throw the ball many times, and I don't think that he will. Tennessee wins games on the ground and they'll have plenty of opportunity to keep the clock rolling against the NFL's worst team. While I don't think the Jets will be shut out for a second week in a row, I do think they will lack the tools to keep this game competitive, which means that we may not see too much on the stat sheet from Tannehill. It's a great matchup for real life, but the fantasy implications are less than exciting, especially with AJ Brown banged up and Julio Jones being on a "pitch count" (for whatever reason).
Sit: Justin Fields vs DET
Chicago stinks, dude. Detroit is not very good either, but the way Chicago played against Cleveland… it's going to be hard to trust. Fields was being way too hyped up by fantasy players everywhere last week and that led to a lot of people taking losses in their matchups. I don't blame you if you got carried away with the excitement, but I will fully blame you if you try it again this week. Like I said, Detroit is not a difficult matchup, but we can't bank on Fields rebounding quickly from a 4-point fantasy performance. It wasn't entirely his fault – as the offensive line was absolutely abysmal – but I'm still not trusting him for week four.
Sit: Teddy Bridgewater vs BAL
Bridgewater has been a fine fantasy option to start 2021 but I wouldn't rely on him against the Ravens in week four. Sure, they've given up the fifth-most points to the position so far, but it's only been three weeks. Two of those weeks were against Patrick Mahomes and Derek Carr (who is arguably playing at an MVP caliber level) so the numbers are a bit skewed. I'd expect the Ravens to give the Broncos a run for their money and potentially their first loss of the season. Something tells me this is going to be a low-scoring game – which is not something I like to see when starting a quarterback with little rushing upside.
Running Backs:
Start of the Week: David Montgomery vs DET
I know the offensive line was atrocious last week, but they get a much better matchup in week four, which is an obvious improvement for Monty. His usage has been HEAVY and that's not going to change. He only ran the ball 10 times in last week's loss, but he was on the field for almost all of the offensive snaps out of the backfield… the game script simply wasn't there for him to produce against the Browns. Even if the Bears' line collapses again, this is still bound to be a very close matchup between division rivals, which means the Bears would be wise to lean on their workhorse to get the job done. I think he's going to have a nice bounce-back game.
Start: Kareem Hunt vs MIN
Hunt crushed as the overall RB2 last week with 155 scrimmage yards, six catches and a score and I think he's got a chance to crush it again against the Vikings. Minnesota has been average at best against fantasy running backs and with this game being poised for a shootout, I'm going to be firing up Hunt with a ton of confidence. Hunt is one of the only backs in the entire league that can produce consistently good numbers as a team's secondary running back.
Start: Chase Edmonds vs LAR
There hasn't been anything super flashy about Edmonds' game, but he has been far from disappointing. Each week in 2021, he's had at least 12.5 points and can be marked down as one of fantasy's safest-floor plays at the RB2/flex position. The Rams will be sure to run up the score in this one, which means that Edmonds could benefit from a handful of extra looks. With how quick that pass rush will be coming after Murray, there's going to be a few extra plays drawn up for a quick dump off and most of them are going to go to Edmonds. I'd say we can easily expect his usual 12-14 point floor with the potential for closer to 20 with a few extra catches.
Start: Kenneth Gainwell vs KC
Gainwell was hardly involved for much of the game on Monday night but that's going to have to change moving forward. He had three catches for 32 yards against Dallas but should see an uptick in catches against the Chiefs. Through three games, he's only had 16 rushing attempts and 10 targets, but he's shown that good things do happen when you throw it his way. He's a bit of a deeper-league start but I think he offers tons of upside in negative game scripts, and a matchup against Kansas City is about as negative as they'll come for Philly.
Sit of the Week: Chuba Hubbard vs DAL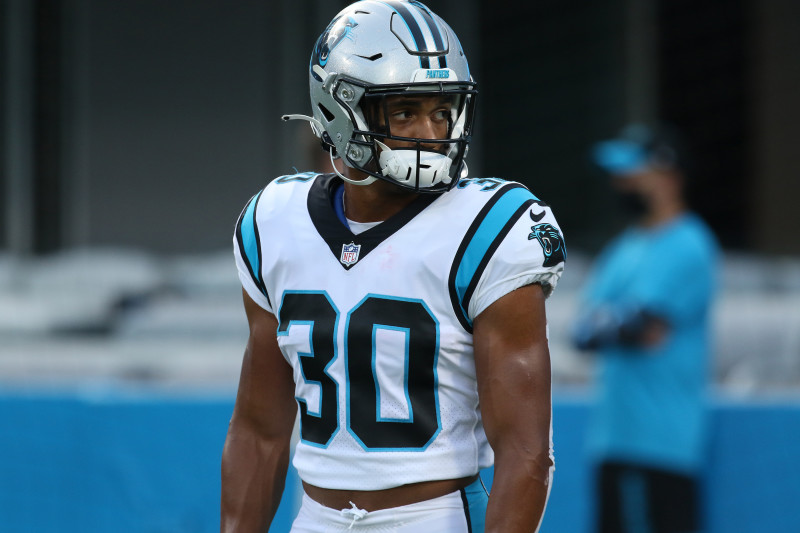 Dallas' run defense has been fairly decent through three games. In fact, the only real fantasy production that has come from opposing running backs has been primarily through the air. This is not a super ideal situation for Hubbard, as his pass-catching ability is less than desirable. He's caught five of his eight targets to date, but all three of the balls he didn't catch should've been caught. I think expectations are way too high and people are wrongfully assuming that he'll be handed C-Mac's role over the next few weeks. I don't see this happening. I know Hubbard had dominated the snaps after McCaffrey left with injury, but we have to understand that he's been in the system for months while Royce Freeman has only been around for a few weeks. They're going to get both of these backs nice and prepared for an important game with Dallas and it's going to be a somewhat even opportunity for the both of them.
Sit: Damien Harris vs TB
We'll make this one simple: Harris doesn't catch the ball. Harris found himself in the dog house by the end of week three. Harris has to go against Tampa Bay. Tampa Bay likes to score. A lot. New England will be playing catch up and will be forced to abandon the run. Harris is going to need to get lucky with a touchdown to be relevant this week. Harris will likely not be relevant this week.
Sit: Mike Davis vs WFT
Davis has been safe for double-digit points each week but offers very little upside for more than 11-13 points. Cordarrelle Patterson emerging has really hurt Davis' fantasy value and he's just not someone I want to trust. If you need a safe-floor play, he's serviceable, but it's hard to imagine that he has any upside to be a top-24 fantasy play at the RB position in week four.
Sit: Devin Singletary vs HOU
Singletary was lights out in the first couple of weeks, but week three was all about Zack Moss. This duo's usage will be sure to provide plenty of headaches for fantasy managers alike moving forward and is a situation I'd prefer to stay away from. However, if I had to choose one this week, I'd choose Moss over Singletary. Singletary's upside comes from his ability in the passing game and that's just not something they're going to need to lean on against the Texans. I see Moss easily taking most of the snaps in the backfield in this one, which will leave Singletary with serious bust potential this weekend.
Wide Receivers:
Start of the Week: Odell Beckham Jr. vs MIN
OBJ made his long awaited return in week 3 and showed up with a pretty decent game. He caught five of nine targets for 77 yards and has already resumed his spot as the WR1 in Cleveland. He'll be relied on early and often in a potential shootout with Minnesota and we could see a classic "Odell game" in this one. I wouldn't be surprised if he had double-digit targets against the Vikings and he's as good of a bet as any to find the endzone through the air for the Browns. You can trust him as an upside WR2 in week four.
Start: Robert Woods vs ARI
Despite the Rams' offense firing on all cylinders, Woods has been nowhere to be found. His 11-124-1 stat line through three is leaving a lot to be desired, but that could change in this one. This is poised to be another high-scoring affair for the Rams and it's only a matter of time before Woods gets in on the fun. He has seen 15 targets over the last two weeks and I think we can expect him to get another 7+ in this one. He may not be the sneaky top-15 play that he once was, but shootout games are always going to provide some major upside for a guy like Woods. I wouldn't take him out of those lineups just yet.
Start: Tee Higgins vs JAX
Whether or not Higgins plays this week is yet to be seen. However, if he plays, you've gotta start him in this juicy matchup. Jacksonville just traded away its best cornerback and Joe Burrow should have no issues chopping up that defense. Higgins leads the Bengals in red zone opportunities through three weeks (despite only playing two games) and I don't see that statistic changing in week four. He's got major touchdown upside and is also a safe-floor play.
Start: Antonio Brown vs NE
This is purely based on motivation. The Buccaneers are going to want to win this game for Tom Brady and there won't be a single person on the field that wants to do that more than Antonio Brown. Brown credits Brady for the resurrection of his career and I think he's going to go bananas in this one. There's also the added motivation of once playing for the Patriots as well (even though it was just one game). I think Brady is going to go wild in his return to New England and I think Brown is going to have a lot to do with that.
Sit of the Week: Kenny Golladay vs NO
Golladay is going to get locked down by Marshon Lattimore in this one, especially since he is the only healthy receiver out of the Giants' top three guys at the position. Golladay's upside with the Giants has been severely capped and I don't think he's playable in negative matchups. He won't be touching my lineup this week.
Sit: Bryan Edwards vs LAC
I like Edwards a lot, but his usage is criminal. He seemingly doesn't get targeted until the end game of the game (even though only good things happen when they send the ball his way). It's just so hard to bank on a guy that has yet to see more than five targets in a single game. The Chargers are a less-than-ideal matchup for Vegas' receivers and I'll probably be shying away from that position completely for the Raiders in week four. Edwards' usage makes him nothing more than a boom-or-bust weekly play (and even the "boom" hasn't proven to be anything special… yet).
Sit: Laviska Shenault vs CIN
The Bengals' defense has been doing well to start the 2021 season and will have the opportunity to bully struggling rookie Trevor Lawrence. This is especially bad news for Shenault, who has been hobbled with an injury and has only seen 11 targets in the last two games (with only four last week). Shenault has quickly found himself as the third (at best) receiver on the pecking order for Lawrence and I don't see that changing in this one. He was way hyped this offseason, but the brakes need to be seriously pumped over Shenault. He's a talented player but is borderline unstartable until the Jaguars figure out their identity on offense.
Sit: JuJu Smith-Schuster vs GB
JuJu is entering week four battling bruised ribs. While I do foresee him starting, I can't imagine he's going to do much out there. Green Bay is not a horrible matchup, but between the injury, the competition for targets, and the absolutely abysmal play from Ben Roethlisberger… JuJu is just not a guy I'm interested in starting.
Tight Ends:
Start of the Week: Logan Thomas vs ATL
Thomas has gone for 40 yards or a touchdown (or both) in all three of his games this season and that likely won't change in an easy matchup with Atlanta. He's been a safe-as-they-come TE1 play to start the season and I'd bank on that for most games moving forward. Taylor Heinicke has proven to be perfectly fine for the fantasy production of The Football Team and I'd expect the offense to rebound in this one.
Start: Tyler Higbee vs ARI
Higbee has been up and down during this short season but I'd expect him to have significantly more "up" games than "down" games. I'm firing up Higbee in almost any matchup, but will be especially interested in using him for games that have shootout potential. The Rams and the Cardinals have two of the best offenses in the league right now so I fully expect this one to be a back-and-forth battle. Higbee is a less-safe but higher-upside version of Logan Thomas.
Start: Robert Tonyan vs PIT
Tonyan only has six catches on eight targets through the first three games… so it's perfectly normal to be hesitant about starting him. Still, with how volatile the position is, I'd rather have the touchdown upside of Tonyan than a lot of other options out there. Tonyan had only one catch for six yards in last week's win against the 49ers, but I have a feeling that Aaron Rodgers is going to want to get his red zone target more involved in this one. He may be the definition of a boom-or-bust tight end, but his upside makes him worth playing.
Start: Noah Fant vs BAL
The Ravens did a great job at neutralizing TJ Hockenson last week, but I blame that mostly on the incompetence of Detroit's offense. Fant is a perfectly fine option against Baltimore, and has a real chance to be the second-most targeted player on the team with Jerry Jeudy and KJ Hamler both out. Fant disappointed in week three, but there's no reason to believe he can't bounce back this weekend.
Sit of the Week: Jonnu Smith vs TB
Jonnu has been getting a steady amount of targets for a tight end, but he's not an option I'm interested in against Tampa Bay. Tampa's secondary has been awful this season and that leads me to believe that New England is going to be pressing their luck on the outside rather than up the middle. It is possible for Smith to "get his", but his lack of touchdown upside is brutal for his fantasy outlook. You can leave him safely on the bench against the Bucs.
Sit: Evan Engram vs NO
Engram… no.
Sit: Austin Hoopers vs MIN
Hooper has back-to-back weeks of 9+ points, which is far from awful for a fantasy tight end. However, he's just a guy I'm not excited about. Last week, he went 2-19-1. The week before that he went 5-40-0 and before that 3-27-0. He's due for a touchdown here and there but his usage and yards total is never going to be anything special. Despite that potential for a high-scoring game, I'm not starting Hooper unless I'm absolutely desperate.
Sit: Gerald Everett vs SF
Everett had a nice little game last week, posting five catches for 54 yards, but I wouldn't bank on anything special against the Niners. San Francisco has blanketed the position over the last two weeks and I can see Everett being no exception to that trend. This is going to be an intense division matchup and it's going to be a great game to watch… just not a great game for Everett's stat line.
If you're looking for more fantasy content, check out our dynasty trade targets & waiver-wire recommendations heading into week four!
Mikey Ostrowski is a blogger for the Loaded Box Podcast. Check out his article archive and find more from the Loaded Box on Twitter & Facebook