Written by Mikey Ostrowski
This is the part of the article where I come up with an intro, recap the previous week or make a joke or two. However, I'm going to do something else with this spot this week: I'm going to brag.
I went into Monday Night Football in my dynasty league down by about 74 points with only Aaron Jones, D'Andre Swift and TJ Hockenson to go. I only had a 2% chance of winning at that point but for some reason I really thought I was going to pull it off. I figure if anyone in the league is going to randomly get me 40 points it would be Jones.
Sure enough, that's exactly what happened and I won by less than 0.3 points. As I write this less than 24 hours after I made the greatest comeback in my league's history (maybe even the history of the world), I am still freakin' amped up!
So anyway, I've felt really good with some of these calls to start the 2021 season and I'm hoping to continue that success into week three. Not including three players who ended up getting hurt, I've only whiffed on six of the 32 starts I've called out over the last two weeks and I'll take that as a big win. Hopefully you've stuck with me through the first two weeks and collected a couple of big wins too… Now let's keep winning and jump into the picks.
Season-Long Record ("Ties": I am counting as "no-contests" for players injured either right before or in the very early stages of a game): 23-6-3 (79%) on Start Ems, 19-10-3 (66%) on Sit Ems
*All season long, I will be keeping track of all of the starts/sits I get correct. I like to keep myself honest here…*
As a quick note, I'm not telling you to start these players over guys like Christian McCaffrey or Tyreek Hill… I just don't include guys on here that are obvious every-week starters (because who in the world would that be helpful to?).
Quarterbacks:
Start of the Week: Justin Herbert vs KC
Herbert has been less than impressive for fantasy through the first two weeks, but he'll be forced into a massive game on the stat sheet if the Chargers want any chance at taking down the Chiefs. His yards have been excellent, putting up 337 and 338 in back-to-back weeks, but he just can't find the endzone. He currently has two touchdowns and three interceptions through two weeks and hasn't done anything in the ground game. The Chargers cannot win games if their quarterback isn't throwing touchdowns and I really think that they'll get that memo in this one. Although he's been shaky, he's an excellent option this week.
Start: Sam Darnold vs HOU
I've made the executive decision to personally start Darnold over Ryan Tannehill this week and I feel dirty. However, I'm going to stand by my decision. Darnold has been excellent with Carolina so far. He holds a 3:1 TD/INT ratio and a total of 584 yards through two weeks. Houston's defense is far from special and should be a fairly straightforward matchup for Sam. His chemistry with DJ Moore and CMC has looked incredible through two games and I'm going to bank on them to keep rolling. Darnold offers top-10 upside at the position in a plus matchup.
Start: Daniel Jones vs ATL
Atlanta can't do a single thing right and Danny Not-So-Dimes should have no problem keeping that trend alive for them. Surprisingly, Jones is sitting as the QB5 on the season with 52 total points and zero interceptions heading into week three. While I wouldn't trust the guy as my real-life quarterback, I'd be more than happy to have him for fantasy against Atlanta. The Falcons have given up the most points to opposing quarterbacks so far this season and I have a pretty good feeling that the trend will continue. Get Jones in those lineups as a top-10 play this week.
Start: Kirk Cousins vs SEA
Cousins is the QB10 so far in the season and is going to be forced into a game of catch up against Seattle. Ol reliable Kirk has had 22+ points in each of his games to start the fantasy season, which is a feat that only a handful have achieved at this point. He may not be the most thrilling guy to throw in your lineup, but the offense around him helps to make him a very viable option for fantasy. This game has shootout written all over it, which is always an excellent thing for fantasy points.
Sit of the Week: Jameis Winston vs NE
Winston went from one of fantasy's top quarterbacks to one of the worst in only one week… pretty impressive if you ask me (I'm a Panthers' fan so this is just fine with me!). Bias aside, Winston looked dreadful against Carolina. In fact, New Orleans' only real offensive movement seemed to come when Taysom Hill took a couple of snaps… everything else was completely flat. The Patriots' defense has been stellar through the first two games of the season and is a date I won't want to flirt with if I have Winston on my team.
Sit: Matthew Stafford vs TB
Stafford has been excellent with his new team but that could stall a bit against Tampa Bay. While this game does have potential for a shootout, it also has potential to be a total defensive battle. I honestly think it'll be the latter. Stafford is still an "okay" option if you don't have anything else to work with, but I think his ceiling could be very limited in this one. He only had 18 fantasy points against the Colts last week and a similar (or lower number) seems to be well within the cards for week three against the Bucs.
Sit: Trevor Lawrence vs ARI
Did you know that T-Law is leading the league in uncatchable passes through two weeks? Yeah, there are some serious growing pains for the 1st overall pick. While the Jags will be forced to the passing game, it's not something I want to rely on. Lawrence was abysmal in week two with only 118 yards, a touchdown and two interceptions. I do expect those numbers to improve a bit but I'm not going to risk getting him in my lineup in week three. Arizona is a middle of the pack offense for opposing fantasy quarterbacks so far, but in all fairness, I think they'll have an easier time shutting down Lawrence than they did with Tannehill and Cousins. T-Law is just coming off of too bad of a game to trust.
Sit: Joe Burrow vs PIT
Burrow is now on my list as a sit for the third consecutive week. Last week, so many people were upset with that call, but it ended up being the right call after putting up only 13 fantasy points. The Steelers are hit with some defensive injuries right now, but I'm still taking their defense over Burrow's offense seven days a week. Burrow has looked extremely average to start his sophomore campaign and that's not going to change against a good defense.
Running Backs:
Start of the Week: Tony Pollard vs PHI
DJ (LBP co-host), I know you're reading this and laughing, and that's okay. I'll admit it… you were right on this one. Pollard is looking like the better running back in Dallas and has earned himself (at least) a 50/50 split with Zeke moving forward. Pollard also has the edge on passing downs, which is obviously good for his PPR upside. A division matchup with the Eagles should prove to be both an exciting game in real life and for fantasy. There could be points galore in this one and I think Pollard is firmly on the streaming radar. While I wouldn't go as far as to call him an RB1 in week three, I'd say he's a high-upside RB2. If I'm being honest… I would start him over Zeke.
Start: Chase Edmonds vs JAX
I'm a big fan of Edmonds and am a BIG fan of Edmonds against a bottom-three team. Edmonds has one of PPR's safest floors, putting up 14 and 12 points over the last two weeks, and could be in line for a higher than usual ceiling against Jacksonville. The Jaguars have given up the 10th-most points to running backs so far this season and have let up over 270 scrimmage yards to the position over the first two weeks of the season. This is a game that Arizona should have sealed up early and the Cardinals will opt to get their running backs involved as early as possible to keep that clock rolling. While James Conner is the more "typical" running back in this offense, Edmonds is still (far and away) the guy I'd rather have in this backfield.
Start: Javonte Williams vs NYJ
Through two weeks, Javonte has 27 carries and two targets (both caught) for 115 scrimmage yards. That's honestly not too bad for a guy in a 50/50 timeshare with Melvin Gordon. A game against the Jets could mark the Javonte breakout. New York has been crushed by opposing running backs so far (and crushed in general), so I've got a good feeling for both Gordon and Williams. However, this is a game that Denver should have no problem taking control of and I can see them using this as an opportunity to get Williams involved and grab him some confidence moving forward. This game could be a perfect storm for Williams' fantasy production and he's got major streaming appeal as a low-end RB2/flex option.
Start: Josh Jacobs vs MIA
This obviously comes with the risk of Jacobs potentially sitting, but if he's ruled a "full go", I'd start him with confidence. Surprisingly, the Raiders are one of the league's hottest teams while Miami is quite the opposite. This should be a game where the Raiders get the ground game rolling and I can see it being one of Jacobs' stronger games in 2021. He's far from my favorite running back but he should have no problem putting together a strong week against a demoralized Dolphins squad.
Sit of the Week: Ronald Jones vs LAR
I didn't think this had to be said, but I've been seeing a lot of people stuck in denial over RoJo this week. He's only touched the ball 11 times through two weeks and appears to be firmly planted behind Leonard Fournette in this backfield. Stop kidding yourself. The upside is not there. The floor is not there. The fantasy value is not there. I know some may have drafted Jones as their RB3… but that was a mistake. He shouldn't be touching anyone's starting lineup.
Sit: Darrell Henderson vs TB
Henderson has had a fine start to 2021 but could hit a wall against the Bucs on Sunday. Between facing off against a top defense and entering the game with a rib injury, it's tough to guess just how much Henderson will be leaned on in this one. While the Falcons' running backs had decent days against the Bucs, they have allowed less than 120 rushing yards through two weeks, meaning we'll likely be banking on a touchdown or PPR upside for Henderson in this one. He's only been targeted six times through the first two games and that doesn't seem to be a trend that is going to change very much moving forward. I'd call him a risk/reward play in week three.
Sit: Clyde Edwards-Helaire vs LAC
CEH is the talk of the town on the fantasy football side of Twitter and for good reason: he stinks. CEH has been a disappointing (with the exception of his professional debut game last year) asset for fantasy and we may need to accept the fact that he's just not that good. In all fairness, I thought that they were drafting him to be the 1A of a committee where he received all of the passing work, but they've used him completely opposite of that. He's got virtually no PPR upside at this point, has limited touchdown upside and can't seem to hold onto the ball. I know CEH was taken in the second round for many out there, but it's time to park him on the bench. The arrows are all pointing down for Edwards-Helaire.
Sit: Mike Davis vs NYG
Davis is probably a safe bet for 10-12 points in PPR leagues, but I could easily see the Falcons riding the hot hand with Cordarrelle Patterson. He was the much better player out of the backfield last week and will likely receive more work than Davis against the Giants. This is a game that Atlanta could actually win so I fully believe that they're going to be giving the ball to the guy that gives them the better chance at winning… and that's not Mike Davis right now. He's no more than a floor play at flex.
Wide Receivers:
Start of the Week: Mike Williams vs KC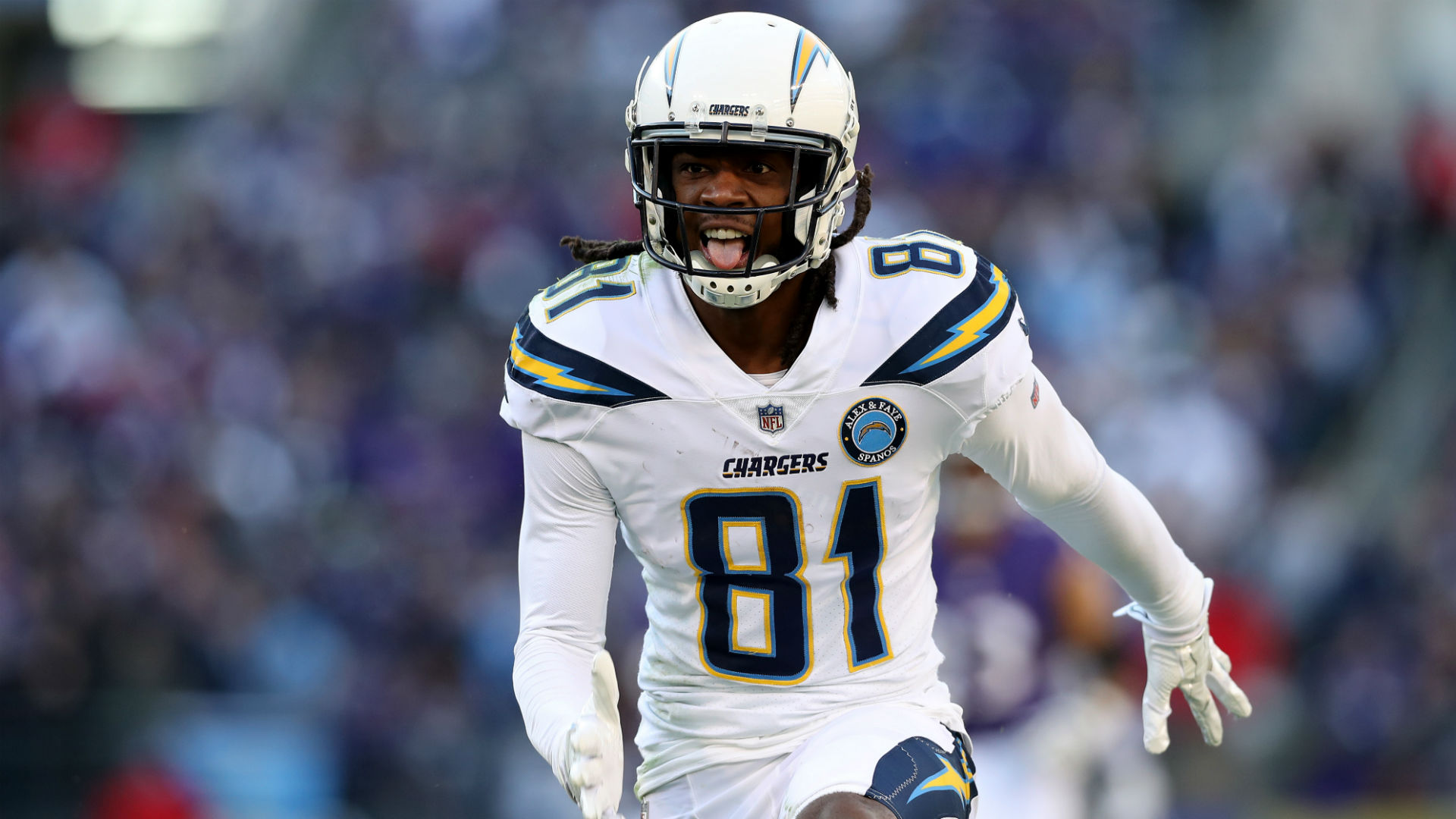 Mikey Wills has been electric (no pun intended) through two weeks and he's going to have to do it again if the Chargers want to beat the Chiefs. Like I was saying in Herbert's writeup, this is going to be one hell of a game and the Chargers' pass catchers are going to be heavily leaned on to get them in a position where they can steal the game. Williams is tied for the second-most targeted receiver through two weeks and has looked damn good along the way. He's outscoring all but four wide receivers so far so let's keep rolling with him until he gives us a reason not to.
Start: Sterling Shepard vs ATL
Shepard, like we all guessed this preseason, is the overall WR9 in PPR leagues. He's Daniel Jones' go-to guy and it's incredibly easy to see. The issue with Shepard has never been his play, it's been his health. With that being said, I'm more than happy to throw him in one of my receiver spots until he inevitably misses time. Roll with the hot hand but just know the injury bug always seems to be lurking around the corner with him.
Start: Marvin Jones vs ARI
Jones has seen 20 targets and is proving to be Lawrence's WR1. This was always going to be the case given how young the rest of that offense is, but Jones is definitely outperforming a lot of our expectations. He's caught a touchdown in both of his games so far and should be in a decent spot to potentially grab another one this week. This game should be out of hand fairly early, which should bode well for garbage-time fantasy points for guys like Marvin Jones. He's a near lock to receive 10+ targets in this one.
Start: DeVonta Smith vs DAL
Smith is also a guy that has been seeing a fair amount of targets (he's up to 15 on the year) and should continue to see plenty of targets against Dallas. This game is either going to be a shootout or an extremely low-scoring affair. Regardless, it's going to be competitive, which is a great thing for Smith. Smith has already emerged as Philly's WR1, which means they are going to be calling his name when they need a big play. He's coming off of a dud in Week 2, but his seven targets is definitely a silver lining to take from it. I'd expect him to have an excellent rebound game in his first career game against Philly's biggest rival.
Sit of the Week: Brandon Aiyuk vs GB
We're doing this again, aren't we? I don't care that you drafted Aiyuk in the sixth round, you cannot start him right now. Just because this week could be different doesn't mean you should rely on him. He's seen two targets through two weeks. That's it. Sure, if he actually gets a workload back, he's got a pretty high ceiling against the Packers. However, he's literally a boom or bust option. Could he get you 18+ points in this one? He could. Could he get you less than three points in this one? He probably will.
Sit: Jakobi Meyers vs NO
Meyers' 15 targets through two weeks isn't being talked about enough. He's been excellent for the Patriots but could run into tougher sledding against the Saints. It's likely that Marshon Lattimore will be back on the field and that's just not a matchup I want to trust Meyers to win. He's a fine safety net if you need 7-10 points, but he doesn't offer much else in this one. You can comfortably leave him on the bench unless you're desperate for a floor play.
Sit: Marquez Callaway vs NE
Winston struggled mightily in week two but it appears he just doesn't want to target receivers in general. Callaway had two targets in week one and four in week two, but those six targets have only amounted to three catches for 22 yards. I know there was a ton of hype around him after he exploded in preseason, but you've gotta remember that it was just preseason… against the Jaguars (who might still be the worst team in the league). I'd view Callaway in the same light as Aiyuk except with Callaway, we don't know if his one-game explosion was a fluke. He can't be in your lineup moving forward and is getting dangerously close to "droppable" already (at the very least stick him on your trade block and see if you can get anything for him).
Sit: Jaylen Waddle vs LV
Waddle has been really good so far but we're going to have to pump the breaks this week. Is the matchup awesome? Hell yeah it's awesome, but Jacoby Brissett is not awesome, and that's who will be responsible for getting the ball to Waddle (if Tua can't go). The other piece worth noting is that Will Fuller will be in the lineup this week and could very likely take away the WR1 role from Waddle for the time being. Waddle is going to be a very volatile play this week and I'd keep him on the bench if you have a less risky option.
Tight Ends:
Start of the Week: Jared Cook vs KC
I just realized that three starts of the week for me are three Chargers. Whatever, I stand by it. Cook has had a modest target share (13 targets) through the first couple of games this season. He most definitely does not look like he's slowed down out there and should be a safe bet for 4-5 catches in this one. I like his chances at finding the endzone too… he's just due for one. I'll be honest, there is no proof I have for that claim with the exception that he's just due for one. Cook is only rostered in ~45% of leagues out there and is a great streaming option at fantasy's most volatile position.
Start: Noah Fant vs NYJ
Fant is one of the few tight ends this year that we'll be able to rely on every week. One more solid performance out of him and I'll have to force myself to stop calling him a start because he'll (if he hasn't already) make his way into the "obvious start" conversation. Regardless, Fant has top-5 upside against the Jets and should be fired up everywhere you have him. In my home league, I've got him and George Kittle and I'm seriously considering going with Fant… for what it's worth.
Start: Logan Thomas vs BUF
Thomas is going to prove to be one of fantasy's safest tight ends this year. He's not likely to have many massive weeks, but he should be a weekly lock for 9+ points, which is really all you could ask for from the position. Thomas factors in as the third option for this offense and should be leaned on as a reliable target for replacement quarterback Taylor Heinicke. He's as safe a bet as any in Washington to score a touchdown and should see something similar to the seven targets he had last week. This game is going to be an uphill battle for the Football Team so I'd expect Thomas to be rolling in this one.
Start: Jonnu Smith vs NO
Smith has been targeted five times in both of his games and that ain't too bad. Believe it or not, he's one of only 11 tight ends that have double-digit targets through the first two weeks. He offers a safe floor with some touchdown upside… he's arguably the Patriots' top (non RB) redzone threat so we can use that as some solid upside. Jonnu could very well teeter on the TE1/TE2 fence, but he is one of the higher volumed tight ends in the league at this point in the season.
Sit of the Week: Gerald Everett vs MIN
Everett caught a touchdown in week one but has still only been targeted four times through the first two games. Despite being on one of the league's best offenses, he hasn't really carved out a role for himself. I can't imagine many scenarios where you're stuck with Everett as your top tight end (shame on you if this is you) but if so, find another option this week.
Sit: Evan Engram vs ATL
I don't even know if he's going to play, but if he does, bench him. The matchup is far from bad but I have zero trust in Engram. He was awful last year and will be coming off of a fairly lengthy injury, which makes me second guess him even more than I already do. Like I said, it's a good matchup but it definitely feels like a trap for Engram.
Sit: Blake Jarwin vs PHI
I understand there aren't many people starting Jarwin, but he's on the sit list for me this week (I can't stress enough how hard it is to figure out which tight ends should be listed as "sits" since only about 10 or so actually do anything on a weekly basis). Much like Everett, Jarwin is on an explosive offense but is overshadowed by those around him. His seven targets through two games ain't going to turn any heads and even at his size he's not their biggest red zone threat. There's just not much to like about him in a game that could be really tightly contested.
Sit: Adam Trautman vs NE
I'm fading the Saints offense (sans Alvin Kamara) as a whole. Trautman definitely has some dynasty appeal for the long term but there's no reason to even think about putting him in your lineup. The silver lining is that he was targeted six times in week one (which leads me to believe he could have a role down the road) but then again, he had zero targets against Carolina last weekend. He's definitely a guy I'd hold on to as a "just in case" thing, but he can't be trusted for anything else at this time.
If you're looking for more fantasy content, check out our dynasty trade targets & waiver-wire recommendations heading into week three!
Mikey Ostrowski is a blogger for the Loaded Box Podcast. Check out his article archive and find more from the Loaded Box on Twitter & Facebook