Written by Mikey Ostrowski
Week one is now behind us and we're on to the next… which means that it's time for all of us to have that weekly issue of "who the hell do I start?"!
If you were with me last week, hopefully I was able to lead you to a win. There were a handful of guys that I said to sit that definitely outperformed my expectations, but I only whiffed on two starts so I'll chalk that up as a win.
In other news, was week one weird or what? Aaron Rodgers (and that whole offense) being completely useless, Rob Gronkowski as the THE TE1… not to mention the current state of Deebo Samuel vs Brandon Aiyuk. Sheeesh.
I'm excited to see what the new week has in store for us! However, before we get there, we've gotta make our start/sit decisions in those fantasy lineups and I've got quite a handful of suggestions for week two of the 2021 NFL season.
Season-Long Record ("Ties": I am counting as "no-contests" for players injured either right before or in the very early stages of a game): 12-2-2 (86%) on Start Ems, 9-6-1 (60%) on Sit Ems
*All season long, I will be keeping track of all of the starts/sits I get correct. I like to keep myself honest here…*
As a quick note, I'm not telling you to start these players over guys like Christian McCaffrey or Tyreek Hill… I just don't include guys on here that are obvious every-week starters (because who in the world would that be helpful to?).
Quarterbacks:
Start of the Week: Aaron Rodgers vs DET
Normally Rodgers would classify as one of those "obvious starters" that I would not include here. However, after a disastrous week one, some people are going to need a bit of a nudge to slot him back in their lineup. A Monday night showdown with one of the league's worst teams will be exactly what the Packers need to get on the right track for the 2021 season. You were drafting Rodgers as a top 8 QB option for this season and I can assure you that week one was just a super rare bust game. Expect Rodgers and co. to bounce back in a big way against their division rival.
Start: Matthew Stafford vs IND
Stafford started 2021 off by tossing his name into the MVP conversation. I know it's just one week… but man, he looked fantastic. Not many people drafted Stafford to be their QB1, as he was buried further than he should've been on draft boards, but it's already time to make him your team's QB1. Unless you've got an elite option like Patrick Mahomes, Josh Allen or Kyler Murray, I'd strongly consider locking Stafford into your lineup. Despite a tougher than average matchup, he should feast again in this one.
Start: Baker Mayfield vs HOU
Mayfield was the QB27 against the Chiefs last week… which is not something you want to see. However, his matchup difficulty does a complete 180 this week as the Browns take on the Texans. This is going to be a game that Cleveland uses to get their young quarterback some confidence for the rest of the year (especially after coming off a tough loss to one of the league's best teams). While I can't say there's top-5 upside with Mayfield this week, I can see him completely torching the Texans and cruising to a low-end QB1 finish. If you're feeling a bit weary of your starting quarterback (or if he's on my sit list below), you may want to slot Mayfield in as your QB1 in week two.
Start: Jalen Hurts vs SF
Hurts was my start of the week last week and he did not disappoint. Finishing as the QB6 for the week, Hurts made those who believed in him jump for joy with over 28 fantasy points. He's got a much taller task in week two against the 49ers, but I think he's going to remain firmly on the QB1 radar. His rushing upside at the QB position is among the best in the league and passing stats from last week lead me to believe that he's slinging the ball with extreme confidence. I'd expect this game to be a very close one where Hurts will have to be firing on all cylinders if Philly wants to tag a win.
Sit of the Week: Tua Tagovailoa vs BUF
Tua finished week one as the QB23 with only 17 fantasy points against the Patriots and it does not get any easier as Miami moves on to Buffalo for week two. There's only a handful of quarterbacks I'd be fine with starting against one of the league's better defenses and Tua just doesn't quite fit that bill for me. Totaling only 202 passing yards, a touchdown and an interception against New England is not the most encouraging stat line out there. Not to mention over a third of his fantasy points came from a rushing touchdown… and given that he only had four carries for a whopping one yard, I wouldn't rely on his rushing upside.
Sit: Matt Ryan vs TB
Ryan looked absolutely cooked against Philly and it's not going to get any easier against Tampa Bay's top-5 defense. Atlanta clearly has a lot to work out and it's going to be hard to trust Ryan for anything until something clicks. Matty Ice was drafted as a top-15 quarterback in most leagues and I sincerely hope you weren't unfortunate enough to draft him as your top guy at the position.
Sit: Tyrod Taylor vs CLE
Taylor was fantastic against Jacksonville, finishing as week one's QB11 with 291 yards and 2 touchdowns. Taylor had even added 40 yards on the ground on only four carries, but he's not a guy I'm willing to turn to against the Browns. There are always people that tilt way too hard and I've already got a message in my inbox "do i start Tyrod Taylor over Ryan Tannehill?"… and here's my answer to that: do not start Tyrod Taylor over the guy you drafted to be your team's QB1. Don't overthink fantasy and don't overreact to week one. 
Sit: Joe Burrow vs CHI
Burrow was my sit of the week last week, and while his 18.6 points were respectable, he did only finish as the week's QB21 overall. I wouldn't expect that to get any better against the Bears this weekend and I just don't think he's in a position where people can treat him as a top-15 weekly option yet. Chicago should prove to be a taller task than Minnesota was and the Bengal's dicey offensive line is going to be tested early and often. I want to see a few weeks on consistency from Joey B before he touches any of my lineups.
Running Backs:
Start of the Week: Kareem Hunt vs HOU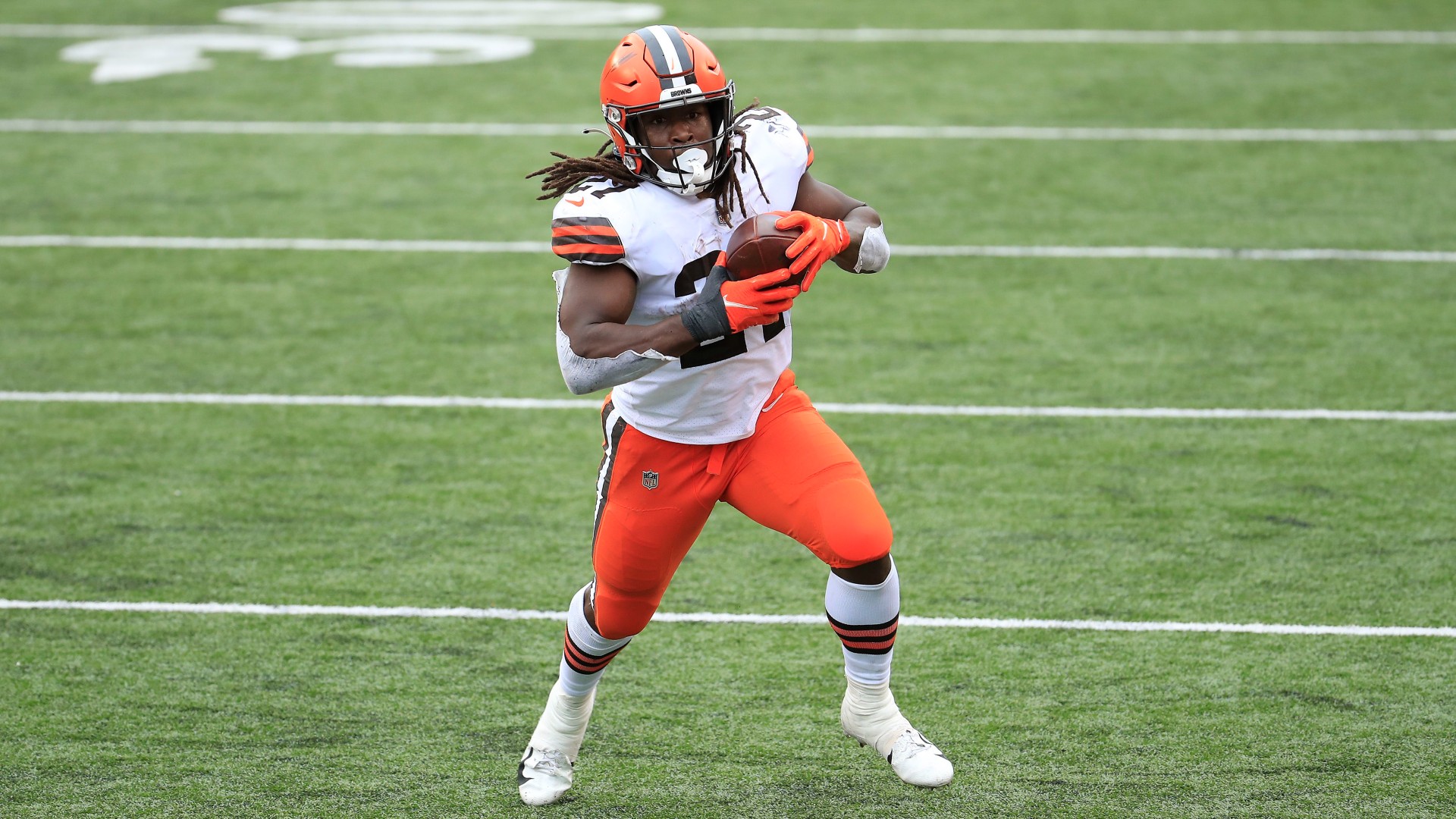 Hunt has been the most underrated fantasy running back the last couple of seasons. He had a top-15 finish in ppr leagues last year, yet he was being drafted outside of the top 25 running backs for 2021. Well, here we are, heading into week two with Kareem Hunt as the RB13 on the season. He's got legit RB1 upside each week and offers the ever-safe floor of a top-24 running back in both half ppr and full-point ppr leagues. A date with one of the league's worst teams? Hunt better be in those lineups.
Start: Najee Harris vs LV
Don't be nervous about Harris. His first NFL game is behind him and he's moving on to a much easier opponent. Vegas was just absolutely shredded by the guy who just a month ago was Baltimore's 4th-string running back. Harris should feast in this one and should be relied on to run the clock out when the Steelers are up big by the start of the 4th quarter. Not only is the matchup excellent, but Harris' usage last week points towards big production moving forward. He may have only been the RB46 in ppr leagues in week one, but he was on the field for every single offensive snap for Pittsburgh. This is the positive game script he needs to get on the right track for 2021.
Start: Damien Harris vs NYJ
I'm not a massive fan of Harris due to his limited ppr upside, but he does have a not-so-bad matchup and is poised for a big workload moving forward after he ran the ball 23 times in week one (that's more than all but two other running backs in the league). This game is going to be competitive but should prove a bit easier than last week for the Patriots, so I'd expect New England to want to keep the clock moving as much as possible. Harris finished week one as the RB22 but could've easily snuck into the RB1 conversation with a touchdown. If his usage stays up, he should turn into a guy I'd expect to score in more weeks than not.
Start: Melvin Gordon vs JAX
Last week, Javonte Williams was one of my sits… and man, did that strike a nerve with some dude on Reddit. However, it wasn't because I think there is something wrong with Williams, it's due to the fact that I don't think there is anything wrong with Gordon either. This backfield is going to remain a 50/50 split for the time being, with Gordon offering slightly higher upside for now. The Jaguars got absolutely destroyed by the Texans' running back room which means that we should see some success from the Broncos' backs. I'd call Gordon a mid-range RB2 in this one while Javonte has some streaming appeal.
Sit of the Week: James Robinson vs DEN
Last week's start of the week was one of my biggest misses. Maybe this is an overreaction on my part, but I don't want to start Robinson this week. He was out rushed by freakin' Carlos Hyde and it looked like Jags were completely clueless. I blame Urban Meyer mostly. Either way, Robinson was the RB39 in week one and will face a much stiffer defense this time around. Until we see something change, we have to treat this backfield as a true committee, with the older, slower and less-talented running back somehow receiving slightly more work.
Sit: Saquon Barkley vs WAS
Oof. All I can say is oof. We knew Barkley would be limited, but he had still received 10 attempts and was targeted 4 times. It's not the workload we wanted and certainly not the efficiency we were hoping for either. Barkley didn't look like himself out there. Of course, it doesn't help that the entire team around him was flat either, but still, there is some big cause for concern. It's yet to be seen how long it'll take to have Barkley back to his normal self (and normal role) but until we see it, I likely won't be starting him in leagues that I have a deep bench. He gets an insanely difficult matchup with Washington in week two.
Sit: Myles Gaskin vs BUF
Gaskin is definitely the majority member of the Miami backfield, but after only 9 carries against New England, we may need to proceed with caution. The good news is that Gaskin did reel in all 5 of his targets, but his 14 total touches only amounted to 76 yards and no touchdowns. Gaskin has very little touchdown upside compared to the other members of that backfield, and I'm afraid that he's not going to offer very much upside on a weekly basis. He's more of a safe-floor low-end RB2 or flex play moving forward, but a matchup with the Bills has me thinking twice about slotting him into my lineup.
Sit: Mike Davis vs TB
Davis had 15 carries for only 49 yards and will be playing against a tougher opponent in week two. His 6 targets were encouraging, but he only managed to turn those into 3 catches for 23 yards. His volume alone will keep him in the flex conversation, but that offense as a whole is going to struggle mightily against the Buccaneers. In a game that I can see the Falcons forced to give up on the run-game, I want nothing to do with Davis.
Wide Receivers:
Start of the Week: Antonio Brown vs ATL
This game is going to be a bloodbath. The Falcons will have virtually no chance against the Bucs and I'll be starting any of the pass-catchers on Tom Brady's team. AB had a massive week one, posting a 5-121-1 stat line on 7 targets. He isn't on the field as often as Chris Godwin and Mike Evans, but his presence is always felt. Brown actually had the most targets per routes run of all the Bucs' receivers in 2020 and it looks like he's in line for more of the same. AB won't be able to repeat his week one performance every week, but this week is definitely one where that's possible.
Start: Jarvis Landry vs HOU
I'm just a big fan of playing anyone who is against the Texans this year. Landry only received 5 targets last week (and a couple of rushing attempts) but made the most of it and was the WR17 of the week. Even if Odell Beckham Jr. is back for week two, I'd still happily slot Landry into my lineup. He's as sure-handed as they come and Mayfield will continue to rely on him when a big play is needed. While I don't think this game will be particularly close, the pass-catchers of Cleveland will have plenty of opportunity to produce. I view Landry as a fairly safe play as a top-25 receiver in this one.
Start: JuJu Smith-Schuster vs LV
JuJu was listed as a sit last week and he proved me right. However, I'm going in the opposite direction for this week. This will be a much easier matchup for the Steelers as a whole and I think JuJu could be one of the biggest beneficiaries. He was WR64 overall despite seeing 8 targets (which were the 2nd highest on the team) in week one but should rebound in a big way against the Raiders. I'd expect the target total to be fairly similar, with much better results with an easier matchup. I don't want to say week one was a dud (because I did see it coming), but I can confidently say that it'll go down as one of JuJu's worst games for 2021. He'll make up for it this weekend.
Start: Mike Williams vs DAL
Mikey Wills was a top-14 receiver in week one and we all totally saw that coming, right? Seriously though, he was excellent and was targeted heavily. He turned 12 targets into an 8-82-1 stat line and should be in line for another massive target share against Dallas. This game is going to be a total shootout and may offer the best fantasy upside of any matchup of week two. Williams is a mega-talented receiver but has never been able to stay healthy. Keep rolling with him for as long as you can, but be warned, the injury monster always seems to be right around the corner with him.
Sit of the Week: Kenny Golladay vs WAS
Golladay was out-targeted by both Sterling Shepard and Darius Slayton, which seems to prove my theory correct: he's only going to be truly effective for the Giants in the red zone. It's not that 6 targets is horrible, but you'd definitely expect a higher usage for their highest paid receiver. This Giants team looked horrendous and will have even more work cut out for them against Washington. Golladay is not a guy that I will trust until he proves me wrong… and that's going to be hard for him to do on this team.
Sit: Brandon Aiyuk vs PHI
I always say "don't overreact to week one", but you can't underreact either. Aiyuk was held with zero usage whatsoever in week one, and while I don't expect that to be a trend, I can't justify starting him in week two. He was likely drafted to be your WR3 or maybe even your flex option, but I'd strongly recommend to look elsewhere until he bursts back on to the scene. Even when Aiyuk's workload returns to normal, it's very possible that he is no more than the WR3 (if we're counting George Kittle) on that team.
Sit: Michael Pittman Jr. vs LAR
Colts' wide receivers were only targeted 14 times in week one and only 4 of them went to Pittman. While he did reel in 3 of those, he still only posted 29 yards. This passing offense looks discombobulated to say the least. Carson Wentz somehow made the offensive line look bad in this one and I truly do worry for the fantasy upside that this offense is going to possess for the 2021 season. With a likely matchup with Jalen Ramsey this weekend, Pittman is a must-sit for me.
Sit: Marquez Callaway vs CAR
My sit of the week last week, Callaway was only targeted twice and had only 1 catch for 14 yards. Wide receivers in this offense had a whole 8 targets between the four of them in week one and that's extremely concerning. It's likely that passing game is going to funnel through the tight ends and Alvin Kamara for Jameis Winston, meaning that these Saints' receivers are going to be rendered largely useless in most weeks. Carolina isn't the worst matchup, but their tandem of cornerbacks is going to be less than friendly to a guy like Callaway. Unfortunately for those who spent a 6th or 7th round pick on him, he's nothing more than a depth piece moving forward.
Tight Ends:
Start of the Week: Noah Fant vs JAX
With Jerry Juedy out for the next 4 to 8 weeks, Fant should be started without hesitation in those fantasy lineups. While he'll still be lining up as a tight end, he'll take over that short-passing role that Jeudy had possessed and will still carry a ton of touchdown upside into every matchup. The Jaguars were torched by the Texans in week one, which leads me to believe that the Broncos will have no problem having their way in this one. Fant to the moon!
Start: Tyler Higbee vs IND
Higbee was my start of the week for tight ends last week and he did not disappoint. Finishing as the TE10 overall, Higbee caught 5 of 6 balls for 68 yards. He did draw at least one target in the endzone from what I could see, which of course was the one target that he did not bring in. He's got a clear role in the Rams' offense and will be leaned on as one of Matthew Stafford's go-to guys moving forward. The Colts had allowed Gerald Everett to score against them in week one, and I like Higbee's chances to be the 2nd TE that scores six points on them.
Start: Robert Tonyan vs DET
Like I said with Rodgers, I'm not worried about the Packers' offense. We all know that Tonyan's touchdown upside is massive and as long as that team plays like we know they can, there's no reason to believe that Tonyan isn't a top-two option for Rodgers in the red-zone. Tonyan can be trusted as a TE1 this week against Detroit.
Start: Rob Gronkowski vs ATL
Gronk is going to tread dangerously close to the "must-start" every week conversation after this week. He's going to gash the Falcons and should have no problems with finding the endzone once again. Currently the TE1 overall on the season, Gronk has caught all 8 of his targets for 90 yards and 2 scores. He's a safe-floor play with obvious top-5 upside in this one.
Sit of the Week: Evan Engram vs WAS
I just realized that a Giants player is a sit in three different positions… maybe Daniel Jones should've made an appearance after all (bonus sit: sit Daniel Jones)! This one should be fairly obvious: he's coming off of injury and is slotting in to an offense that looked lifeless in week one. The Football Team should have no problem keeping the Giants in check and I can't see much upside for Engram in this one.
Sit: Austin Hooper vs HOU
Hooper was listed as my sit of the week against the Chiefs and he did not (or did?) disappoint by finishing as the TE27 in ppr leagues. He was targeted a whopping 3 times and even though he caught all 3 of those balls, still doesn't offer much upside moving forward. It's crazy how night and day Hooper's stats have been since moving from Atlanta to Cleveland. We can officially stop chasing that dream.
Sit: Hunter Henry vs NYJ
Henry performed better than Hooper in week one… by one whole spot! He was the TE26, also reeling in his 3 targets but managed to get 4 more yards than Hooper did. The Patriots' offense should do better against the Jets than they did the Dolphins, but as I had mentioned last week, I just can't start Henry until we see the rapport develop between him and Mac Jones.
Sit: Mike Gesicki vs BUF
Last week, someone asked me if they should start Zach Ertz over Gesicki, and I suggested Ertz. While Ertz didn't do much, Gesicki did literally nothing. He had zero catches on 2 targets and was completely taken out of the game by New England. While I do see him actually getting on the board against the Bills, I'm not going to set my expectations very high. Coming off of a goose egg, you can bench him in the tough matchup. 
If you're looking for more fantasy content, check out our dynasty trade targets & waiver-wire recommendations heading into week two!
Mikey Ostrowski is a blogger for the Loaded Box Podcast. Check out his article archive and find more from the Loaded Box on Twitter & Facebook