Written by Mikey Ostrowski
The NFL season is only a couple weeks away which means that it's time to prepare for those fantasy drafts! 
Every year, I go in with a plan "I'm gonna get this guy… I'm gonna get that guy… I want a quarterback by this round" and almost always, the draft does not go according to plan. Despite knowing that my plan will almost never pan out, it's always good to have an idea of what you want to do, or at least shape your team's philosophy.
One of the more interesting tactics that I wanted to try this year is to go after an "all-upside" team. Basically, I want to take the guy in each round that I think has the most value at his current ADP (average draft position) combined with the most upside (despite the risk that he comes with) to try and form an unstoppable team.
There is obviously a ton of risk that comes with drafting this team, but the reward just might be an undefeated season. Here are the guys that I am targeting in each round (based on current ADP) that offer me the biggest "boom potential".
Round One: Saquon Barkley (RB NYG)
Barkley is currently being selected as the 7th player off of the board, but I've seen him fall a few extra spots in recent mock drafts. Coming off of back-to-back years with injury is a red flag, and the fact that he just started practicing for the first time (in a while) this week could cause some hesitation with selecting him over someone else. However, we know what he can do. We know that he is one of the most athletic players in the league and is a total menace with the ball in his hands. He runs hard, can catch the ball and can run routes as well as a receiver. His best-case scenario is finishing as the overall RB1 on the season, or at least within the top-5 of the position (which is almost a given if he can stay healthy). Personally, if I'm not going with this draft strategy, I am not taking Barkley. However, if I'm shooting for the moon and not worrying about the risk associated with a player, I'd take him. Barkley has the same upside that Christian McCaffrey does.
Round Two: Clyde Edwards-Helaire (RB KC)
Edwards-Helaire had expectations set way too high for him as a rookie. People were drafting him in the 1st round expecting him to be an elite fantasy asset from day one. In all fairness, he did post 1,100 scrimmage yards with 5 total touchdowns in only 13 games, and that really ain't too bad. Oh, and for the record, Christian McCaffrey had 1,086 scrimmage yards and 7 touchdowns in 16 games as a rookie. I'm not comparing the two, as CMC is obviously a much better player, but I am saying that maybe we're being a bit too harsh on CEH (is it a coincidence that we refer to both of these players with just three letters?). Anyway, CEH is being slept on. His competition got thinner, his offensive line got better and he's one year wiser as a professional football player. The risk here is that he is coming off of a "disappointing" season, but that disappointing season still landed him as a bottom-tier RB2 in only 13 games played. Right now, he is going as the 14th running back off of the board, which may sound a bit high but it's really not. Had he been healthy for 16 games last year, he was on pace for about 217 points, which would have landed him as the PPR RB11 on the season. CEH is a guy that we're lucky enough to draft him at his floor, while his potential could have him firmly in the top-10 conversation during the 2021 season.
Round Three: David Montgomery (RB CHI)
Monty finished the season as the RB4 overall in 2020, yet we're drafting him at #32 overall right now? We're taking 17 running backs over the guy that beat all but 3 of them in points last year? Make this make sense…
He had over 1,000 yards on the ground, over 400 yards in the air, 68 targets AND double-digit touchdowns. What exactly are we hating on? Tarik Cohen and Damien Williams limit Monty's upside, yes, this is true. However, 45+ targets is still well within the realm of possibilities after what he had proved last year. He's also had two years in a row of 240+ carries, which means as long as he's healthy, we'll see him get over 250 carries with the extra game on the schedule.
The only other argument I could think of is his "cake walk schedule" in the back half of the season last year… but 4 of those 6 games were against division rivals… who he plays 6 times throughout the season. So where's the risk? Well, maybe the schedule was favorable. Maybe Cohen and Williams take more work than we think. Maybe Justin Fields will downgrade the offense (I somehow doubt that one though). There are still uncertainties and there are some reasons as to why Montgomery is falling to the late-3rd round, but with him, I think the reward heavily outweighs the risk.
Round Four: Kyle Pitts (TE ATL)
Pitts is such a weird commodity. He is currently being drafted as the overall TE4, which means that we are banking on him *quite literally* to set rookie tight end records (Evan Engram was TE5 overall when he broke rookie TE records). That is a serious expectation and is one that obviously comes with incredible risk. On one hand, you have a freak athlete with a clear path to opportunity and a skill set that is out of this world. On the other hand, you have a rookie tight end… and rookie tight ends are literally the toughest type of rookie to bank on for year-one production. With Julio Jones out of town, someone is going to need to step up and play 2nd fiddle to Calvin Ridley and I do think that that will be Kyle Pitts. However, the red flag here is that we are drafting Pitts at his absolute ceiling. There is little chance that he beats out Travis Kelce, Darren Waller and George Kittle (if all three stay healthy) for fantasy points throughout 2021, which means that TE4 is probably the best finish he can possibly have. With that being said, the "boom potential" of being the overall TE4 might just be the highest in the league. Pitts is one of this year's biggest risk/reward picks, but if you're shooting for the moon with each of your selections, Pitts should be your guy in round four.
Round Five: DJ Moore (WR CAR)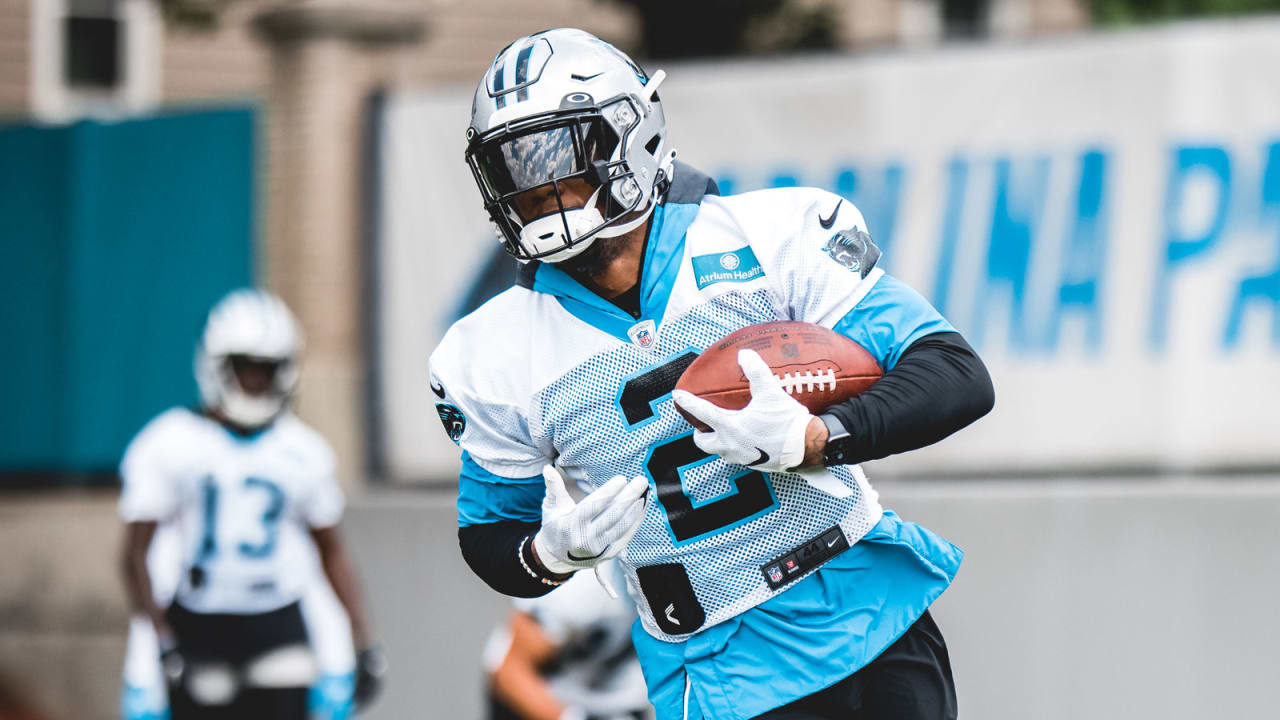 Moore is good. Moore is REALLY good, but his fantasy numbers last year left a lot to be desired. He was being selected as one of the top-12 receivers off of the board in 2020 but came up short and finished as the overall WR25 in PPR. However, I think he's going to have himself quite the year.
Not only would I call him an excellent upside pick, I'd also call him a value pick, as I think his ADP should definitely be higher than player #54 overall. He had well over 1,100 yards in each of his last two seasons (despite losing nearly 20 targets in 2020) and is a big-play threat every time he steps on the field. Moore is an aggressive, yet elegant receiver. He can go up and make the big play but then turn into a running back when the ball is in his hands. It's also worth noting that the coaching staff had recognized the lack of usage that they got out of Moore in 2020, and I'd fully expect him to get back to roughly 140 targets on the season.
The biggest risk here is Sam Darnold, but in the Panthers' eyes, they've upgraded at quarterback which means that we should see a nice uptick for the receivers in Carolina. Time will tell, but I think Moore is one of the draft's best value/upside picks this year.
Round Six: Justin Herbert (QB LAC)
Herbert was a super-hot commodity by the end of last season and suddenly we're just… forgetting about him? The Chargers have one of the best receivers in the league, a stellar dual-threat running back and arguably the league's most improved offensive line… and we're just not hyping up Herbert anymore?
I mean, I totally get it, I don't like buying into a quarterback before round seven (at the earliest) but Herbert could very easily slot himself into the top tier of fantasy quarterbacks this year. At the very least, he's going to remain a high-end tier-2 QB that can be relied on every week in fantasy despite the matchup. I suppose the risk with him is that it's only his 2nd year in the league and we're banking off of one year of production. However, his situation has only improved. The team has gotten better, the coaches have gained even more confidence in him and he's another year wiser (which is very important for the quarterback position). Like I said, I don't normally go for a quarterback this early, but if he's sitting there when I'm on the clock in the 6th round, I'm drafting him in a heartbeat.
Round Seven: Jerry Jeudy (WR DEN)
So this pick could've just as easily been Javonte Williams for me, but we still need our WR2 so I'm going with Jeudy. Jeudy had a "disappointing" rookie year, totalling 53 catches for 856 yards and 3 touchdowns, but that came on 113 targets and a good portion of those targets were deemed "uncatchable" (Jeudy led the league in targets that were deemed uncatchable last year).
He did have a case of the drops, which is always a red flag for receivers, but it's also the easiest thing for them to fix at the next level, so I wouldn't be too worried. There is also a risk in the quarterback play, however, Teddy Bridgewater managed to make DJ Moore, Robby Anderson and Curtis Samuel top-25 receivers in PPR (and if we want to pump up Williams, go look at Mike Davis' numbers with Teddy as well) last year, so I wouldn't hesitate too much. By the time you reach round seven, you should be drafting for upside no matter what, and given how good of a player Jeudy is, he seems as well-worth-it as anyone.
Round Eight: Tyler Boyd (WR CIN)
Boyd was the WR11 overall through the first 11 weeks of last season. You read that right. With Joe Burrow healthy, Boyd was a WR1. While I don't think we can expect something like that to happen again, being well within the top-20 is most definitely a possibility.
Boyd plays out of the slot, Burrow will want to rush the ball out of his hands when his offensive line inevitably breaks down and that's exactly where Boyd will come in. There's a very real possibility that he'll lead that team in targets, but even if he doesn't, he should be a near-lock for at least a top-30 finish at the position. Boyd is the definition of a low-risk/high-reward pick, and since he's being drafted as the WR36 off of the board, there ain't nothing but upside!
Round Nine: Brandin Cooks (WR HOU)
Cooks has only failed to reach 1,000 yards twice in his seven year career (and one of those was his rookie season) and has gone by as one of the most criminally underrated receivers in recent memory. As a player, there is no risk surrounding Cooks. He's got an excellent track record, he's a smooth route runner, he's his team's undisputed WR1… so why is he falling all the way until round nine?
Well, if this one isn't obvious to you, you have not been paying attention, have you? Deshaun Watson will very obviously not be playing quarterback for the Texans this year… so who will? No, seriously, do you know who it will be? Because I sure as hell don't… and that's why Cooks is a major draft risk.
While the risk is high, so is the reward. If you can get a 1,000 yard receiver in the 9th round as the 89th player off of the board… you should jump for joy. The cool thing about Cooks is that he could be a fantasy WR2, but you're drafting him as a WR4. Even if the quarterback situation is ugly, Cooks should still be in line for at least 8 targets a game. Not that I'm comparing him to DeAndre Hopkins, but do you remember how good he was even when he was playing with mediocre quarterbacks season after season? Cooks is talented enough to do the same.
Round Ten: Jamaal Williams (RB DET) or Gus Edwards (RB BAL)
This one is a double-header because I just couldn't pick. I'd be happy with either one of these guys for these two reasons:
Even as the "backup" on their teams, they should both still see plenty of opportunity on a weekly basis
If something were to happen to D'Andre Swift or JK Dobbins, which we just witnessed in Dobbins' case, either one of these guys could potentially slot in as an immediate top-18 running back for fantasy *Edit: The majority of this article was written before Dobbins went down with injury. Expect Edwards' ADP to skyrocket*
Now that we're in double-digit rounds, I'm not entirely worried about risk, I'm just going for upside and situation, and both of these backs are oozing with upside. Grabbing one of these two as my RB4 will make me happy enough heading into the season.
Round Eleven: Tyler Higbee (TE LAR)
I don't typically draft a backup TE, but when my starter is a high-risk/high-reward player, I've gotta bend the rules a bit. Honestly, Higbee in round 11 is a total steal and had I not taken Pitts in round four, I would be perfectly content with rolling with Higbee as my team's TE1 for the season.
I hate to be chasing after the past, but Higbee ended 2019 with a five-game spree totaling 48 catches for 522 yards and two touchdowns. While that pace is absurd to expect over an entire season, I do think we'll see more of that version of Higbee than the one we saw in 2020. Matthew Stafford is a mega upgrade at quarterback for this offense and I definitely want to get a piece of this team for my fantasy squad. I'm hoping I'd only have to use Higbee during Pitts' bye week, but in the event that I need to pivot, I think we could do a lot worse than Higbee at the TE spot.
Round Twelve: Justin Fields (QB CHI) or Trey Lance (QB SF)
To be completely honest, if I land Justin Herbert in my draft, I'm probably not even drafting a backup quarterback, but for the sake of this article I HAD to bring up these players.
We don't know if/when they will be the starters for their teams which is the obvious risk that we take on. However, I do think either of these guys could be fantasy league winners.
We can assume that each of these guys will have the starting role by the end of the season. One of them gets to throw to George Kittle, Brandon Aiyuk and Deebo Samuel while the other gets the super-talented Allen Robinson along with Darnell Mooney and a pair of pass-catching running backs. They both also have an insane amount of rushing upside, which is absolutely dominant in fantasy football. Even if they are not starting quarterbacks until the back half of the season, these are both guys that could become immediate starters for fantasy rosters.
Like I said, they have good offenses around them and the rushing upside with each of these quarterbacks is probably top-8 in the league. Remember when Jalen Hurts took over for the Eagles and people were drooling over his fantasy production over the last bit of the season? That's exactly what could happen with Lance and Fields (except these guys are actually talented passers to boot).
So, just how risky are you willing to get? You don't have to target all of these guys… hell, you don't have to target any of them if you don't want to take my advice (but I'm guessing if you've made it this far you've gotta like at least something I put on here). I think I'm going to put my money where my mouth is and attempt to create this exact roster in one of my redraft leagues this year and see how it goes.
Drafting the all-upside team could be one hell of a dangerous strategy, but if it pays off, I've got a feeling it could land me with at least double-digit wins this season.
Be sure to check out the latest episode of the Loaded Box Podcast as we discuss the fantasy-relevant players of the Broncos & Raiders!
Mikey Ostrowski is a blogger for the Loaded Box Podcast. Check out his article archive and find more from the Loaded Box on Twitter & Facebook