Written by Mikey Ostrowski
It happens every year: training camp hype. This typically skyrockets a player's value and makes them a sudden hot commodity despite the fact that so many people in your league likely forgot about that player completely this offseason.
In this article, I'm going to go over some of my favorite players to buy while their price tag is down… because trying to get them once training camp starts will be nearly impossible without overpaying.
So, who am I projecting to see a ton of hype?
Jerry Jeudy – WR, Denver
Jeudy has been written off entirely too soon by many fantasy players out there. We've been so spoiled with rookie receivers breaking out as first-year players lately that we've started shying away from them entirely too soon. No one should be down on the second-year receiver, who not only had the sixth-highest amount of air yards in 2020, but also had the most targets deemed uncatchable (26) in the entire NFL. Drew Lock was hot garbage in 2020, but I'm expecting only better things in 2021 (whether that means he improves, or Teddy Bridgewater steps in is yet to be seen). Regardless, the quarterback numbers should improve in 2021 which will directly benefit Jeudy. It's worth noting that DJ Moore, Robby Anderson and Curtis Samuel (and Mike Davis) we're all top-30 options for fantasy with Teddy B slinging the rock. I don't really care what that means for the Broncos in real life, but I do know that it means their players should see increased stats across the board in 2021. Jeudy was an early day-one pick in real life, and was likely the second receiver taken in your rookie draft last year… so if the Jeudy owner in your league has soured on him after just one year with one of the NFL's worst performances by a quarterback… pounce with an offer. People will be reminded of how good Jeudy is once the training camp hype starts… so be sure to beat them to it.
Kenneth Gainwell – RB, Philadelphia
Gainwell went way too late in both the real draft and my fantasy drafts this year. He was one of my favorite offensive players entering the 2021 NFL Draft and my position on that has not changed, despite his draft capital. With the exception of Devonta Smith, I think there's a real chance that Gainwell becomes the Eagles' most hyped up player by the start of August. I don't think you're going to be getting a work horse out of him, but there's a real possibility that he adopts a Nyheim Hines type of role in his rookie year, which is something I'd be more than happy to part ways with a third or even late second-round rookie pick for. It's also worth noting that Gainwell is the man that kept Antonio Gibson on the bench in college… and Gibson has turned into one hell of an NFL player already. I think Gainwell's price tag will only go up, so I think now is the best time to try to acquire him.
Deebo Samuel – WR, San Francisco
Samuel went from super hyped to super value over the course of just two seasons. Samuel missed a lot of time in 2020, but looked great whenever he was on the field. After receiving 81 targets as a rookie, Samuel simmered down to only 44 targets in 2020… but it's worth noting that he only played in five full games the entire season (and only seven total). Even if we take that seven-game sample size, he'd be on pace to reach 106 targets in 2021, which is incredibly doable with how often they write up plays specifically for him. He also has a massive role in the team's jet sweep game, which he's made the most of and has scored six rushing touchdowns over the last two seasons. This is a high-octane offense that will be looking to gain Trey Lance some quick confidence, and with the exception of George Kittle, Samuel is the safest target for Lance to look to. A healthy Samuel is going to turn some heads in training camp so I'd definitely suggest making offers before those reports start to come out.
Austin Ekeler – RB, Los Angeles Chargers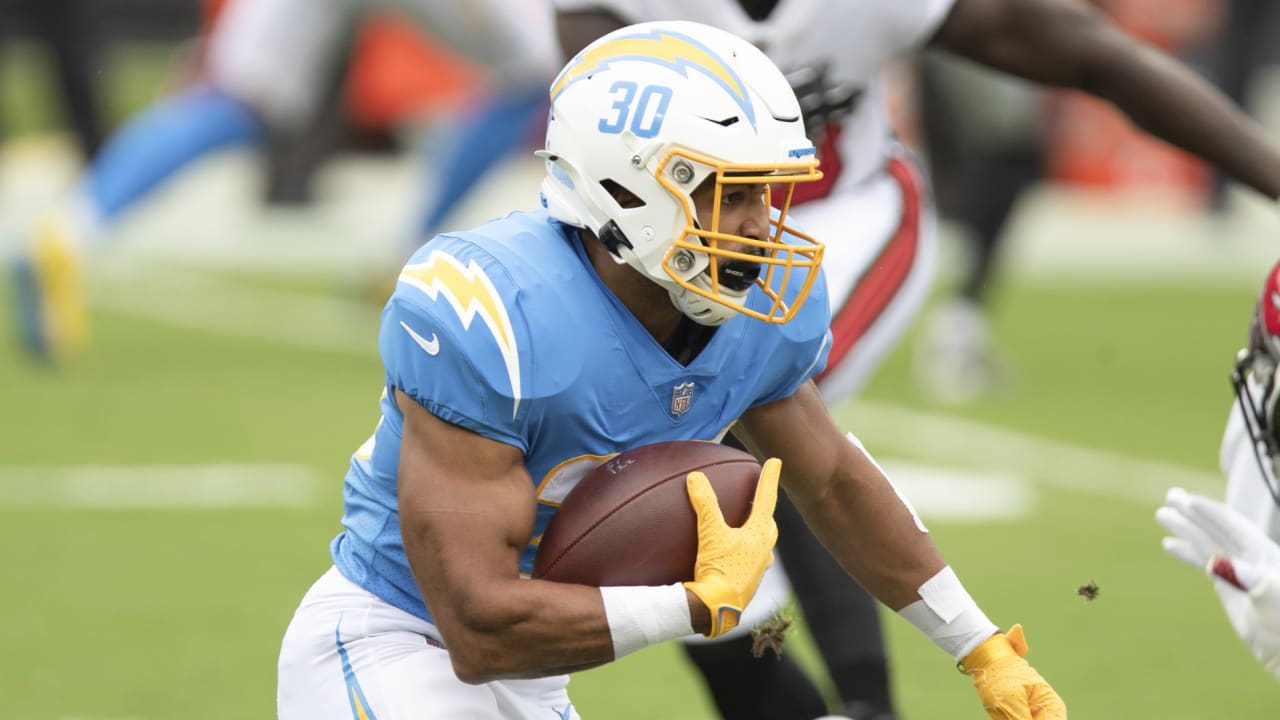 Ekeler is such a beast and nobody seems to care. He was the RB6 in points per game in 2019, and was on pace (had he played 16 games) to finish as… the RB6 again in 2020. Ekeler is now running behind the most improved offensive line in the NFL, he's playing with a young stud of a quarterback, has very little competition for touches and can line up anywhere on the field as a receiver. Ekeler is the do-it-all type of back that is perfect for fantasy football, and with only roughly 400 carries through his first four seasons in the NFL, has a ton of tread left on the tires. There is no reason to believe that his injury from last year should linger into 2021, as he came back at the end of last season and picked up exactly where he left off. Not only is Ekeler one of fantasy's safest floor plays at the running back position, but he's a weekly threat to finish top five at the position. When he's beasting it up in training camp and pictures/videos of his workouts start circulating again, it'll be nearly impossible to acquire him.
Tyler Higbee – TE, Los Angeles Rams
Higbee disappointed in 2020, but it's a new year, he's got a new quarterback and there's another opportunity right around the corner to be an absolute beast on the field. It's no secret that the Rams love having him on their offense, but I think that will become more apparent when he's tearing it up with Matt Stafford in camp next month. Don't forget, Higbee went on a five-game spree at the end of 2019, totaling 48 catches for 522 yards and two touchdowns. Higbee is at such a discount right now and could very well be this year's Robert Tonyan or Logan Thomas. His price tag definitely warrants the risk with acquiring him, and I really do think that his price tag is going to jump up somewhat significantly by the end of training camp.
Bonus rookies to keep an eye on:
Terrace Marshall – WR, Carolina
Dyami Brown – WR, Washington
Javian Hawkins – RB, Atlanta
Amari Rodgers – WR, Green Bay
Cornell Powell – WR, Kansas City
Kylen Granson – TE, Indianapolis
Be sure to check out the latest episode of the Loaded Box Podcast as we discuss potential trade scenarios for wide receivers in our most recent episode of the Dynasty Shark Tank series!
Mikey Ostrowski is a blogger for the Loaded Box Podcast. Check out his article archive and find more from the Loaded Box on Twitter & Facebook