Written by Mikey Ostrowski
There are a lot of people out there that don't like to do rookie research until after the NFL Draft has concluded… and that's totally fine if you hate finding diamonds in the rough.
I always begin my rookie research months before the NFL Draft takes place so that I can evaluate players on my own without the clouded judgement of landing spot and/or draft capital. The five players below were well on my radar during my first wave of rookie research and now it seems like almost no one is talking about them… but I think they could offer some serious upside in the fourth and fifth rounds of those rookie drafts.
Tylan Wallace, WR – Baltimore Ravens (Pick 131):
At one point, Wallace was planted in my top-10 rookie wide receivers and was drawing comparisons to Tyler Lockett. It was honestly surprising to see him fall to day three of the NFL Draft and maybe even more surprising to see him fall to the Ravens after they spent day-one capital on Rashod Bateman. My most notable observation for Wallace was "he doesn't jump; he floats" and that's not an exaggeration. Wallace always finds the ball at its highest point. He's got pretty routes with plenty of speed and I think he could be deployed as a really great weapon for Baltimore. It's hard to imagine him ever having top-20 fantasy receiver upside, but I do believe he could develop (within a couple of seasons) into a receiver that can be used as an every-week WR3/Flex option for fantasy managers. If the rumors are true and Baltimore is planning on ramping up its passing numbers… well, you'll want to be early to the party. I recently took Wallace in the middle of the fourth round in my rookie draft and that is damn good value.
Javian Hawkins, RB – Atlanta Falcons (Undrafted):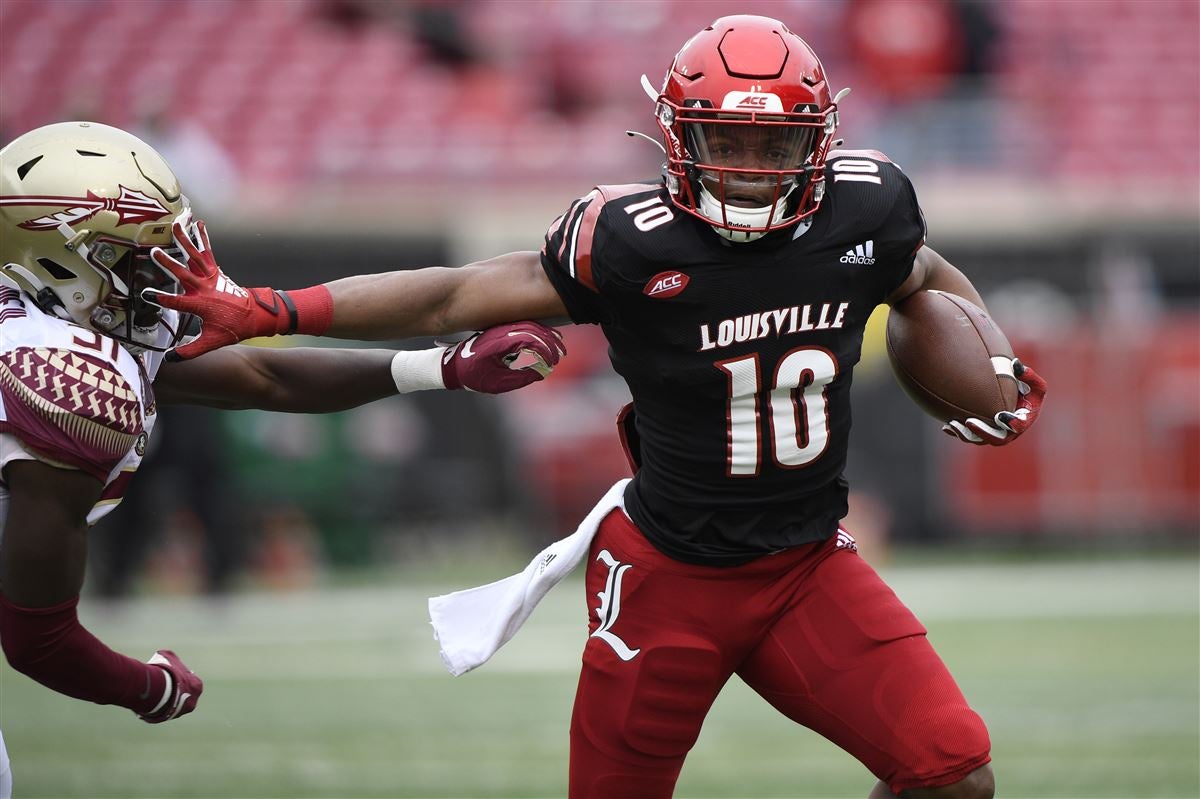 Rule of thumb: don't get too caught up on undrafted rookie running backs. However, Hawkins has a decent amount of talent and has landed in a great position to compete for a role in that backfield. The Falcons will be deploying Mike Davis as their starting running back this year, and while he did a great job last year in Carolina, likely won't have much of a stranglehold on that starting gig. Hawkins plays smart and is a very patient runner. He sticks with his blockers and could definitely give Davis a run for his money. He's not much of a pass catcher and his pass protection could definitely use some work, so I wouldn't expect to see him on the field for third downs very often, but that's okay. Hawkins had over 2,300 rushing yards and 16 touchdowns throughout his freshman and sophomore seasons in college and could sneak his way into the rotation for Atlanta. Ironically enough, Hawkins was selected with the pick right after I had taken Tylan Wallace in my rookie draft last weekend. The opportunity is definitely there, which means the hype will slowly grow on Hawkins so I'd try to get him for the cheap while you can.
Seth Williams, WR – Denver Broncos (Pick 219):
Williams was one of my favorite receivers to research this offseason. He's a big, bruising receiver whose tape really reminded me of Kenny Golladay. Falling to the sixth round was… far from ideal, but there's a possibility that he could make it in the NFL after gaining some pro experience. He's great on the 50/50 ball and could easily be an X-Factor in the redzone. Denver did come out and say that they had drafted Williams specifically for special teams, but this may be a blessing in disguise. If Williams performs well enough on special teams early, he'll gain the trust of the coaches and he may work himself into the offensive rotation. He's a very similar style receiver to Courtland Sutton and Tim Patrick who are both coincidentally slated to be free agents after the 2021 season. I can't imagine Denver brings both receivers back and I think that's the real reason why they took a chance on Williams. If he develops quickly enough, he could be a top-three receiver on that depth chart by week one of the 2022 season.
Kylen Granson, TE – Indianapolis Colts (Pick 127):
Granson is a bit small for a professional tight end (6'1", 241 lbs) but I wouldn't consider him tiny by any stretch of the imagination. The Colts selected Granson as a pass catcher and I do believe he'll be deployed as such within a year or two. To be honest, he reminds me a bit of Trey Burton who was NOT re-signed by the Colts. Mo Alie-Cox is only under contract for 2021 and Jack Doyle has a potential out despite being signed through the 2022 season. Granson is not going to make much of an impact in year one (most tight ends don't) but could find himself in a favorable situation in 2022. Granson spent his junior and senior year at SMU where he reeled in 78 balls for 1,257 yards and 14 touchdowns. He's a sneaky good tight end that you can grab at the tail end of the fourth round of your rookie drafts.
Sage Surratt, WR – Detroit Lions (Undrafted):
Tylan Wallace was my original rookie wide receiver #9 (granted, this was only one round of research for each player), Seth Williams was my #7… you wanna take a wild guess as to who my #8 was? That's right, it was Sage Surratt. Surratt went undrafted and it blew my mind. Sure, his 2019 was ended prematurely due to injury and then he opted out of the 2020 season, but man, this dude has way too much talent to have gone undrafted. In only nine games as a sophomore, Surratt totaled 66 receptions for 1,001 yards and 11 touchdowns. He's a very physical receiver that is excellent at tracking the ball. His overall athletic score is less than impressive, but I'm sure that's something that he was working on during his off year. The Lions may have gotten really lucky with this one. Between the raw talent, physical playstyle and complete lack of competition in Detroit's wide receiver room, I'd say that Surratt has one hell of a shot to make the 53-man roster as an undrafted free agent. He will likely be available in your draft at the start of the fifth round.
These guys were all firmly planted on my pre-draft radar back in December/January, and while I must admit my initial rankings on them may have been optimistic, there's something there that I still like about each of them. All five of them have hidden talent and all five of them have potentially great opportunities to showcase those talents within the next couple of seasons. They're all low-risk, high-reward players that are well worth the miniscule draft capital you'll have to spend on them.
Remember, you're not going to hit on every sleeper; but you don't need to. Finding one diamond in the rough in the late rounds of your draft is something that not many people get to say they have done. These five players, in my opinion, are your best shot at finding one.
Mikey Ostrowski is a blogger for the Loaded Box Podcast. Check out his article archive and find more from the Loaded Box on Twitter & Facebook