Written by Mikey Ostrowski
I've seen a handful of posts lately talking about second-year breakout players and why we should be aiming to acquire them in our fantasy leagues this offseason.
However, I haven't seen very much at all about players that are potentially poised for a third-year break out. Sure, those guys that have done nothing upon entering their third year in the league haven't proven much yet, but that's precisely why I'm making this article; to highlight the guys you may want to buy-low on ahead of the 2021 season.
I'm not saying that all of these guys are going to be winners, but I can confidently say that a handful of them are going to prove me right in 2021. Let's take a look at some guys that come to mind.
Quarterback:
Jarrett Stidham (Pick 133 of the 2019 NFL Draft)
Stidham is a guy that I mercilessly dragged through the streets of dynasty conversations everywhere in the offseason of 2020, but he may be a super great buy-low candidate in deep and/or superflex leagues. There's zero appeal in the name and zero appeal about being on the Patriots for Stidham, but that's why I'm bringing him up. Chances are, they're not going to re-sign Cam Newton and they likely won't get their hands on a year-one starter midway through the first round of the draft this year. This means that it's almost impossible for Stidham to not be the guy for them at the start of the season. Sure, they could make a splash in free agency, but this team is officially in need of a rebuild so it's tough to imagine them flexing their way to a starting quarterback at this time. I don't expect much at all from Stidham, but as of this moment in time, he is the most likely candidate to be the starting quarterback in New England in 2021. With potentially limited options at the QB position (depending on your league), he could be a very sneaky (and very cheap) option to target this offseason. Full disclosure: Stidham is the reason why there are quotations around the word "breakout" in the title of this article.
Running Backs:
Damien Harris (Pick 87 of the 2019 NFL Draft)
Harris honestly looked great in the games that he played in 2020 and will probably factor in as the most expensive (but still cheap) player on this list. As I mentioned above, the Patriots are going to be a nightmare scenario for fantasy points in 2021, but someone is going to have to score and I think that someone will often be Harris (ironically enough, he only had two touchdowns last season). Of all of the games where Harris had double-digit carries (9 games), he was only held under 4.5+ yards per carry twice and managed to hammer out three 100-yard rushing games. Given the odd week-to-week usage and competition in that backfield, three big games like that should definitely be considered quite the accomplishment. I think at this point, Harris is the guy to own in this backfield. James White is fading away and is only a third down back, Sony Michel seems to blow his chances every time he steps on the field, and Rex Burkhead will likely find himself on a new roster next season, leaving Harris to be the clear-cut, two-down back. Unfortunately, with him, that's likely his ceiling; just a two-down back with limited upside in PPR leagues. The plus side is that you need depth on a roster, and if you can get a bye-week running back that can rush for 80+ yards on any given week, it's a pretty solid move to make. I wouldn't break the bank for the guy, but if you can acquire him for low-end draft capital you should pull the trigger immediately.
Dexter Williams (Pick 194 of the 2019 NFL Draft)
While Williams' career NFL stats don't exactly "wow" me (7 rushes for 19 yards) he's going to hold some value going into this offseason. With Aaron Jones and Jamaal Williams potentially out of Green Bay for 2021, Williams would have a chance to run as the RB2 of the offense behind AJ Dillon. This is completely a depth move, but the Packers have proved that they don't like to feature any one running back, which leads me to believe that if Williams could find his way into the second spot on the depth chart, he'd have some sort of role in that offense. His value is next to nothing (hell, he might be a free agent in some leagues) but he's worth rostering ahead of next season for the possibility of being one of the last men standing on the roster.
Wide Receivers:
Parris Campbell (Pick 59 of the 2019 NFL Draft)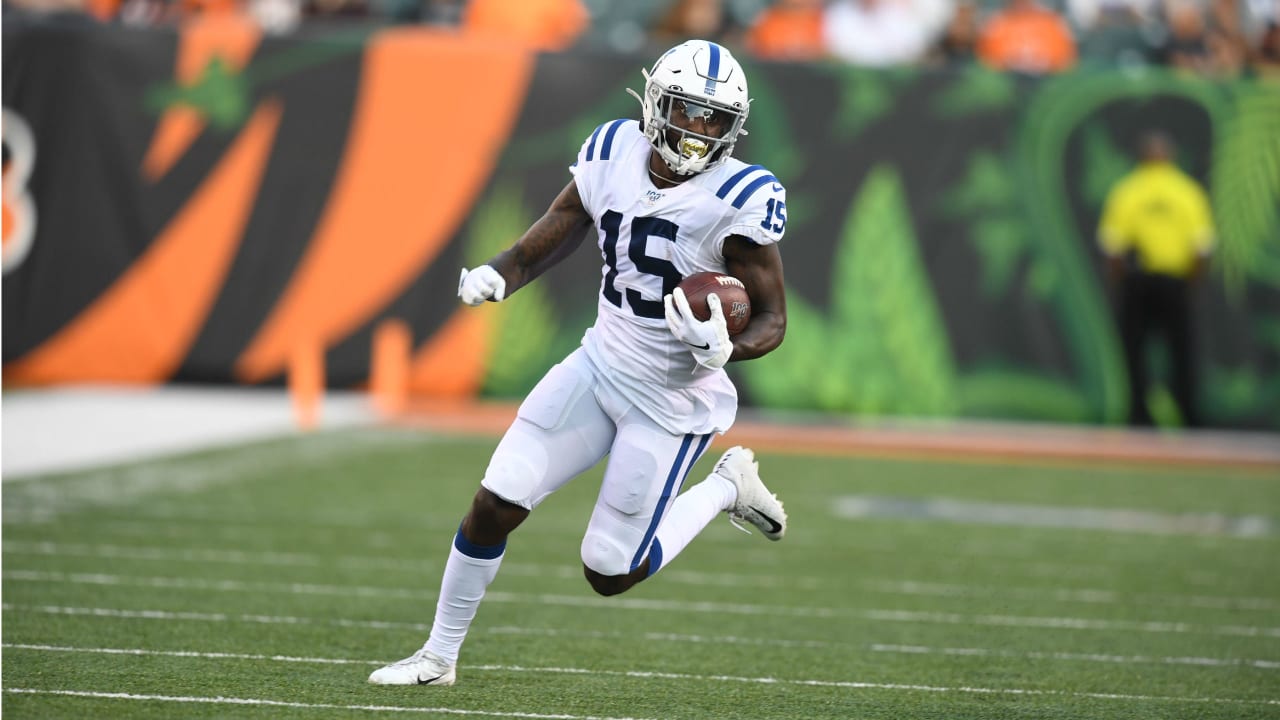 Campbell started off looking like the Colts' WR1 in week one of 2020, but was quickly sent to the IR, forcing him to miss the rest of the season. In one game this season, Campbell reeled in 6 catches on 9 targets for 71 yards. While one game is hardly enough to say that he's a breakout candidate, I'm going to say it anyway: Campbell is a total breakout candidate. And I don't mean "breakout" like Dexter Williams or Jarrett Stidham, but a real breakout! The quarterback situation is scary, but his roster situation is the opposite. He and Michael Pittman should work as the top two wideouts for the Colts next year since T.Y. Hilton's contract has officially expired. Campbell is a smooth receiver that should be able to put together a decent enough year no matter who is slinging the rock in 2021. If Campbell can be on the field for week one of the season, your buying window on him will already be twice as expensive as it is now… so do it… like, right now.
Andy Isabella (Pick 62 of the NFL Draft)
If I'm being honest, I was never high on Isabella, and I'm still not high on Isabella. There's nothing incredibly special about his game, and with the exception of his two-touchdown performance in week three, he led a very forgettable campaign in 2020. However, with Larry Fitzgerald retiring (edit: Fitzgerald has not officially announced retirement yet), there's going to be room for Isabella to step into a top three wideout role for one of the league's most explosive offenses. It's entirely possible for the Cardinals to draft a day-two receiver, but the bigger part in me thinks that they'll give the guy a shot to be a consistent option for Kyler Murray. I wouldn't buy him for anything more than a mid-to-late third-round rookie pick, but then again, all leagues value players differently.
Kelvin Harmon (Pick 206 of the NFL Draft)
Harmon put together a solid rookie year with the limited time he received, catching 30 of 44 balls for 365 yards. It had looked like he was poised to be the receiver opposite of Terry McLaurin in 2020 until he tore his ACL ahead of the season. I'd predict him to come in and be given a shot to compete for the WR2 spot on the depth chart in the upcoming season. For a time there, it had looked like him and McLaurin were going to form one hell of a duo, which is why I think he's an excellent buy-and-stash option this offseason. One thing to monitor is free agency, as it is likely for Washington to bring in a half-decent receiver at some point in the offseason. Still, Harmon, to no fault of his own, is a forgotten piece of fantasy's past that you should most definitely be looking to acquire for the low-low.
Tight Ends:
Irv Smith (Pick 50 of the 2019 NFL Draft)
I'm not going to lie, I thought Smith would've broken out by now, but I do think it IS coming… eventually. He's only received 90 targets throughout his first two NFL seasons but did show some improvement in his second season. While he'll become the third option at best in that offense, it is entirely possible that Smith sees an increased role in his third year. Kyle Rudolph is still in the middle of his contract but has slowed down tremendously over the last couple of seasons. While he's not just going to go away, I do expect him to fade in 2021, which would hopefully lead Smith to pick up an additional 20 to 30 targets on the season. There's a cult somewhere out there for Irv Smith so he may not be super cheap in your league, but if your league's Smith owner is a normal and reasonable person, you should be able to snag him for a decent price.
Drew Sample (Pick 52 of the 2019 NFL Draft)
I was genuinely surprised when I read that Sample was a second-round pick a couple of years ago… seems kind of wild to me. Anyway, Sample stepped up when his number was called in 2020, catching 40 balls on 53 targets for 349 yards and a score. I'd expect this to continue into 2021 once Joe Burrow returns from his injury, in fact, I think he played well enough to pass C.J. Uzomah on the depth chart regardless of health. Being the starting tight end of a Burrow-led offense could be a very good thing and given the fact that most people don't even remember the simple name that is Sample, I think you could practically steal him in a trade. Full disclosure on this one: I do think that the Bengals will be in the Hunter Henry sweepstakes this offseason, so pay attention to that.
Josh Oliver (Pick 69 of the NFL Draft)
Heh. Nice.
I'm just kidding, this team has a ton of cap space and a Mr. Trevor Lawrence to win over. They're going to go out and get themselves a decent tight end in free agency… or at the very least, continue playing Tyler Eifert as their "main" tight end.
Be sure to check out our brand new YouTube Channel and take a look at our first video. Dylan and I tackled a 15-round Dynasty Startup Mock-Draft.
Mikey Ostrowski is a blogger for the Loaded Box Podcast. Check out his article archive and find more from the Loaded Box on Twitter & Facebook