Written by Mikey Ostrowski
If you're feeling a bit discouraged from finishing in the bottom three of your league this past season, it might be time for a rebuild. More than likely, if you've stumbled on to this article, you probably already knew that.
But how do you begin a rebuild? How do you maximize your profits? How can you stand purposely setting yourself up for immediate fantasy failure?
These are some of the toughest questions to answer and may vary from league to league, but I'm going to do my very best to help you turn that ship around and sail you right back towards the promise lands.
Step One: Admit that you have a problem
That might sound cliché, but it's the truth. We all have that one guy in our league that continuously pumps out a bottom barrel team yet does nothing to set themselves up for the future (or worse, considers themselves as a buyer/contender). Maybe you know exactly who I am talking about, or maybe you're that guy and you don't even realize it. Take a long look at your team. How did you do last year? What about the year before and the year before that? If the answer is "not well", then it's probably time you start the dreaded rebuild.
Obviously, there are some exceptions. Maybe you just so happen to have Christian McCaffrey, Michael Thomas, and Saquon Barkley on the same team and you were just one of 2020's biggest victims, or maybe you started your rebuild a season or two ago and you've made some good progress. It's a case-by-case situation, but unless you were bitten by the injury bug or are well into your rebuild (and I mean a REAL rebuild)… well, it's time.
Step Two: Figure out what your biggest needs are
The first thing that comes to mind when I hear the word "rebuild" are rookie picks. Grabbing as many rookie picks as possible (depending on your league's roster size/taxi squad options) is going to be imperative for turning your team around. Chances are, if you're succumbing to a full rebuild, you don't have a hell of a lot going for you on your roster, so these picks should become your #1 priority. If you're going to trade for players, you ONLY want to buy-low. Whether it's a young guy that hasn't broken out yet, a semi-stud that is out for the season on injury, or a veteran player that simply doesn't have enough trade value, you always want to make sure that you're receiving more potential than you're trading away. Which leads me to step three…
Step Three: Knowing how to spot potential
Do your research. Remember your rookie rankings/preferences from a season or two ago? Use those. Maybe a player hasn't broken out yet and the guy who has him on their roster has begun to sour on him. Maybe there is a player out there that has done a lot with little touches in the NFL that has a chance to see a breakout in the near future. Maybe there's a quarterback that is a direct backup to one that is about to retire. You've got to keep your head on a swivel if you're going to find the next hidden gem, but that's one of the benefits of being a rebuilder; you can roster those guys with patience while the rest of your plan comes together. Like I previously mentioned, you only want to go after those guys if you can get them for cheap (less than market value) but it's definitely not a bad tactic if you don't want to only focus on grabbing rookie picks.
Step Four: Identify players on your roster that are "off-limits"
I put "off-limits" in quotes because there should never ever be a player on your roster that you are unwilling to sell. Maybe you have a guy that you can build your team around like Patrick Mahomes, Justin Jefferson or Jonathan Taylor, but for the right price, any player should be for sale. For me, an "off-limits" player would be a young player that will still be in, or just entering his prime when I predict my team will be back into the "contender" range. So yes, Mahomes would be a great guy to label as "off-limits" in your head, but you should most definitely stick him on the trade block and see what type of offers you get. If someone is willing to overpay for a stud that you won't make any real use of for the next couple of seasons, then you have to at least consider it. To reiterate this one: DO NOT TAKE A FAIR DEAL FOR THESE TYPES OF PLAYERS. Only sell your cornerstone players for gross overpays that you just can't say no to.
Step Five: Set up your trade block
Do NOT list every single player on your roster to the trade block. If you do this, more often than not, your league mates will take one look at the list, sigh, and go about their day. Nobody could care less if you're putting Hakeem Butler on the trade block, but if you lead off with your five or six most relevant guys, you'll start to turn some heads.
Step Six: Part ways with your studs
There is most definitely a difference between your cornerstone players in a rebuild and your studs. Maybe you have a guy like Alvin Kamara or DeAndre Hopkins and are too afraid to move them; but if you're rebuilding, those are the perfect guys to trade away. For example, Kamara will be 26 in July, which believe it or not, is the age of decline for fantasy running backs. While I think he's still got a handful of good years left in him, you're not going to get much use out of him if the rest of your team is in ruins. Kamara is a consensus top-5 dynasty option right now, which means you can get an arm and a leg as a return. Capitalizing on your big returns is imperative during a rebuild, so having a guy like Kamara on the block should get you started on the right foot. Hopkins, on the other hand, is in the same boat. Hopkins will be 29 in June, which is only one year away from the age of decline for fantasy wide receivers. Again, he's a total stud and should have a handful of relevant seasons left in the tank, but by the time your rebuild is done, he could be falling out (or completely out) of his prime.
Step Seven: Seek trades for your depth players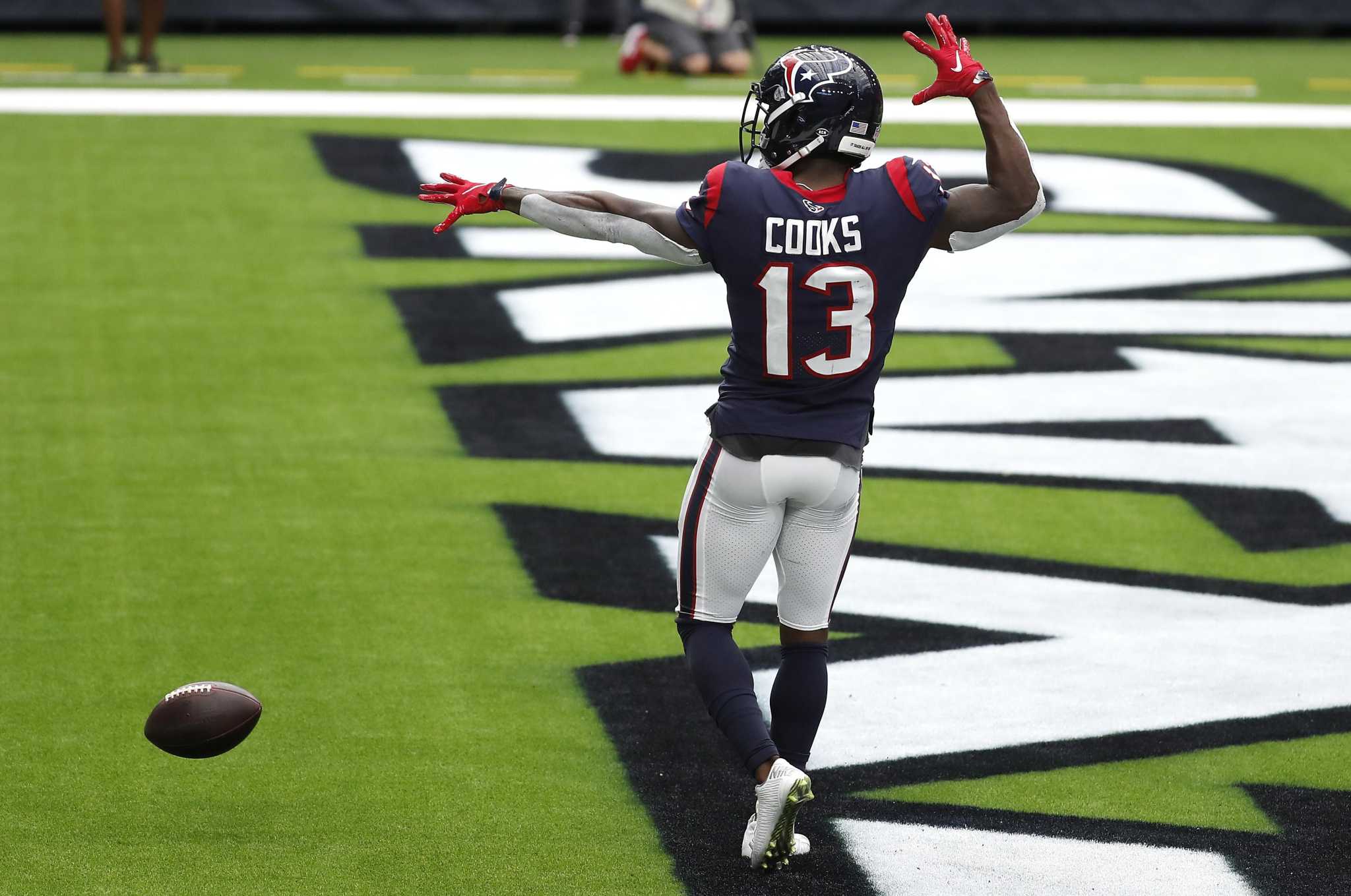 Guys like Brandin Cooks, Marvin Jones and Devin Singletary aren't going to get the same type of interest that your studs will get, so you'll have to do your part to find these guys a new home. Look at each team in your league; who needs some added depth? Who is a WR2/3 away from being a top contender in the league? Who only has two or three running backs on their active roster and could really use the depth? Once you figure these out, it's time to make some deals. These are the type of guys that you should be willing to sell for a little bit under market value if the trade becomes available. Obviously, you don't want to GIVE them away, but if you're going to someone for a deal, remember to be a bit flexible. Start off with a high-ball (but not ridiculous) offer and then negotiate until you're netting a couple of young players or some sort of decent draft pick compensation.
Reminder: Do not sell just to sell
I'm going to reiterate this; DO NOT SELL JUST TO SELL. Don't sell yourself (or your players) short. Know what market value is, know what acceptable value is, and make smart business decisions.
Step Eight: Examine your assets
Okay, so you've done some selling, you've accumulated a handful of rookie picks and have even grabbed a couple of promising prospects. Now what?
Take inventory. If you're going to have a successful rebuild, you need to always know which picks and players you have on deck. By taking a good look at what you have, you can start to guess as to when your team will be back to fantasy relevancy. For example, if you just grabbed five or six first-round picks for 2021, it'll be fair to assume that your team will be back in the league as a contender by 2023. If you deferred those rookie picks to 2022 or received an even split of picks between the 2021/2022 drafts, then you'll likely be setting your sights on 2024.
Step Nine: Accepting the fact that you suck
You may have gotten discouraged when I said that you shouldn't expect fantasy relevancy until 2023 or 2024, but it's all about trusting the process. Rome wasn't built in a day, and your failing fantasy team is not going to be rebuilt overnight. That league fee that you're paying for this year, next year and maybe even the year after that? Kiss it goodbye because I promise you won't be seeing it. However, that leads me to the next step…
Step Ten: Keeping a positive attitude
Think of the rewards that you'll reap in the long run. Imagine if you had all of those rookie picks in 2020 and you snagged Jonathan Taylor, D'Andre Swift, Justin Jefferson, Tee Higgins and Justin Herbert all in one draft. That fantasy manager is likely going to have a lot of fun playing fantasy football over the next several years; and that can be you. Obviously, you're not going to hit on every single rookie pick you make, but even if you only hit on 2-3 each draft, it's only going to take a few years to put together a truly elite roster. Rebuilding is all about the excitement of the future, so if you get caught up in the now, you're going to drive yourself insane.
Final Thoughts:
There comes a point in the rebuild where you can no longer be an active seller, yet, you're not yet an active buyer. You're going to be stuck in fantasy purgatory for a little bit, but that's all a part of the process.
Be realistic; if your team hasn't been winning for a while now, it might be time to start your rebuild.
Be smart; know what your biggest needs are and what you're going to have to do to get where you need to be.
Don't hold on to what is but move on for what could be; don't stash your studs if your roster is not going to get you to the championship. Those guys that are in their prime are extremely valuable and will yield you some of the best returns in all of fantasy football.
Stay positive; rebuilding isn't always the most fun thing to do, especially when you're taking a loss nearly every week during your fantasy season but remember that there is a light at the end of the tunnel.
So, go out there, get your rebuild on and stay the course! Don't half-ass it and don't give up prematurely, if you're going to commit to a rebuild, you need to be 100% committed to it. Follow these steps and I can almost guarantee you that for each year you spend in the dumps during your rebuild, there will a year as a true championship contender.
Mikey Ostrowski is a blogger for the Loaded Box Podcast. Check out his article archive and find more from the Loaded Box on Twitter & Facebook