Written by Mikey Ostrowski
Season-Long record: 67-45 (60%) on Start Ems, 72-40 (64%) on Sit Ems
*All season long, I will be keeping track of all of the starts/sits I get correct. I like to keep myself honest here…*
Ahhh smell that? That's the smell of success. Last week, I was able to get 13 of my 16 calls correct on the starts, as well as 10 of 16 correct on the sits. We've finally reached an overall 60% or better in both columns and I am amped about it!
This upcoming weekend, we do have four teams on BYE, which means that it is one of those weeks where having a deep bench could really save you. Not having Kyler Murray, DeAndre Hopkins, James Robinson, Deshaun Watson… well, you get where I'm going; it's going to suck.
Regardless, we've got work to do and games to win, so let's hop into this week's edition of Start Em' Sit Em'.
Week 8 BYEs: Arizona Cardinals, Jacksonville Jaguars, Houston Texans, Washington Football Team
Quarterbacks:
Start of the Week: Ryan Tannehill (TEN) vs CIN
Coming into the season, I had Tannehill as a top ten fantasy quarterback. After getting a lot of push back, it seems like I've come out on top, as he's currently the QB9 in terms of points per game. I'm looking for him to keep rolling in this matchup against the Bengals, otherwise known as the team that made Baker Mayfield look like a good quarterback again. At any rate, Tannehill is a top 8 option this week.
Start: Teddy Bridgewater (CAR) vs ATL
Teddy seems to always be a part of these articles one way or another, but this week he draws some praise on the start list. As we all know, Atlanta has a non-existent defense, which means Bridgewater should EAT on Thursday Night Football. Oh, and there's a real chance than Christian McCaffrey is back on the field this week, which is an obvious boost for the entire offense. Man, this game should be a fantasy goldmine.
Start: Justin Herbert (LAC) vs DEN
I've been trying to get Herbert in my dynasty leagues recently and have had zero luck. Rightfully so, as Herbert has been a stud… and has been a top 5 QB in fantasy points per game. While Denver's defense can get tough, I have confidence that JH will go out and find his usual groove. He's arguably an every-week QB1 at this point and needs to be fired up in week eight.
Start: Carson Wentz (PHI) vs DAL
Dallas has no defense… Dallas has no quarterback… Dallas is in a really rough spot. Expect Wentz and co. to have a big one in this one. They'll be looking to gather some positive momentum for the rest of the season in this one and I fully expect that they'll get it done. While I typically am sour on Wentz, the emergence of Travis Fulgham and the potential return of Miles Sanders are massive upticks for his game.
Sit of the Week: Matthew Stafford (DET) vs IND
Stafford is always a serviceable quarterback, but I can't help but feel there continues to be something left to be desired every time he hits the field. It's not that he's been bad; he just hasn't been particularly great for fantasy. I'm going to sit him against one of the better defenses in the league because there are likely a couple better options on the waiver wire in week eight.
Sit: Cam Newton (NE) vs BUF
Oof. I'm not sure what's going on, but Newton hasn't done anything spectacular since week two. I really am rooting for the guy, but man, it's rough out there. Buffalo's defense isn't going to take it easy on him and he most definitely cannot be trusted as your starter this weekend.
Sit: Drew Brees (NO) vs CHI
Brees is potentially getting both Emmanuel Sanders and Michael Thomas back, which is a good thing, but I just don't see this being a super high-scoring game. The Bears' defense has looked pretty decent; but their offense has been abysmal. The Saints can easily win this game by keeping Alvin Kamara heavily involved and keeping that clock moving. It just doesn't seem like a game where the game scirpt will be in Brees' statistical favor.
Sit: Daniel Jones (NYG) vs TB
I started to do the writeup for Danny Jones but got tripped up on my words.
Keep him out of your lineup.
Running Backs:
Start of the Week: Todd Gurley (ATL) vs CAR
Three simple facts that make Gurley the start of the week at running back:
Carolina's run defense is absolutely laughable.
Gurley is currently a top 15 running back in PPR leagues.
He's so good that he scores touchdowns on accident.
Fire him up.
Start: Jerick McKinnon (SF) vs SEA
McKinnon disappointed fantasy managers everywhere last week, but the coach admitted that McKinnon was only active as a "just in case" back. He was getting rest since he was not fully healthy, but that could be good news for his matchup with Seattle. The Seahawks have relied solely on their offense this year, meaning game script should favor both offenses. I'd expect McKinnon to slot back into the RB1 role in San Francisco this weekend.
Start: Melvin Gordon (DEN) vs LAC
Gordon's fantasy value has obviously taken a dip this year, but he's still a very viable option. A game against the Chargers won't be the easiest, but I don't think I'd call this an avoidable matchup either. Drew Lock has been slinging the rock like a ten-year-old, which means it could be check-down city for Gordon and the tight ends in this one. It's also worth mentioning that even if Phillip Lindsay plays, he may be a bit hobbled and give up some extra touches. He's a decent option for week eight.
Start: D'Andre Swift (DET) vs IND
While Swift did not repeat has massive week six performance, he still managed to put together over 14 PPR points in week seven. The good news is that this is officially three weeks in a row of 14.8 points or higher. The Lions want to get him more involved, especially with Matt Patricia's job on the line, and they'll look to do just that. In a game against the Colts, game script should likely factor in favor of Swift and I think he can be trusted as an RB2 in .5 and full PPR formats.
Sit of the Week: Devonta Freeman (NYG) vs TB
It is unknown if he is 100% playing right now… which is exactly why you need to sit him (well, that and the fact that the Bucs are a brutal defense for opposing running backs). This just so happens to be the Monday Night Football game… you CANNOT leave your RB2 position up to pure chance if a guy ends up being a game-time decision. Even if he does play, this a matchup I'd like to stay very far away from. Freeman was an exciting waiver add a few weeks ago but he won't be useful in most weeks.
Sit: Darrell Henderson (LAR) vs MIA
This is exactly what I said last week, but I'll say it again: this is a revolving door of running backs. Is it Henderson? Is it Malcolm Brown? Is it Cam Akers? Who knows? You never know which running back is going to get the nod on any given play in Sean McVay's offense and it's something that I am not comfortable with playing. While Henderson has the most upside of the three, I wouldn't be excited about starting either one of them.
Sit: David Montgomery (CHI) vs NO
I laughed my ass off reading Yahoo Fantasy's post-game update on Monty this week "The dude moves like a busted refrigerator out there… can't break a tackle or make anyone miss". While it's funny, there really are no lies detected. He's settling in as a weekly touchdown-dependent runner and that's something I avoid whenever at all possible.
Sit: J.K. Dobbins (BAL) vs PIT
If Mark Ingram sits, Dobbins could be a fun start… if they weren't playing against the Steelers. Pittsburgh is absolutely punishing on opposing runners. We also have no idea if Dobbins would even see the "lion's share" of the carries. Playing Dobbins this week is a Hail Mary at the end of a game… you likely won't hit on it.
Wide Receivers:
Start of the Week: Justin Jefferson (MIN) vs GB
Jefferson is a total stud and I am so mad that I missed out on him this offseason. Regardless, he gets a date with the Packers this weekend in what should be a very high-scoring affair. Jefferson won't be seeing top coverage, but even if he does, he's too damn explosive and shifty for it to really matter. Keep riding the hot hand with Jefferson, as he's settled in as a weekly WR2 with week-winning upside.
Start: Robby Anderson (CAR) vs ATL
Anderson has cooled off over the past couple of weeks, but a game against Atlanta could be just what the doctor ordered. The Falcons have no answer for any offense, and while this will be a divisional matchup on TNF, I think this game is going to be an offensive coordinator's dream. Get him back in those lineups.
Start: Travis Fulgham (PHI) vs DAL
The only defense worse than Atlanta is Dallas. I'm not even going to lie… I am so excited to watch Fulgham play in primetime. I haven't got to watch one of his games in its entirety yet, but given the highlights I've seen, the matchup on deck, and the lack of competition… well, he's a mega-solid play this weekend.
Start: Tee Higgins (CIN) vs TEN
Higgins is starting to look like a stud. He's consistent, he's got great rapport with Joe Burrow, and he's the shiny new toy you've been dying to use from the waivers. The Titans aren't a super tough opponent… hell, I could see this game being the shootout that no one expects. TH is going to be a fun play this week. It's time to throw him into your WR position.
Sit of the Week: Julian Edelman (NE) vs BUF
Newton has been playing with a wet noodle, but even the plays where he's had a successful pass, Edelman seems to drop it. Edelman is a league leader (if not, THE league leader) in dropped passes in 2020. He looks like a shell of his former self and has not been a startable option since Cam cooled off in week three. I know some are still holding on to the dream, but Edelman cannot be started until the Patriots put it all together again. Oh, and if that wasn't enough for you, Edelman has a matchup with one of the league's top 5 cornerbacks.
Sit: DeVante Parker (MIA) vs LAR
Parker is a tough one to sit given how well he's done for the majority of this year. However, he's got a rough matchup with an elite CB on deck and will have a rookie (making his first NFL start) throwing him the ball in this one. It seems like a lot of pieces are going to need to fit perfectly together for him to have a successful week eight, and that's a puzzle I won't even attempt to start this week.
Sit: Jerry Jeudy (DEN) vs LAC
Jeudy has been disappointing to say the least. We have a seemingly endless list of breakout rookie receivers this year, and the fact that Jeudy is nowhere near the conversation is one of the most disappointing things to happen in 2020 (okay, that may be a little bit of an exaggeration… but it sure does suck). JJ cannot be trusted in lineups.
Sit: Darius Slayton (NYG) vs TB
Boom or bust? With Slayton, you can never really tell. He sort of reminds me of DeSean Jackson, a guy that you could start knowing that he can either single-handedly win or lose you your week. Slayton should only be played in games where the matchup is easy, and while the Bucs' secondary is far from scary, that defense front is going to rush the hell out of Daniel Jones, meaning there won't be enough time to hit Slayton with the deep ball that we'd all be desperately praying for. Unfortunately, this is one where Slayton should be left on the bench.
Tight Ends:
Start of the Week: Rob Gronkowski (TB) vs NYG
It's another week where Brady will be missing some of his top receivers, which means this could be the third week in a row where we see a true Gronk-like performance. He's been phenomenal the last two weeks now and I'd fully expect him to get his chance to completely torch the Giants on MNF. Plus, it's always fun to be able to root for a guy on a Monday night!
Start: Mike Gesicki (MIA) vs LAR
Tua Tagovailoa is taking over, and while that could be rough on receivers at first, it should be fantastic for Big Mike. Apparently these two have shown a ton of chemistry in practices, which means Gesicki could be leaned on heavily. It's also worth mentioning that the front line for the Rams will be rushing Tua early and often, meaning he'll have to be pretty damn quick with getting the ball out of his hands. A rookie quarterback making their first NFL start always seems to favor the tight end. Gesicki could be one hell of a play this week.
Start: Jimmy Graham (CHI) vs NO
Jimmy Graham is getting a ton of targets and is a back-end startable option in most weeks for fantasy purposes. He's also a massive factor in the redzone, especially since the broken refrigerator can't seem to run anything in. I'd get Graham in my lineup this week as a low-end TE1 with touchdown upside.
Start: Richard Rodgers (PHI) vs DAL
I won't even lie… I have no idea who this guy is. However, Dallas is bad, and Rodgers is going to be one of only two healthy guys that Wentz has to throw to. Oh, and Rodgers' 14+ PPR point showing last week doesn't hurt either. He's a legit streaming option in week eight.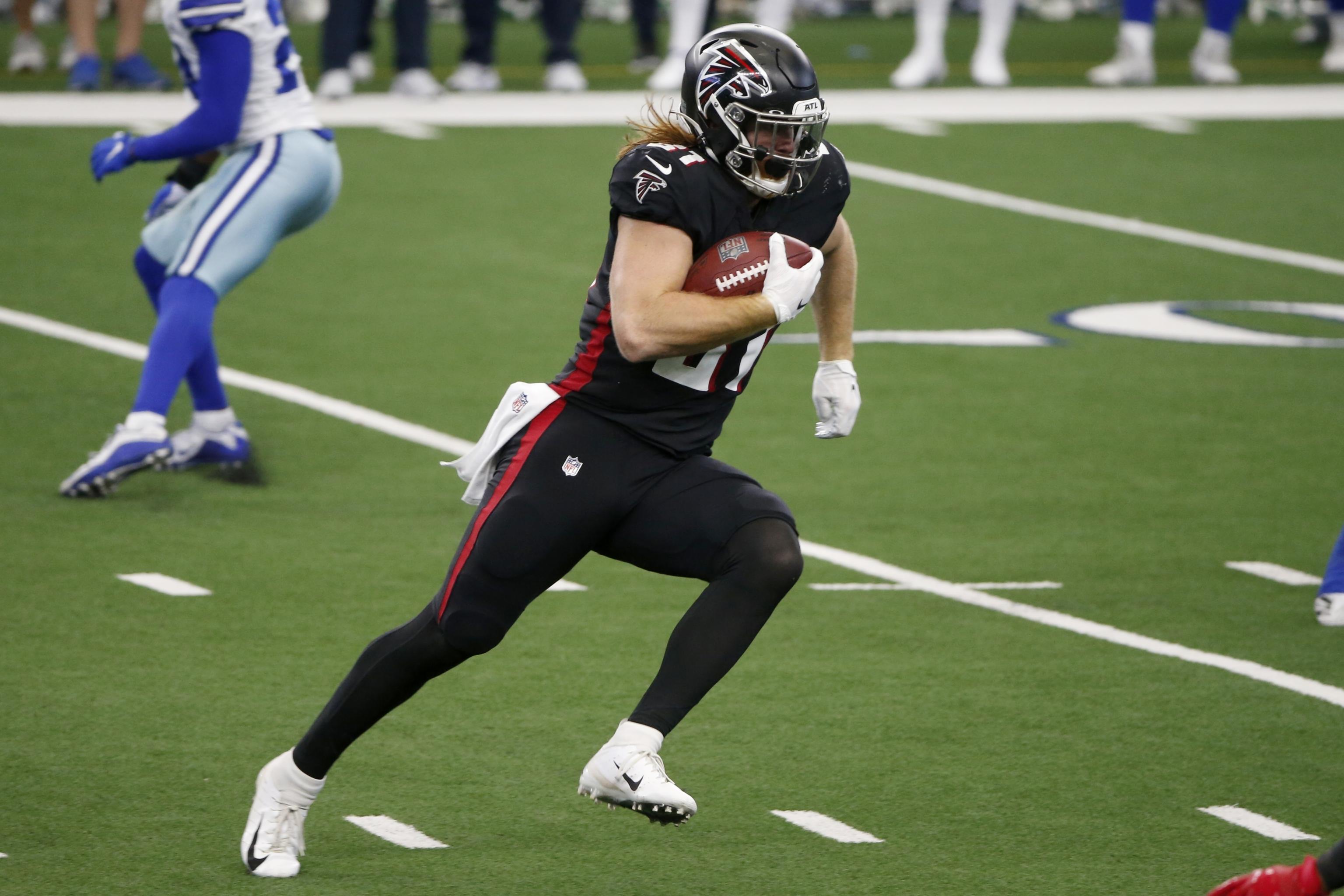 Sit of the Week: Hayden Hurst (ATL) vs CAR
Hurst only had 2 points against Carolina a few weeks ago and has struggled to be a consistent part of the Falcons' passing attack for the majority of the season. He's a guy that I'd only start in the most desperate of situations, especially on a Thursday night.
Sit: Robert Tonyan (GB) vs MIN
I'll say it one more time; he was never meant to be "a thing" when Davante Adams came back to the lineup. Oh, what a shock, his production completely fell off when Adams returned to the lineup. It's almost like we all could've seen this coming.
Sit: Dalton Schultz (DAL) vs PHI
This offense can no longer support four or five weekly options… hell, they can barely support two. Unfortunately, Schultz factors in as the fourth option at best in Dallas and can more than likely be safely dropped now that Dak Prescott's season is over.
Sit: Tyler Higbee (LAR) vs MIA
Higbee has been one of the biggest disappointments at the tight end position and I don't think he's a startable option anymore. If you're wondering, yes I'd start all four of the starts above over him. Yes, if you made me choose between him and Tonyan, I'd start Tonyan. I've lost all faith in Higbee… there's just too many options for Jared Goff to throw to in this run-first offense.
Be sure to check out our weekly Trade, Drop & Hold article as well as our Waiver-Wire Advice as we help get you set for Week 8 of the 2020 NFL season!
Mikey Ostrowski is a blogger for the Loaded Box Podcast. Check out his article archive and find more from the Loaded Box on Twitter & Facebook