Written by Mikey Ostrowski
So, you've been unlucky enough to snag the 12th overall pick in your fantasy league, huh? Well you could be one of two people… you could either whine about it or make the best out of it. As you may be able to tell, I am that second person.
Do what I do; look at it like the glass is half full. You don't have the last pick of the first round… you have the last TWO picks of the first round! Think about it, it's impossible to get snaked in an even-numbered round. Being able to pick back to back in any format is always a great advantage. Sure, it sucks when you're waiting forever to make your next pick, but it's always exciting when you're on the clock from this position.
In this article, I will examine the best ways to build your team if you're drafting from that 12 spot in 2020, as well as lead by example with my latest mock draft from the 12th spot in a 12-team, PPR redraft league.
Round One: Davante Adams (GB WR)
In round one, you either want to go for an absolute steal (like if a top-five running back falls for some reason… but this probably won't happen) or you want to go with the sure thing. You always want to pick a guy that is bust proof when he is on the field… and that's why I elected to go with Davante Adams. He has been hyper targeted a few years in a row now, ending 2018 with 169 targets and ending 2019 on a 169-target pace (had it not been for injury). You're already at a disadvantage by letting 11 other players be selected before you. Don't mess it up, go with someone who is a safe bet to finish in the top five of their position.
Round Two: Austin Ekeler (LAC RB)
This is a PPR league… and as you know, Austin Ekeler shattered all expectations in PPR formats last year and finished the year as the overall RB4. With this pick, it's about getting your "shaky" RB1. In order to make the best selection, you're going to want to go with a guy who's situation hasn't changed (or has improved) and has already proven that they can be an extreme asset to your squad. The Chargers added a fourth-round running back, but let Melvin Gordon walk, which means that only good things could happen with Ekeler's volume. Not only that, but having a new QB in town will undoubtedly be good for the team's short-yard passing game. This is where Ekeler will excel. He's practically a guaranteed top-10 running back for 2020, which is the best you'll get at 13th overall.
Round Three: Leonard Fournette (JAX RB)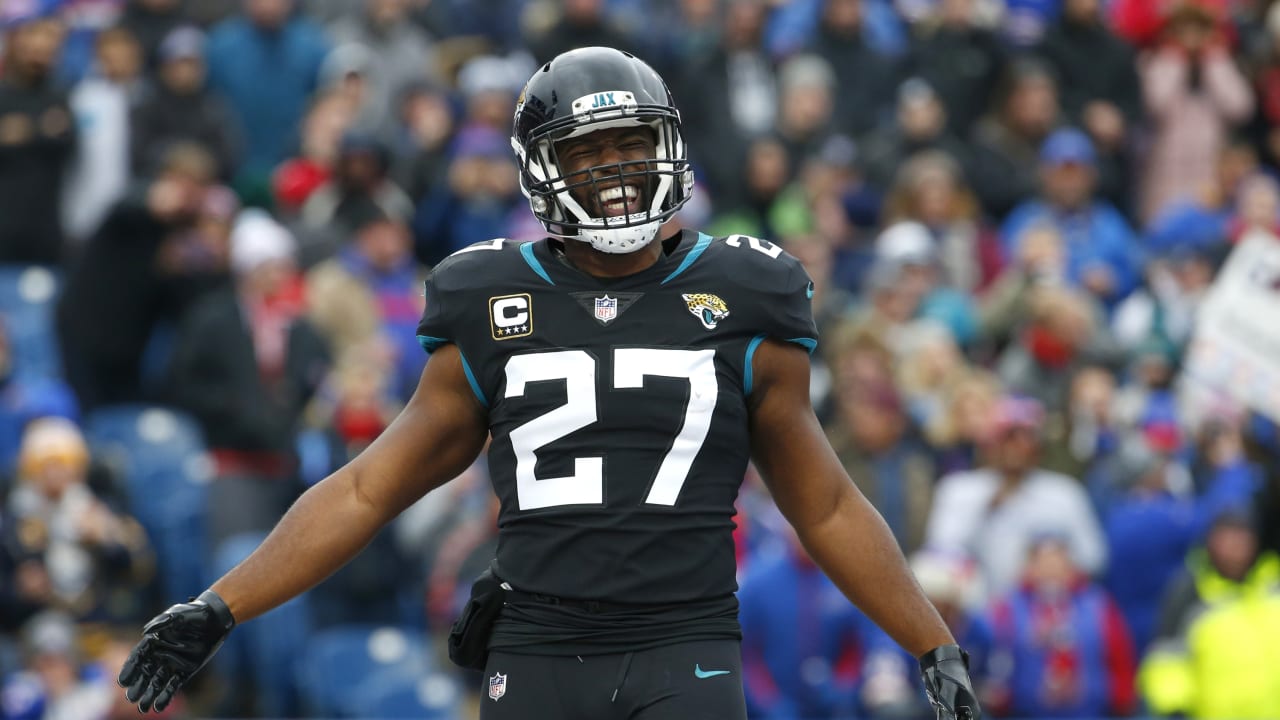 Again, we're not getting ahold of any of the elite running backs from our draft spot, but we can get ahold of the one's with guaranteed volume. Leonard Fournette was top three in the league last year (in terms of volume) and is in the final year of his contract. Jacksonville should be looking to use every bit of him that is left in their final season with him, which means that Fournette should be a near lock to finish with similar numbers. He's also due for some serious positive regression when it comes to the touchdown department, making him a dark-horse, top-five option at the position. His future is shaky, but his 2020 should look incredibly similar to his 2019. Landing a top-10 guy at pick #36? Sign me up.
Round Four: D.J. Moore (CAR WR)
I could've gone with A.J. Brown here (who I do have ranked higher than Moore) but decided to eliminate risk. Brown is on a run-first team and banks largely off of his big-play ability. D.J. Moore, on the other hand, is the undisputed WR1 on his team and will see the largest target percentage (not named Christian McCaffrey) out of any of the receivers on that team. Again, there is most definitely a way to mix "safety" with "risk/reward". Moore will be a fine WR2 for any squad and does possess the talent to potentially be more than that. The first four or five rounds are NOT the time to make risky selections. Get in, get your guys, and get out.
Round Five: Jarvis Landry (CLE WR)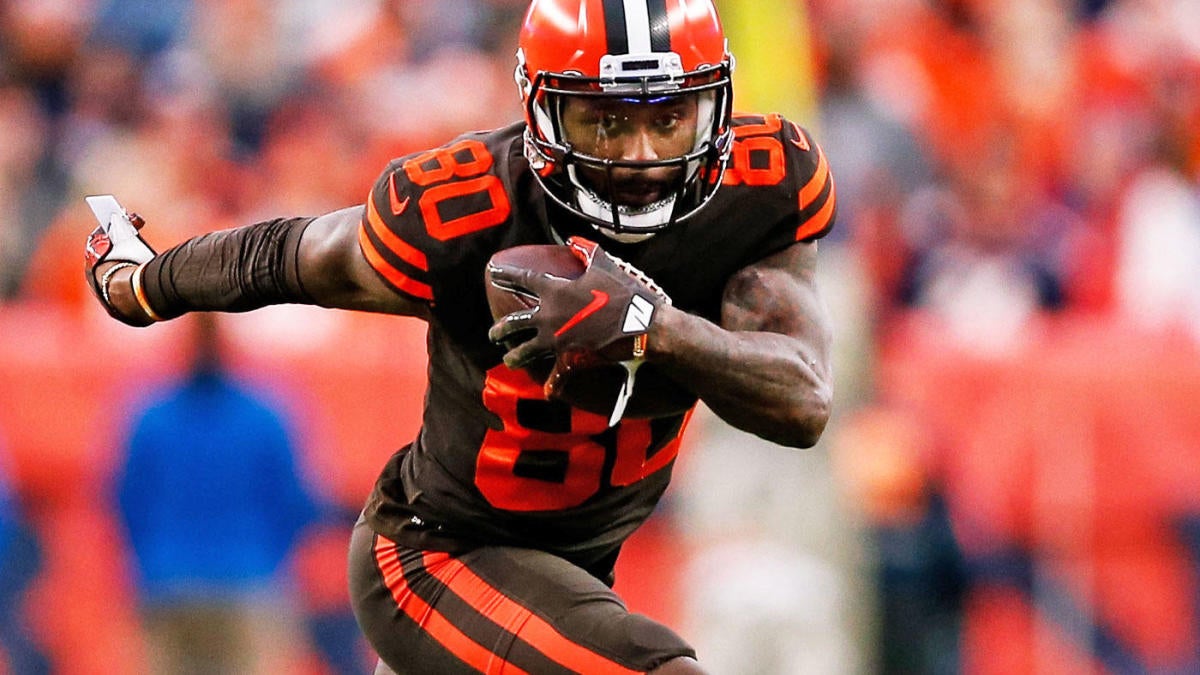 Like I said, DON'T MESS AROUND IN THE FIRST FIVE ROUNDS! Jarvis Landry has been as safe as they come, putting up mid-to-low end WR2 numbers over the last handful of years. He's a PPR player's dream at WR3, so I'd be thrilled to land him at #60 overall. Picking from the 12th spot, we have now managed to grab two top-10 running backs, a top-two wide receiver, and two receivers that are practically guaranteed to be top 20 in their position. This is exactly how you're going to want to start a draft with the last pick.
Round Six: Ronald Jones II (TB RB)
Finally, we have a risk/reward pick. Around the sixth round is when I'll typically look to start taking those "flyer" guys that I believe in. It's no secret that by round six, most starting running backs are off of the board. It is absolutely imperative that you land an upside running back with a legitimate chance to start with one of your two picks at the 6/7 turn. To me, Ronald Jones offers top-20 upside for 2020 and could be a steal at his current ADP (average draft position). Think about it, Ke'Shawn Vaughn will have no preseason games and is (to be blunt) not as talented as Jones is. Anyway, I won't get on the topic of the great running back debate in Tampa Bay, all I know is that this is where you're going to want to snag a running back that you believe could be "the guy" on his team before the end of the season.
Round Seven: Michael Gallup (DAL WR)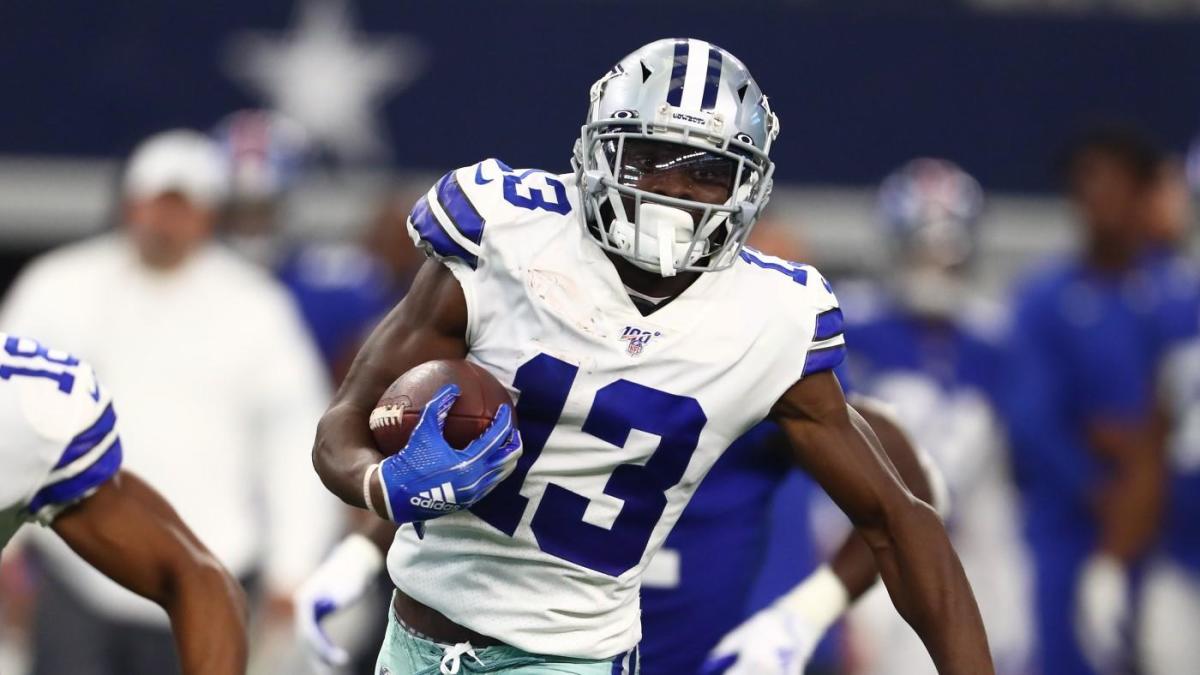 Yes, you're right; I have completely ignored quarterbacks and tight ends so far… but that's only because there is simply too much value on the board right now. Michael Gallup just quietly put up 1,100 receiving yards while Dak Prescott fell short of 5,000 passing yards by less than 100 yards. Many people are fading Gallup because of the addition of CeeDee Lamb; but they shouldn't be. Gallup is the proven talent on a VERY successful offense that you're going to want to be looking for around this point in the draft. Jason Witten and Randall Cobb leaving Dallas means that there are 166 vacated targets. Even if Lamb and Blake Jarwin soak up every single one of those targets, there is not much out there that would suggest that Gallup will be held to under 100 targets (he had 112 in 2019). With the exception of Adams (due to injury), we now have an entire WR corps that finished with AT LEAST 1,100 yards in 2019. Not too shabby, huh?
Round Eight: Josh Allen (BUF QB)
Okay, so I lied. I did end up going with a quarterback here. Round eight or nine is typically when I'll go ahead and reach on the quarterback I want; though I didn't reach by too much here. Josh Allen's current ADP is #90 overall, and I've snagged him at #85. Quarterbacks that have the running ability are special in fantasy football and need to be snagged in your draft if you can get them at a FAIR price (if you wanna reach on Lamar Jackson in the second round; be my guest. I'd stay clear of that though). Taking his legs into consideration, Buffalo has also added a ton of firepower to their offense this offseason, which means Allen will have everything he needs to take that next step in the passing attack. His floor remains very safe due to the rushing ability, but his ceiling as about as high as they come due to the improved situation. You don't have to go for a quarterback here, but it's still too early to take a shot on a "deep sleeper".
Round Nine: Zack Moss (BUF RB)
I may or may not have cringed when I took Zack Moss in a draft, but the value at the end of the 9th round is there. Moss is entering an NFL team who has big questions marks at the running back position, and while I do believe in Devin Singletary, there is no disputing that this attack should be more of a 1-2 punch. Moss' value may be capped as a receiver, but he could completely make up for this with goal-line carries. Singletary was rarely on the field when the Bills were within the five-yard line, which means that Moss can safely be thought of as the first down and goal-line back for this team. He may be a touchdown-dependent option most weeks, but there is a world where he becomes the 1A of this backfield instead of the 1B. Taking the risk on a running back at this point in the draft is an absolute must.
Round Ten: Jamison Crowder (NYJ WR)
Maybe I'm too safe with my wide receivers; or maybe I'm being smart. Jamison Crowder had an out-of-nowhere 122 targets last year, which is an absolute goldmine for fantasy purposes. Sure, they drafted a young guy in Denzel Mims, but they also lost Robby Anderson to free agency. Crowder is Sam Darnold's safety blanket and getting a triple-digit target guy in double-digit rounds is nearly unheard of. Most guys you take in the 10th round are backup guys for your BYE week anyway, but having a safe option to throw in whenever you need always saves some stress midway through the season. This pick could go either way, but in my opinion, grabbing a safe option to solidify the receiving corps is the best move.
Round Eleven: Dallas Goedert (PHI TE)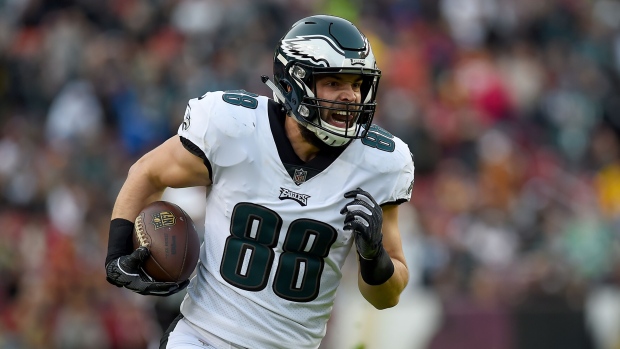 And THIS, ladies and gentlemen, is why we wait on tight ends! Dallas Goedert is in an identical situation to last year but has since earned the trust of his team and his coaches. He finished as the overall TE8 in PPR formats in 2019 and should be a safe bet to return TE1 value. You don't need a flashy guy like Travis Kelce or George Kittle to get the job done, you just need a reliable guy that you can set and forget. A guy like Goedert is the type of guy you'll want to grab to ensure that you have reliability at the position.
Round Twelve: Mike Gesicki (MIA TE)
First we grabbed our safe guy, now we're going to grab our wildcard. Mike Gesicki is one of my favorite breakout candidates for 2020, as he should be finding his role increasing on this Miami offense. Gesicki finished 2019 as the overall TE12 and has the potential to finish top six. Tight ends typically take a few years to come into their own in the league; and this is Gesicki's third season. Over the final half of the season, he accumulated 58 targets, putting him on pace for 116 total targets, which is extremely doable this year. I know many aren't big fans of drafting two tight ends for a 15-man roster, but if you're going to take the "wait and see" approach with the position, it's a very smart thing to grab a "safety blanket" and a "lottery ticket". If Gesicki hits, I will have just got the steal of the draft.
Rounds Thirteen, Fourteen and Fifteen: A backup quarterback, a kicker and a defense:
My last three rounds of any redraft league is grabbing my backup quarterback in round thirteen (snagged Ryan Tannehill, who I have ranked as a top-10 QB for this year) and then taking my kicker and my defense. I'm not going to offer any advice on kickers and defense (just play the weekly matchups), but I will say, if you really wanted to you could forget drafting either of them and just take a couple of sleeper guys. The down side to that, is that now you've given up priority over some of the better kickers/defenses in the league. Chances are, those individuals you'd draft over a kicker/defense in the last couple of rounds would just be dropped for a kicker/defense before week one anyway. Whatever, in these three rounds, you just go out there and you have some fun.
So, there you have it. That pretty much sums up my thoughts on drafting from the 12th spot. You can work it in many different ways, but this is the strategy I have found the most success with over the last 16 years of playing fantasy football. Stay safe with your first five picks, grab those guys that are guaranteed volume, and then open it up a bit after the 6th/7th round. Oh, and if you take nothing else from this article, take this… WAIT. ON. DRAFTING. TIGHT. ENDS. Not to be that guy but I was taking Mark Andrews everywhere I could last year (and he was being drafted in the double-digit rounds), which is why I'd highly recommend the two-tight end strategy late in your draft.
Anyway, I hope this has helped you visualize your draft board at that 12th spot you're probably dreading, or maybe you just come here for some entertainment. Regardless, thanks for reading and feel free to reach out to me on Twitter. I'm always down to talk draft strategy and am looking forward to whatever article may spew out of my brain next time.
Be sure to check out the latest episode of the Loaded Box Podcast as we discuss our top double-digit ADP targets for the 2020 fantasy season!
Mikey Ostrowski is a blogger for the Loaded Box Podcast. Check out his article archive and find more from the Loaded Box on Twitter & Facebook