Free agency feels like a million years ago with everything that's happened between the middle of March and now, but as we slowly get closer to the 2020 fantasy season, it may be a good time to look back at some of the fantasy-relevant faces that changed locations this offseason.
I'm breaking this down into two parts since there are quite a few players that'll play a large role in fantasy football this year that changed teams this offseason, so stay tuned for part two (WR's & TE's) coming soon.
For now, here's a look at the quarterbacks and running backs that changed teams this offseason and how they project to factor into the 2020 fantasy season.
Quarterbacks
Tom Brady, Tampa Bay Buccaneers
2019 w/ NE: 4,057 passing yards, 24 pass TD's, 8 INT's, 34 rushing yards, 3 rush TD's; 271 fantasy points (QB13)
With an average draft position of 10.03 (QB15), most fantasy players don't seem to be counting on Brady as an every-week starter. However, I wouldn't be surprised to see one of the last people in your league to take a QB also select Brady as a "backup" and then just play matchups/the hot hand on a week-to-week basis. It's hard not to like Brady's potential in this offense with Mike Evans and Chris Godwin, but the regression we've seen from Brady as Mother Nature takes her course cannot be ignored. I'm likely only taking Brady if I'm in the player in the situation previously mentioned.
Philip Rivers, Indianapolis Colts
2019 w/ LAC: 4,615 passing yards, 23 pass TD's, 20 INT's, 30 rushing yards, 0 rush TD's; 260 fantasy points (QB15)
I think we've come to the end of the fantasy-relevant road with Rivers. He once again threw for a pile of yards last year, but we saw him post his lowest touchdown total since 2007. Mix in the fact that he's playing on a new team with what will likely be an untraditional offseason, and I just don't see much upside in drafting Rivers this season. He's currently going as the final pick in the 13th round (QB21), so he's very low risk if you want to take a chance on him, but I'd rather use the draft pick on another RB/WR and take my chances with a waiver-wire QB if need be.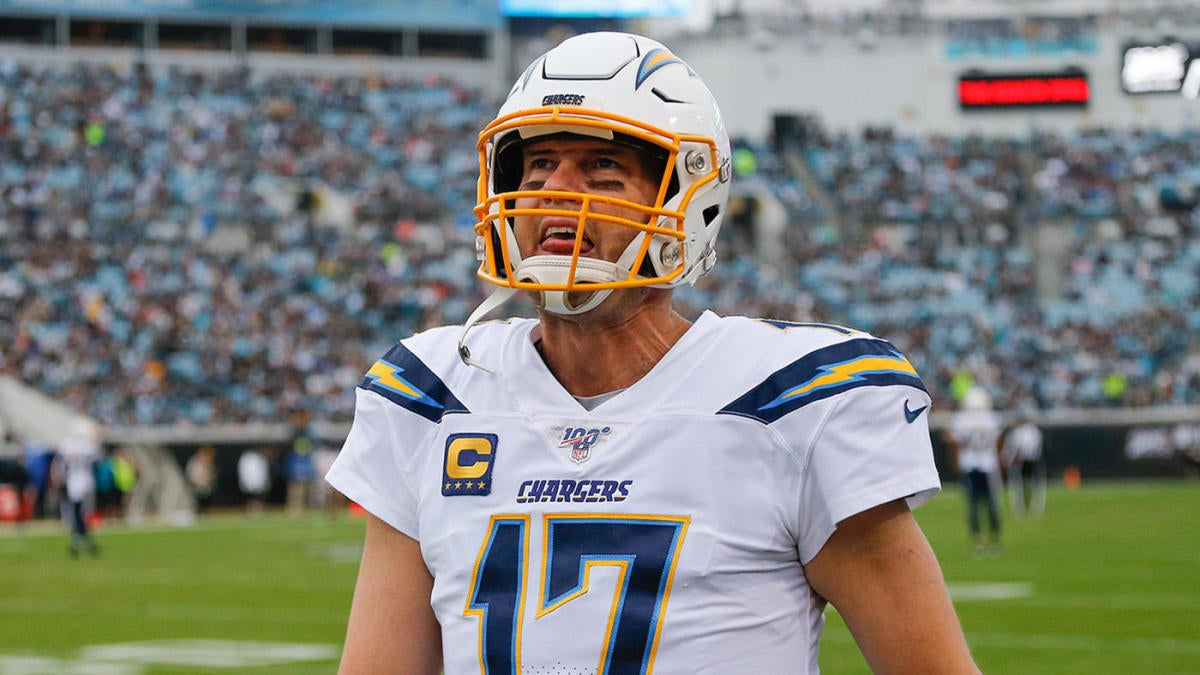 Teddy Bridgewater, Carolina Panthers
2019 w/ NO: 1,384 passing yards, 9 pass TD's, 2 INT's, 31 rushing yards, 0 rush TD's' 93 fantasy points (QB33)
Bridgewater parlayed his 2019 performance – while filling in for an injured Drew Brees – into a starting role with the Carolina Panthers after they decided to part ways with Cam Newton. However, Bridgewater hasn't proven to be fantasy relevant in the past, and with the majority of Carolina's fantasy production likely to come via Christian McCaffrey, Bridgewater should remain in your league's pool of free agents for the majority of the season.
Running Backs
David Johnson, Houston Texans
2019 w/ Ari: 345 rushing yards, 2 rush TD's, 370 receiving yards, 4 receiving TD's; 126 fantasy points (RB36)
The trade sending Johnson to Houston for DeAndre Hopkins was puzzling, and now the level of confusion trying to project Johnson's fantasy value may be equally puzzling. Johnson's 2016 season was magical for fantasy owners, but it's looking more and more like it was an outlier when you compare it to the production of the other four years of his career. However, Johnson does have a few things going for him in Houston. First, he'll be playing behind an improved offensive line compared to what he's had in Arizona the last couple of years. Second, David Johnson's primary contender for touches in this backfield is Duke Johnson. Duke has flashed some in the past, but has never truly been a player you need to plan around when it comes to fantasy football. And lastly, David Johnson's ADP is in the back half of the fourth round, so there's a good chance that you're only relying on him to be a RB2/flex play on a week-to-week basis. If Johnson remains healthy he should see solid and consistent weekly volume that'll warrant his selection in the fourth or fifth round. The fourth may be a bit rich for me, but I'd be willing to use my fifth rounder on him.
Melvin Gordon, Denver Broncos
2019 w/ LAC: 612 rushing yards, 8 rush TD's, 296 receiving yards, 1 receiving TD; 166 fantasy points (RB22)
Gordon put together a solid fantasy season last year after missing a portion of the season due to his holdout, while also competing for touches with Austin Ekeler who put together an excellent fantasy season of his own. This season we expect Gordon to be the lead back in what seems to be a high-flying Broncos' offense (at least on paper) but the hype doesn't come without some hesitation. He's still going to compete with Phillip Lindsay for touches, and who knows what role Royce Freeman plays in all of this. With an average draft position of 3.07 (RB17) you're still likely counting on Gordon to be an every-week starter in your fantasy lineup, and I don't think that's a bad thing as we've seen Gordon be one of the most-productive fantasy RB's over the last few years when he's been on the field. I'm not going out of my way to draft him in every redraft league I'm in, but it's safe to say I'm comfortable taking him in the middle/back end of the third round.
Todd Gurley, Atlanta Falcons
2019 w/ LAR: 857 rushing yards, 12 rush TD's, 207 receiving yards, 2 receiving TD's; 206 fantasy points (RB14)
I admittedly didn't have Gurley on any of my fantasy teams last year, which is probably a good thing considering his fairly high ADP. Despite not cracking 1,000 rushing yards for the first time in three years, he still salvaged a decent fantasy season by totaling 14 touchdowns, finishing as the overall RB14. Now he's in Atlanta where the Falcons haven't had much luck producing fantasy-relevant running backs for few years and the team has already made comments about his workload and his worrisome knee issues. The price tag isn't outrageous on Gurley, currently going as the first pick in the sixth round, but he'll likely only live up to your expectations if he can reach double-digit touchdowns. Can he do this in Atlanta? I'm sure he can. But if Julio Jones, Calvin Ridley and Hayden Hurst all produce as most fantasy analysts predict, there may be less TD's available for Gurley. I don't mind Gurley at his current price; and as you go down the RB rankings based on ADP, I'm not sure you'll find much more value from a guy you're using as your RB2/flex on a pretty consistent basis.
Jordan Howard, Miami Dolphins
2019 w/ Phi: 525 rushing yards, 6 rush TD's, 69 receiving yards, 1 receiving TD; 106 fantasy points (RB42)
I absolutely love the Dolphins signing Howard from a pure on-the-field football aspect, however, he's a bit of a tough sell when it comes to fantasy. The thing about Howard (and Matt Breida as you'll see below) is that you're not taking much of a risk by drafting them at their current ADP's (Breida: 9.05, RB41 / Howard: 9.08, RB42). There may be an advantage by selecting Howard as he could be in line for more touchdown opportunities if he's called upon the be the goal-line back, but I believe he'll be fairly touchdown dependent as Brieda could see more of the work between the 20's. I'll kick the tires on Howard if I'm in need of running back depth and he's the best option available based on my rankings, but I won't be going out of the way to draft him this season.
Matt Breida, Miami Dolphins
2019 w/ SF: 623 rushing yards, 1 rush TD, 120 receiving yards, 1 receiving TD; 96 fantasy points (RB44)
Building off of what I just said about Howard, one of the downfalls to Breida and/or Howard this season is the Dolphins' offensive line. While it should perform better than it did in 2019, keep in mind that Miami is expected to start at least two rookies on the o-line, and it's not like the non-rookies are much to get excited about. I'd expect more from the running game this year in South Florida (it honestly can't get much worse than last year when Ryan Fitzpatrick led the team in rushing yards and TD's), but I'd still be willing to bet that the team's receivers (DeVante Parker & Preston Williams) along with Mike Gesicki are the players to own in fantasy when it comes to the Dolphins.
Carlos Hyde, Seattle Seahawks
2019 w/ Hou: 1,070 rushing yards, 6 rush TD's, 42 receiving yards, 0 receiving TD's; 152 fantasy points (RB27)
Hyde was recently signed by the Seahawks as it looks like Rashaad Penny is trending towards starting the season on the PUP list. We know what we are getting from Hyde after seven years in the league. He's not the type of running back that's going to run for 1,200 yards and double-digit touchdowns, but rather, he can probably salvage a few hundred yards and maybe a handful of TD's. The nice thing for Hyde is that the Seahawks excel at running the ball, and if Hyde is truly the No. 2 RB behind Chris Carson for the first half of the season, he's worth owning in fantasy leagues as a guy you can spot start based on matchups, or plug in as a weekly starter should something happen to Carson. He's not a guy I'm pounding the table for, but he's worth a late-round flier, especially if you're in a deeper league and want to protect your selection of Carson.
Chris Thompson, Jacksonville Jaguars
2019 w/ Wash: 138 rushing yards, 0 rush TD's, 378 receiving yards, 0 receiving TD's; 73 fantasy points (RB56)
Looking for a late-round pick that may actually contribute to your fantasy squad rather than being the first guy you cut after Week 1? I believe Thompson can be that player now that he's healthy and in Jacksonville. The Leonard Fournette situation is interesting and needs to be monitored leading up to fantasy draft season, but even if the Jaguars hold onto Fournette and treat him as the workhorse RB, Thompson has the clear advantage of any running back on the Jaguars' roster when it comes to making plays out of the backfield as a receiver. Thompson is likely to go undrafted in any fantasy leagues that don't award points per reception, but in the event you play in half or full PPR leagues, he's a guy I'm willing to take a chance on that can at the very least be a spot start guy if you're desperate.
Be sure to check out the latest episode of the Loaded Box Podcast as we discuss our biggest ranking disagreements following the release of our initial 2020 redraft fantasy football rankings!
Ben Morgan is a co-host and blogger for the Loaded Box Podcast. Check out his article archive and find more from the Loaded Box on Twitter & Facebook