Three of the LBP guys decided to host our own dynasty rookie mock draft (we tried to get the whole crew but the others wimped out). Keep in mind that this is not a superflex mock… so don't be upset that Joe Burrow and Tua Tagovailoa aren't the top-two picks here.
Nonetheless, Ben, Ryan and myself (Mikey) put together a three-round draft with a brief summary on why we like the guys we picked. Take a look and let us know who nailed it and who should probably quit, toss their laptop in the dumpster and light it on fire.
Enjoy!
1.01: D'Andre Swift, RB, Georgia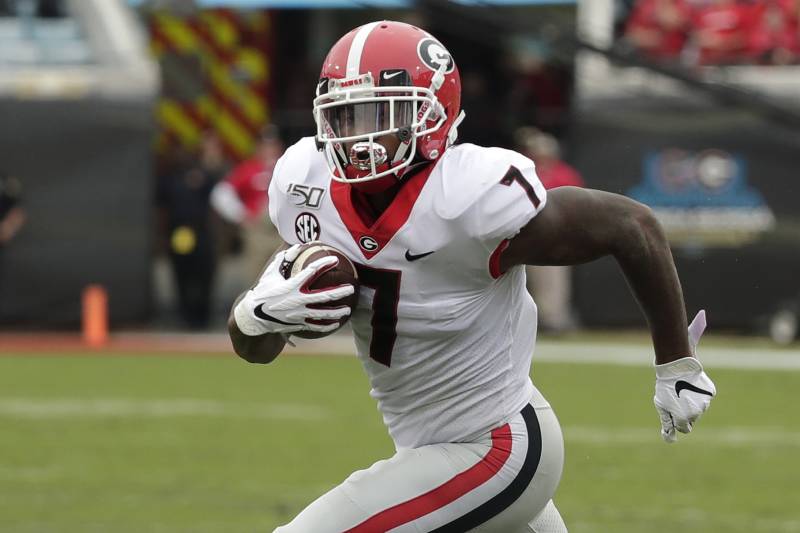 There are legit five players I can get behind with this pick. So based on your team's needs you could realistically go RB or WR, but for this mock, I'm going to go with the fairly consensus top pick in Swift. He'll see solid usage regardless of which NFL team selects him; and may just step into 1,000 rushing yards/10+ TD's in year one. (Ben)
1.02: Jonathan Taylor, RB, Wisconsin
Go ahead and knock him down with his red flag of over 900 carries, but I'll gladly take him at the 1.02 every time. His speed once he gets into the secondary is to die for, as defenders will have a hell of a time catching him. This 3-down bell cow is the real deal and should be an early 2nd-round pick in this years NFL Draft. (Ryan)
1.03: CeeDee Lamb, WR, Oklahoma
I know a lot of people think Jerry Jeudy is the best WR in the class… but that title belongs to Lamb, in my opinion. He's got incredible balance and strength with some solid speed to really drive it all home. I think he's got the best floor out of all of the rookie receivers, while obviously having major upside. There's not much to hate about a guy that was able to post a 62-1,327-14 in 2019, and I'd be more than happy to take him over any player (not named Swift) in my rookie draft this year. (Me)
1.04: J.K. Dobbins, RB, Ohio St
Dobbins is the type of RB that would have easily been picked in the first round of the actual NFL Draft if the league still valued RB's the way it used to. He showed how electric he can be in the team's semifinal game against Clemson, running for 174 yards while adding 47 through the air against one of college football's best defenses. I have no issues with Dobbins being picked anywhere in the top five of your rookie draft. (Ben)
1.05: Jerry Jeudy, WR, Alabama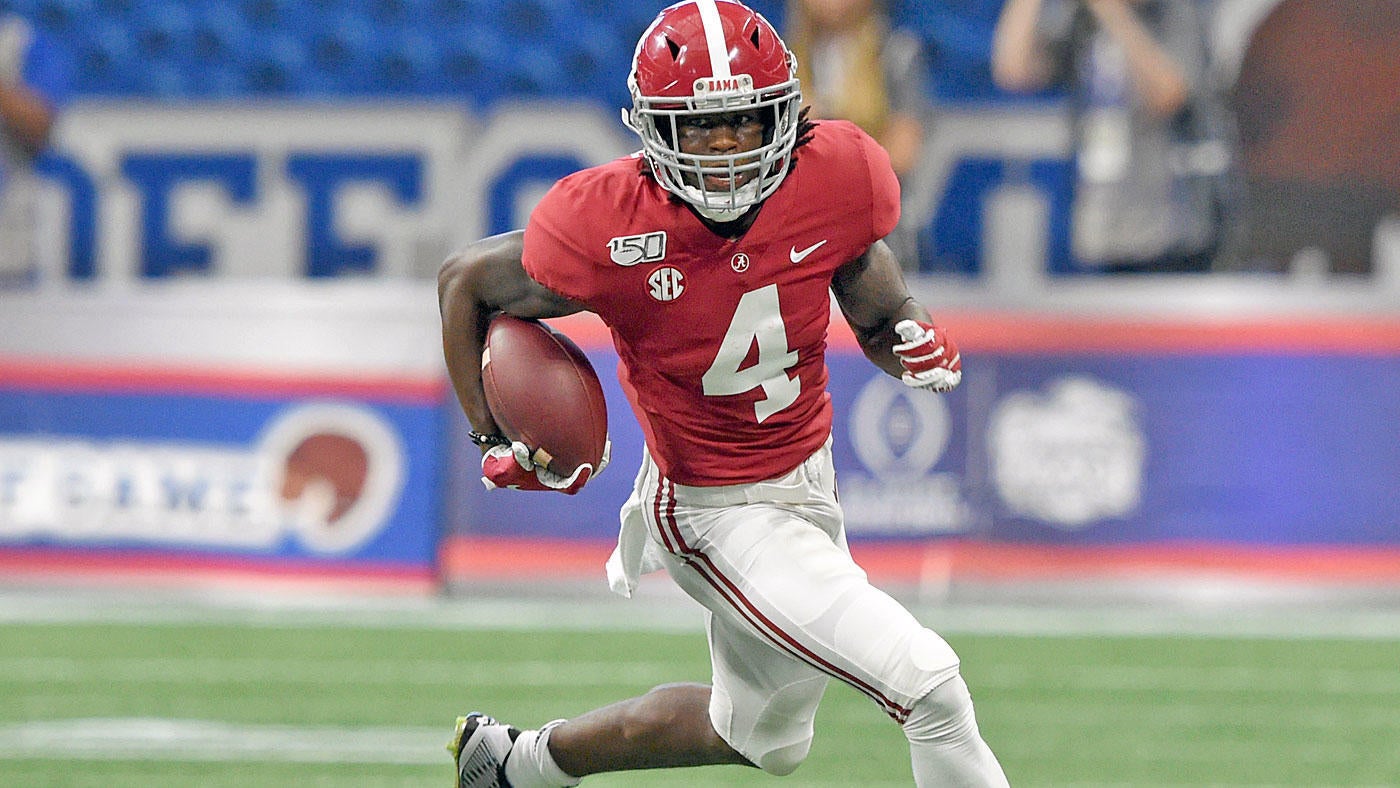 To get Juedy at the 1.05 is just highway robbery. He is the best of all the receivers coming into this draft. Sure his stats of 77/1,163/10 might not be so appetizing, but when you have other top-end receivers around you, it's hard to stand out. If you watch him though, he has the ability to burn any defender at anytime and can work with any quarterback just like how he worked with Mac Jones in the Citrus Bowl against Michigan and put up a dominant 6/204/1. Juedy will for sure be the quarterback's best friend no matter what team drafts him. (Ryan)
1.06: Clyde Edwards-Helaire, RB, LSU
CEH would've flown under the radar this offseason had he not looked so damn incredible in the playoffs last month. He's been a guy I've been keeping in the back of my head for a while now, but the cat's out of the bag: CEH is a first-round pick in dynasty this year. Elusive, explosive, and a hell of a pass catcher; CEH fits the narrative of what any team would want in their backfield. If he lands in the perfect spot in the NFL, he could shoot up into the top-three picks for dynasty purposes. (Me)
1.07: Cam Akers, RB, FSU
There are a lot of good WR's that are about to come flying off the board, but before they do, I'm gonna snag the best running back available in Akers. Despite playing behind some lackluster offensive lines during his time at FSU, Akers still flashed and posted very respectable numbers including 18 total TD's in just 11 games last year. He's not the sexy name in this year's class, but he may just come close to matching the top pick's production if he lands in the right situation. (Ben)
1.08: Jalen Reagor, WR, TCU
The speed of DeSean Jackson and catching the ball at its highest point like Calvin Johnson is what draws me into Reagor. At only 5'11" you wouldn't believe it by the way he plays. He is going to be a fun deep threat to watch as he should mainly be the Z-receiver on any offense. Just imagine him on a team that needs a speedy receiver. He shouldn't make it out of the first round in any dynasty drafts this season. (Ryan)
1.09: Tee Higgins, WR, Clemson
Higgins is my third favorite receiver in this draft and the fact that I can snag him at the 1.09 spot is awesome. He's got insane athleticism and could very well be off of the board on day 1 of the NFL Draft. I think he produces immediately in the NFL. (Me)
1.10: Laviska Shenault, WR, Colorado
A little raw? Sure. But in today's NFL, you find playmakers and you find ways to get them the ball in space. Given the opportunity, Shenault is going to evolve into one the league's best players after the catch and will eventually deliver for your fantasy squad on a weekly basis. Definitely one of the more entertaining prospects in this year's draft; he's a target of mine at the end of round one. (Ben)
1.11: Henry Ruggs III, WR, Alabama
Excited to get Ruggs here. The ceiling for this guy is through the roof and his speed will have teams salivating once he runs the 40-yard dash at the combine. Two Alabama players going in the first round should come to no surprise and getting a steal like Ruggs around the end of the first round of your drafts should get you excited! (Ryan)
1.12: Joe Burrow, QB, LSU
Am I going to be taking Joe Burrow in the first round of my 1QB league? Probably not. But I want this to feel authentic and, well, there's always "that guy" in your league that wants to make sure he snags his QB of the future. So I present to you: me being that guy!
In all fairness, Burrow is incredible and should make a splash his rookie year, so going for a high immediate success rate at the end of the first round isn't the worst move out there. (Me)
2.01: Zach Moss, RB, Utah
This was my first pick I wasn't absolutely sure about. Picking a Utah running back sparks flashbacks to Devonte Booker (I actually really liked him coming out of college) so I have a little hesitation here. However, Moss possesses traits that should lead to consistent carries at the next level, and while I don't anticipate the production coming immediately, I do think he's a guy that you'll eventually be able to spot start in a pinch. Additionally, with how teams go through RB's, he may find himself in a situation where he's asked to carry a larger load sooner rather than later. (Ben)
2.02: Ke'Shawn Vaughn, RB, Vanderbilt
His stock could fall from here all depending on where he lands in the NFL. Is it a reach at 2.02? Probably, but if you look at his college career stats over his stats from last year, you would understand where I'm coming from. He has the traits to be a 3-down back, but when you're the only star player on your offense, defenses tend to lock in on you. His elusiveness and heart for the game along with his ZERO fumbles should get him drafted somewhere in the 2nd-3rd round of the NFL Draft, and whoever drafts him, will be happy to have him. Fantasy wise, we'll see who he'll be up against! (Ryan)
2.03: Justin Jefferson, WR, LSU
Jefferson has been a popular name on "Draft Twitter" lately, with a lot of people saying that he's a top-5 receiver in this class. Though I can't say I agree with this, I will say that getting him at #15 overall seems like a pretty easy pick to make. This class is incredibly deep at the receiver position and I think Jefferson is another guy that can make an immediate impact in the NFL. (Me)
2.04: Tyler Johnson, WR, Minnesota
My plan was to land Justin Jefferson here, but since he conveniently went 2.03, I'm going with Tyler Johnson. An effective route runner who projects well at the next level, Johnson's size (6'2" 205 lbs) should also help him against the NFL's physical corners. I try not to let college stats play too much of a factor when scouting players, but there's definitely something to be said about his junior and senior seasons at Minnesota where he posted back-to-back seasons with over 75 receptions, 1,100 yards and double-digit TD's. (Ben)
2.05: Bryan Edwards, WR, South Carolina
He's a big kid (6'3", 215 lbs) that will punish those that are trying to tackle him. He may not be the fastest one on the field but he can win those contested catches. He might not start right away, but when he gets a chance, he'll be a hell of a chain mover. (Ryan)
2.06: K.J. Hamler, WR, Penn State
It's funny, I really didn't know much about Hamler a few weeks ago, but I have been shown the light thanks to some of the lovely people on twitter. Hamler actually has a shot at being a day-one selection and if that happens, he'll shoot up those dynasty draft boards. Even if he goes day two, his name should inch up those boards over the next couple of months… this guy is FAST and is a wizard when the ball is in his hands. This could be the player of your dreams at #18 overall. (Me)
2.07: Brandon Aiyuk, WR, Arizona St.
Spending this pick on Aiyuk is a little higher than I've seen him mocked elsewhere, but I'm a huge fan of his potential and wouldn't mind reaching for him a little bit. I've seen some mock NFL Drafts with Aiyuk as a late-first rounder, and if he can land on an established team with a quality QB, he may fall into production already in year one. I like him 2-3 years down the road, but if you can afford to take a chance on a high-upside WR in the middle of the second round, I'm not opposed to pulling the trigger on Aiyuk here. (Ben)
2.08: Eno Benjamin, RB, Arizona St.
Wow, how did I pass him up so many times already! When I did my article last month, I had Benjamin as a first-round pick. Seeing him drop here to me in the later half of the second round makes me feel pretty fortunate. His skill set will be great for a RBBC as he should be the check-down back and someone you'll put out there near the goal line. He should go somewhere in rounds 2/3 in the NFL Draft, and if you can land him in the 2nd round of your dynasty draft, consider it a steal! (Ryan)
2.09: Tua Tagovailoa, QB, Alabama
Guess I'm just that guy in the mock. I selected Burrow at the 1.12 and now going with arguably the better quarterback nine selections later. I don't need to tell you how good Tua is, or how much of an injury risk he is… we all know this. I have him mocked here because I definitely do not see him falling to the third round in most drafts, and he very well could end up being a complete steal at 21 overall if you've got a taxi squad that you can leave him on for at least a chunk of the season. (Me)
2.10: K.J. Hill, WR, Ohio St.
I'm not totally sold on a lot of the players you typically see going in this range, so when I find myself in this situation, I'm not scared to reach a little bit for a player I have a good feeling about. Hill will be limited as to what he'll be asked to do at the next level, but I'm fine with that as he projects to play best from the slot – an area where many of today's NFL offenses are utilizing smaller/quicker players. He's not a contested-pass type of WR, but if he can continue to win with his above-average route running, I think there's a place for him in the NFL. (Ben)
2.11: Denzel Mims, WR, Baylor
It's been hard lately to look at drafting Baylor wide receivers as the ones we know of have all flamed out. I think the change starts here. Matt Rhule knows how to get the best out of his players and that's exactly what he did with Mims. With his massive catch radius, he can get the ball from anywhere. Projecting as an X-receiver he should be a starter in this league faster than you think. (Ryan)
2.12: Antonio Gandy-Golden, WR, Liberty
Sure, he's not from a big school, but he's got big time athleticism. He also posted back-to-back 70+ receptions, 1,000+ yards, and double-digit touchdown years… so yeah, he can ball out. I'd expect him to improve his draft stock at the combine, but for now, we can enjoy having this pick at #24 overall. I've been reading reports that he shouldn't slip past the third round in the real NFL Draft, and he won't be slipping past the second in our mock draft. (Me)
3.01: Bryce Hopkins, TE, Purdue
This definitely isn't the most talked about tight end class we've seen, but I don't think early third round is too early to grab a guy like Hopkins. His route running and natural catching ability are his best traits while he struggles with in-line blocking. The beautiful thing about fantasy football is that you don't get points taken away due to poor blocking, so I'm not going to hold that against him here. Hopkins is worth a look here in the third round if you're in the market for TE depth. (Ben)
3.02: Michael Pittman Jr. , WR, USC
His first three seasons were nothing like last season. Pittman broke out as a senior to finish with a 101/1,275/11 stat line, which topped all his stats from his first three seasons… combined! To get him here in the beginning of the third could/should be a steal as he's up there with the top-10 wide receivers in this class. He may not be a true "burner" but he has the ability to be one of the best here in this deep WR class. (Ryan)
3.03: AJ Dillon, RB, Boston College
He's definitely worth a look at this point in the draft, especially since most of the draft thus far has been wide receivers. Dillon is a very physical back that has the potential of being a "poor man's Derrick Henry". He's got virtually zero pass-catching ability, but dude is a tank on the ground. I wouldn't take him before this point in the draft, but there's at least some reward to be found. (Me)
3.04: Justin Herbert, QB, Oregon
I'm not personally the biggest Herbert fan out there, but when you consider the fact that there's a very good chance he'll be a starting QB either some point in year one, or more than likely in year two, I feel okay about taking him here. He's got a chance, but the accuracy issues worry me at the next level. I really think a year or two behind a veteran starter would benefit Herbert, but if you can afford to roster another QB, this isn't a terrible landing spot. (Ben)
3.05: Jake Fromm, QB, Georgia
With a 35-7 career at Georgia, I feel like a team that is really just a quarterback away (which most teams may say they are) from getting to that next level would love to draft Fromm. I've been a big fan since he took over for Jacob Eason (yes that Jacob Eason) and forced Justin Fields to Ohio State. He's that good, and with a solid quarterback coach and a good offense around him, the team that drafts him should and will get the best out of Fromm. He should be a starting NFL quarterback for many years once his chance comes. (Ryan)
3.06: Donovan Peoples-Jones, WR, Michigan
I still have faith that DPJ will take a step in his football career. His stats in college weren't very impressive at all, which makes his "five-star recruit" status very forgettable. However, I think that with the right coaching, DPJ can be an impact player in the NFL, and spending the #30 overall pick on him in this dynasty mock doesn't seem like I'm breaking the bank too much. (Me)
3.07: Jordan Love, QB, Utah St
We've hit the inevitable run on QB's. Love is a prototype specimen at 6'4" 225 lbs with a rocket arm and a quick release. His downfall? Decision making and the fact he played against lesser competition by playing at Utah State. The nice thing about Love is that he may be the QB that falls to a solid team with an established quarterback already in place, and he'll have ample time to develop and adjust to the speed of the NFL. I'm not looking for a quick return on investment with this pick, but rather, taking a stab at a potential franchise QB that may pay off when my current dynasty league QB decides to hang it up. (Ben)
3.08: Darrynton Evans, RB, Appalachian State
Coming out of the 2019 season, Evans closed it with a bang as he finished with 2,064 all-purpose yards and 24 total touchdowns. You may be searching down low for him as many may not know he is, but if you look at his game tape from last season, you'll fall in love. This may be the highest he will go in drafts but I also want you to get to know who he is. In a year or two, he could be a name you hear quite a bit. (Ryan)
3.09: Albert Okwuegbunam, TE, Missouri
He's no T.J. Hockenson or Noah Fant, but he could develop into a decent NFL tight end someday. It'll be interesting to see where he lands, but there is definitely a possibility of him becoming a near-immediate red zone threat in the league. His receptions and yardage totals over three years are nothing spectacular, but he did accumulate 23 touchdowns in that same span. At this point in the draft, it's not a bad idea to buy a lottery ticket for fantasy's most volatile position. (Me)
3.10: Quintez Cephus, WR, Wisconsin
His collegiate stats don't jump off the page, but that's to be expected when you play wide receiver at the University of Wisconsin. He missed the 2018 season with some off-field issues, but bounced back last season with over 900 receiving yards and seven TD's on a team whose offense was dominated by Jonathan Taylor and the run game. Dependable hands and experience working both on the outside and in the slot makes him appealing at the next level. He'll face an uphill battle right away, but if he can shine with the likes of Jack Coan and Alex Hornibrook throwing him the rock, we may see him go to another level with a quality quarterback. (Ben)
3.11: Anthony McFarland, RB, Maryland
Electrifying. He can break ankles on any play, but he's just someone you don't want carrying the football 20 times either. He'll make that perfect third-down back who could be that of a James White for an offense because his speed in the secondary is like Flash. If you slip off of him, he's more than likely gone. (Ryan)
3.12: Gabriel Davis, WR, UCF
Since this is only a three-round mock, I guess Davis becomes the Mr. Irrelevant pick, however, he is anything but. Davis posted a 72-1,241-12 stat line as a junior in 2019, yet has slipped through the cracks in dynasty conversation. Why? I'm not too sure. But I am sure of one thing: I like this pick. A lot. (Me)
Be sure to check out the latest episode of the Loaded Box Podcast as we're joined by Mitchell Renz of Chat Sports to discuss the Las Vegas Raiders, the 2020 NFL Draft, and much more!
Mikey Ostrowski is a blogger for the Loaded Box Podcast. Check out his article archive and find more from the Loaded Box on Twitter & Facebook