Week 10 in the NFL is likely to go down as the week you benefit most from the weekly Sunday Sidepiece article.
On top of some key fantasy football contributors missing time due to injury, the Broncos, Patriots, Eagles, Redskins, Jaguars and Texans are all on bye.
If your fantasy teams have any resemblance to mine, you're praying your opponent has been on a booze bender this entire week and still hasn't adjusted their lineup from last week.
But in the event that's not the case, here are some Week-10 sleeper picks that'll hopefully fill in and produce when you need them the most.
Jamison Crowder, WR, New York Jets vs. New York Giants
It pains me to turn to a Jets' receiver, but, you know, desperate times. Jamison Crowder had a great first drive last week against the Dolphins but proceeded to be fairly quiet the rest of the game. He finished 8-83-1, and I anticipate a similar outing this week against the Giants. The Giants have allowed the fourth-most fantasy points to wide receivers this season, and are fresh off allowing Dak Prescott to throw for 250+ yards and three touchdowns.
Zach Pascal, WR, Indianapolis Colts vs. Miami Dolphins
Starting QB Jacoby Brissett is currently listed as a game-time decision, but I'm comfortable using Zach Pascal regardless of who's playing quarterback for the Colts this week. The Dolphins' secondary hasn't been as bad recently as you may think, but I still think the Colts will find success and score 28+ points this week. T.Y. Hilton is out once again this week and it sounds like Parris Campbell may not go either; so expect a lot of Pascal along with tight ends Eric Ebron and Jack Doyle.
Kalen Ballage, RB, Miami Dolphins vs. Indianapolis Colts Please, please, please only use Kalen Ballage if you're real desperate this week. However, he makes the list because the Dolphins have literally run out of able bodies at the running back position. Kenyan Drake was dealt to the Cardinals, Mark Walton's suspension finally came to fruition, so here we are with Ballage and his 70 total rushing yards this season as the team's starting RB. He's been underwhelming, to say the least, when he's been given opportunities this season; but in a game where volume and opportunities are king, it may not be a bad week to be forced to enter Ballage into your starting lineup.
Allen Robinson, WR, Chicago Bears vs. Detroit Lions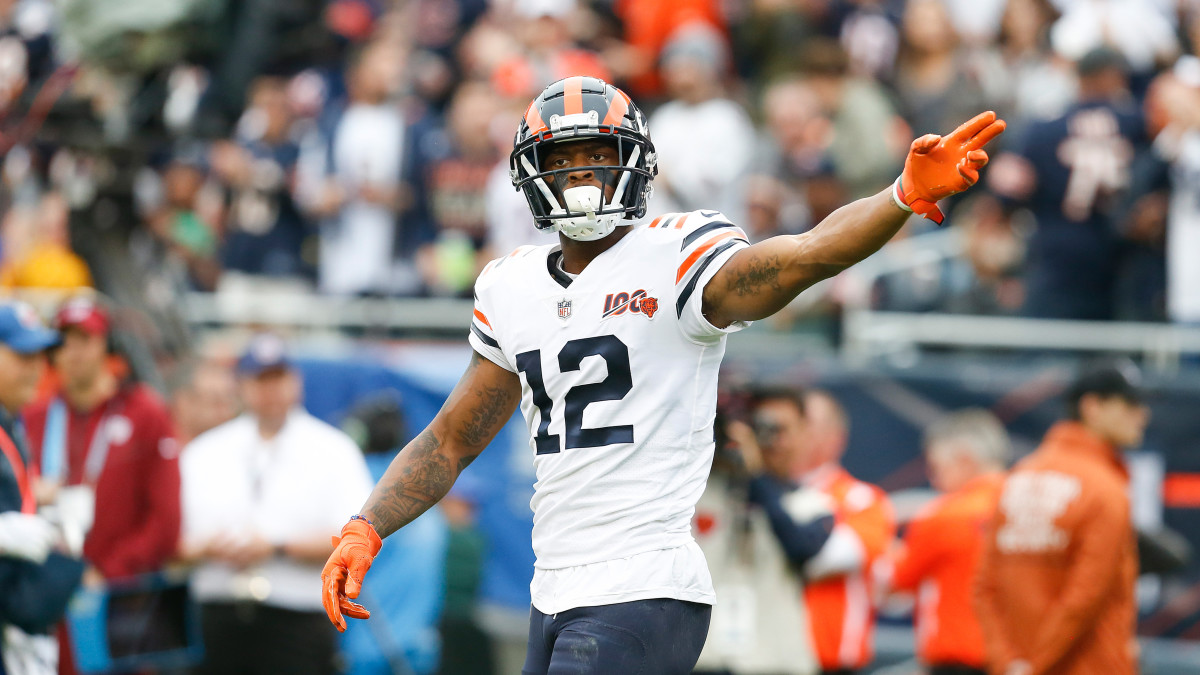 Using a player that's totaled six grabs for 68 yards over the last two weeks isn't ideal, but Allen Robinson finds himself in a nice position this week to become fantasy relevant. The Lions have given up some big games to WR's this season and the Bears are eventually going to have to make plays downfield with their wideouts if they have any plans of becoming competent on the offensive side of the ball. You may be in a position where you're playing Robinson on a weekly basis, but if you're not, have some confidence in inserting him into your starting lineup this week.
Have a Sunday Sidepiece that didn't make the list? Let us know which sleepers you're rolling with on Twitter or in the comments below!
Be sure to check out this week's episodes of the Loaded Box Podcast as we help get you set for the week in fantasy with our DFS bargains, stacks, and general advice for Week 10 in our Fantasy Football Preview & give our picks both straight up and against the spread for each game on this week's slate in our Gambling Preview!
Ben Morgan is a co-host and blogger for the Loaded Box Podcast. Check out his article archive and find more from the Loaded Box on Twitter & Facebook