Holy shit! I don't know about you but I am grasping at straws this week. In one of my leagues, I only have one running back I could start.
I have never been so desperate on the waiver wire. Reaching for guys like Kalen Ballage, DeVante Parker and Tarik Cohen.
The Broncos, Eagles, Jaguars, Patriots, R-words and Texans are all on bye. This is the week you need this article. You should be paying me to give away these season savors.
Not all of your start/sit questions will be answered here. If you have any questions, send a tweet to the Loaded Box Podcast on twitter and I guarantee a respone. How many other people can say that? Let's get into saving your season.
Start 'Em
QB: Jameis Winston vs. Arizona Cardinals
This is an easy one. The Cardinals have given up the most fantasy points to quarterbacks this season. It's not real close either. Winston is coming off of a dominating performance against the Seahawks and now gets a weaker opponent. Every game Tampa Bay is involved in should be high scoring and this is no exception. I am starting Winston over Dak Prescott this week. This is how much confidence I have in this matchup.
QB: Kyler Murray vs. Tampa Bay Buccaneers
On the other side of the coin is Murray. The Buccaneers give up the fourth-most fantasy points to quarterbacks but are excellent against the run. Not only will Murray have wide open receivers against a bad Buccaneers' secondary, he also adds the threat to run it. And run it he will. I know this isn't our gambling podcast but… bet the over in this game.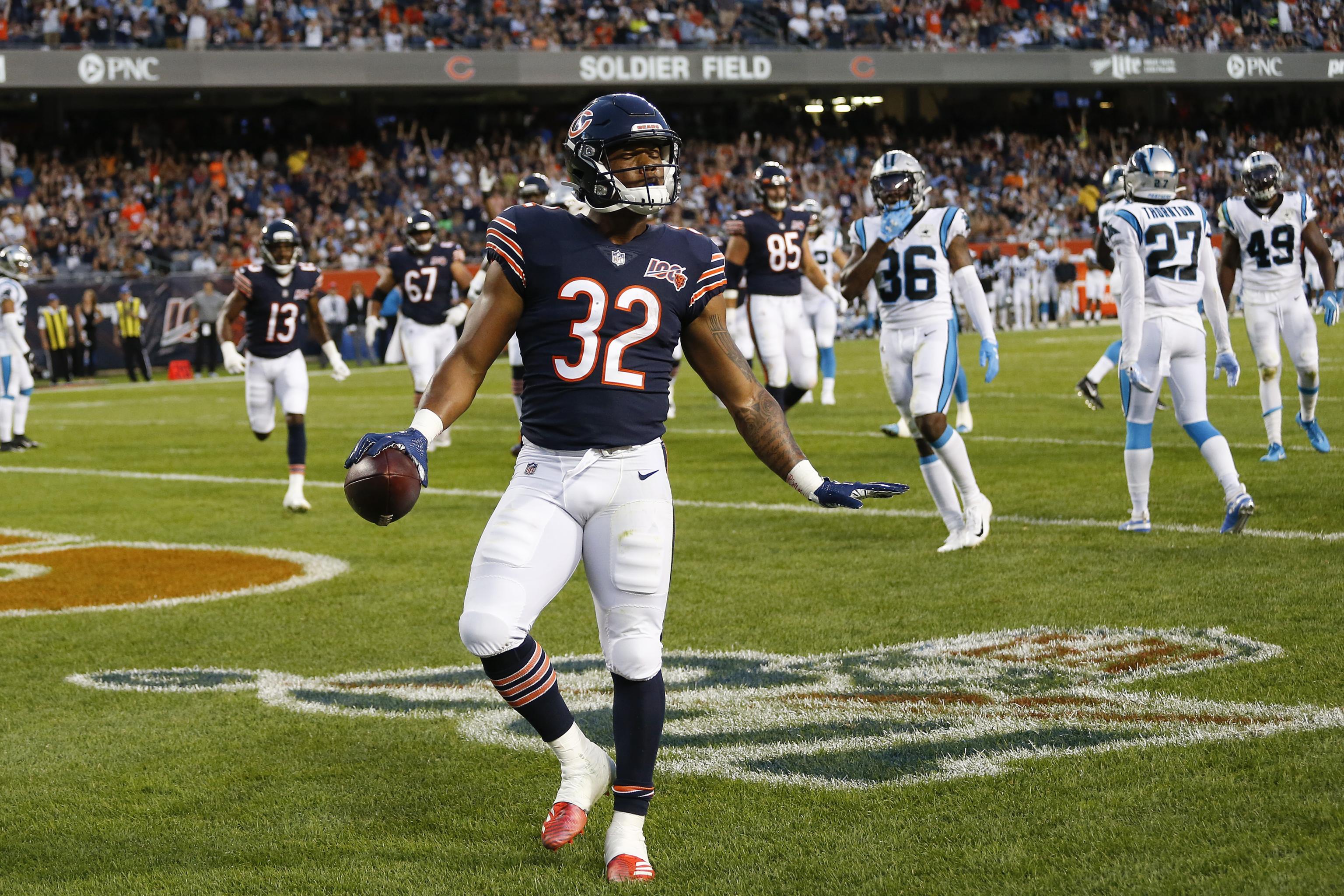 RB: David Montgomery vs. Detroit Lions
If you have watched the Lions this year, you have seen that they get dominated at the line of scrimmage. The Bears have to commit to running the ball because Mitch Trubisky "ain't it, chief." This is the perfect matchup for the Bears to assert their dominance against the Lions.
RB: Derrick Henry vs. Kansas City Chiefs
The only team worse at stopping the run than the Lions is the Chiefs. Somehow, on FanDuel, Henry is being supremely undervalued and I do not get it. I am going off the assumption that Patrick Mahomes is going to play. The number one goal for any team, ANY TEAM, is to keep Mahomes off the field. How do you do that? RUN. THE. DAMN. BALL!
WR: Robby Anderson vs. New York Giants
Hear me out. The Jets have a been a horrible football team. I think Sam Darnold is super talented and has a stink head coach and stink offensive line. That being said, no team has given up more fantasy points to wide receivers than the Giants. You are thin at all of your positions. Put him in and just believe in me.
WR: D.J. Moore vs. Green Bay Packers
It pains me to do this because I love the Packers and Jaire Alexander is very good. The problem is he doesn't follow the top receiver. The Packers have been extremely susceptible to the big play. The Panthers will move Moore around and have trouble stopping him because of some guy that will garner all of our attention named Christian McCaffrey.
TE: O.J. Howard vs. Arizona Cardinals
I don't know if I have ever gotten a tight end right. Howard is due and playing against the worst defense against tight ends. He has to bust out sometime. Are you going to be the one who doesn't start him this week?
Defense: Detroit Lions vs. Chicago Bears
Mitch Trubisky.
Sit 'Em
QB: Baker Mayfield vs. Buffalo Bills
The Browns are a dumpster fire. Now they face the team who is third in least amount of fantasy points given up to quarterbacks. Good luck.
QB: Kyle Allen vs. Green Bay Packers
I know I said to play D.J. Moore. One player having a successful week does not mean the quarterback will. The Panthers will rely on the run, but if they get into obvious passing situations, Allen will have to deal with the Packers' pass rush.
RB: Melvin Gordon vs. Oakland Raiders
Gordon has not really seemed like the guy we have come to know in the past. The Chargers have made it clear that he will split time with Austin Ekeler. The Raiders have been pretty damn good against running backs. I am just not feeling Gordon right now.
RB: Joe Mixon vs. Baltimore Ravens
I just don't see any matchups right now where I would be comfortable playing Mixon. It's honestly the most confusing situation in fantasy football all year. Definitely the biggest bust.
WR: Marvin Jones Jr. vs. Chicago Bears
There is no way you can bench Kenny Golladay right now, but do not hesitate to find someone to replace Jones against a defense that's still one of the best in the league. DeVante Parker is someone I would be willing to play over Jones.
WR: John Brown vs. Cleveland Browns
No matter how bad the Browns have been, and they have been bad, they have been incredibly good against wide receivers this year. Josh Allen is not a guy who is going to make his receivers look better. Keep Allen on the bench with Brown.
Have start/sit questions? DM @LoadedBoxDJ or @loadedbox on twitter.
Be sure to check out the latest episode of the Loaded Box Podcast as we discuss our top daily fantasy sports bargains, stacks, must use/avoid players, and answer listener start/sit questions.
DJ Premo is a co-host and blogger for the Loaded Box Podcast. Check out his article archive and find more from the Loaded Box on Twitter & Facebook