Following the Miami Dolphins preseason game against the New Orleans Saints Thursday night, head coach Brian Flores announced Ryan Fitzpatrick as the team's week-one starting quarterback over offseason acquisition, Josh Rosen.
Despite Rosen outperforming Fitzpatrick during actual preseason games (granted Rosen was given several more opportunities), it looks like the decision was made more so on a culmination of execution during OTA's and training camp practices than actual game performance.
If indeed this is the case, it supports the one argument I've heard for why Fitzpatrick should get the nod over Rosen. And in my opinion, that argument is trash.
The argument is that if you tell the players in training camp that those who perform the best will be the ones starting on Sundays, then you can't treat the quarterback position any different, even if only one of the options is even remotely in contention for being with the team for the foreseeable future.
Why do I believe this argument is trash?
These players are professionals. By now, the majority of them should know that the NFL is a business, and in order to succeed in business, you need to keep an eye on the future. And the future for the majority of NFL franchises revolves around the position of quarterback.
The obvious reason for starting Rosen, even if he was trailing Fitzpatrick all offseason in the QB competition, is that it allows you to evaluate him for a full season before deciding how you want to handle the quarterback position in regards to the 2020 NFL Draft.
Granted, I don't see Dolphins' practice on a daily basis, I can't tell you exactly how each player has looked day to day, but I don't think it's logical to write off Rosen after one below average (rookie) season in Arizona behind a terrible offensive line, and one offseason in Miami (in yet another new system) where he actually looked like a QB with promise behind another well-below-average offensive line.
Some have argued that if Rosen can't beat out Fitzpatrick for the starting QB, he's not the guy you want at the position anyways and you're better off selecting someone for the job early in the 2020 draft.
Here's the thing about that argument. Fitzpatrick is playing in his 14th season in the league, Rosen is entering his second, I'd hope Fitzpatrick looked better than a (basically) brand new QB working in yet another new system.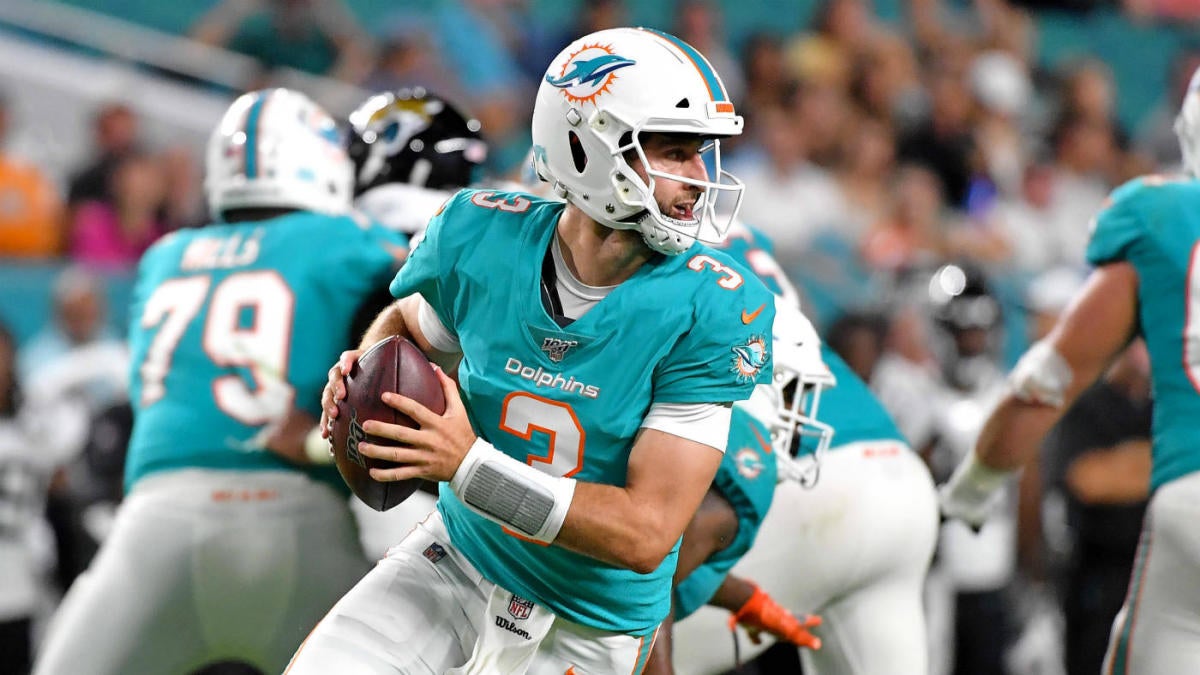 A possible scenario here is that the Dolphins start the season 0-4 and turn to Rosen after their week-five bye. And while I believe this is what will end up happening, and giving Rosen 12 games to prove that he can be a franchise QB may be a large enough sample size, why not give him an extra four games to begin the season to create a larger sample size for evaluation?
The risk of starting Rosen from week one overwhelmingly outweighs the reward of giving a 36-year-old quarterback the nod. I'm anxious to see how everything plays out, but handing the keys over to Fitzpatrick provides little-to-no upside for a team using 2019 as an evaluation year.
Be sure to check out the latest episode of the Loaded Box Podcast as we discuss which top-12 wide receivers we're targeting/avoiding this fantasy football season.
Ben Morgan is a co-host and blogger for the Loaded Box Podcast. Check out his article archive and find more from the Loaded Box on Twitter & Facebook
Enter code LOADED when you register to earn $5 towards an auction item!