Did you miss any of Sunday's action from Week 9 in the NFL? If so, here's everything you need to know to get caught up so that you can hold your own this week at the water cooler.
Bears 41, Bills 9
Nathan Peterman did exactly what he's done every game so far in his NFL career. Another three-interception performance and under 200 passing yards despite 49 attempts. For the Bears, Jordan Howard's two-touchdown performance was likely left on several fantasy squad's benches, but you may want to consider throwing him into your lineups moving forward as he's now scored in three straight games.
Chiefs 37, Browns 21
Patrick Mahomes continued to shine, throwing for 375 yards and three touchdowns, but Kareem Hunt lived up the to praise I gave him on our daily fantasy sports preview podcast posting two rushing touchdowns and addition to a 50-yard receiving touchdown. I think we're all ready to watch the Chiefs and Rams combine for 100 points when they meet in two weeks.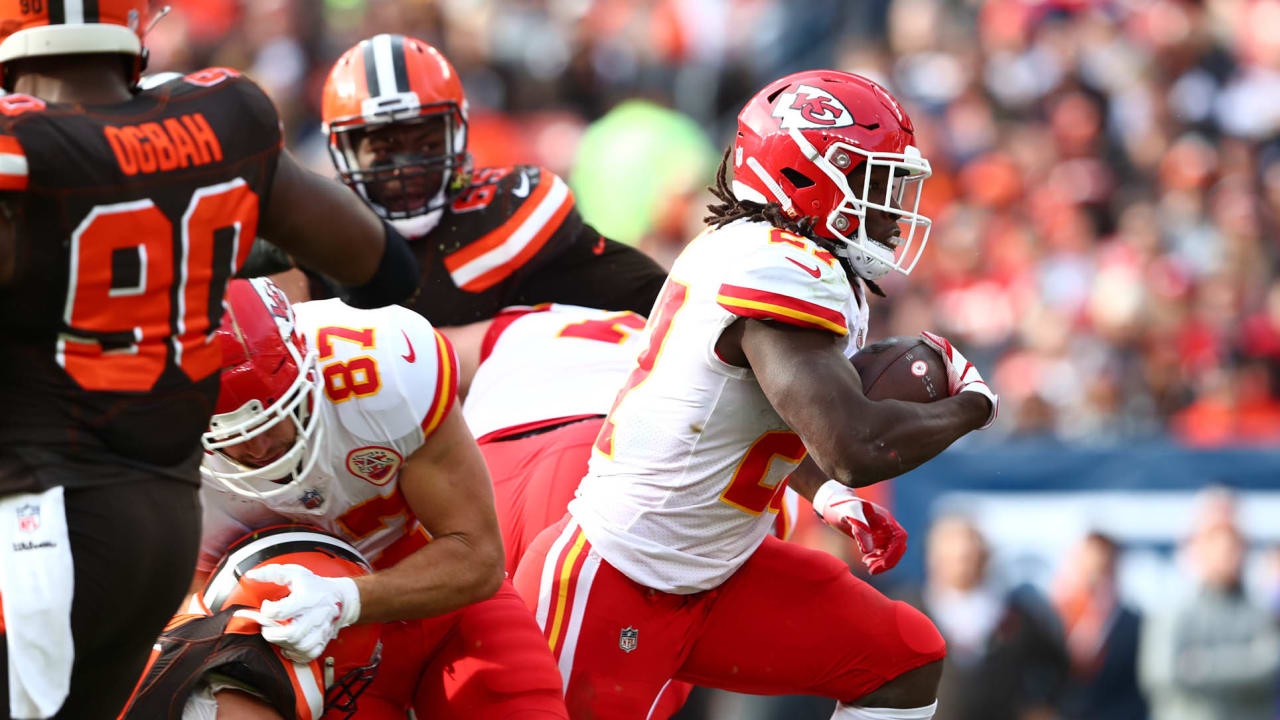 Dolphins 13, Jets 6
I watched every second of this game, and unfortunately, this was the most exciting part. As a person with tickets to next week's Dolphins' game, please don't make me suffer through another game featuring Brock Osweiler.
Vikings 24, Lions 9
Matthew Stafford was running for his life for the majority of the game. The pass-rushing tandem of Everson Griffen and Danielle Hunter is back to full strength as the duo combined for five of the team's franchise-best 10 sacks against the Lions. Adam Thielen failed to notch 100 receiving yards for the first time all season, but it didn't impact the team's performance as this game was dominated by the defense. If the Vikings can play defense like this every week, they'll be in the discussion with Los Angeles and New Orleans when it comes time to decide the NFC.
Falcons 38, Redskins 14
It happened… Julio Jones found the endzone! It was starting to look like he forgot where it was located, but he took a Matt Ryan screen pass to the house against Washington and had to exert all-out effort in order to make it happen. Hopefully you weren't scared of the Redskins' defense (like I was) and played Ryan in your fantasy matchups. Ryan tossed four touchdowns to go along with 350 passing yards against a Washington defense that had allowed just 14 points per game over its last three contests.
Panthers 42, Buccaneers 28
I'm gonna have to pat myself on the back again in this one. If you followed along with my DFS stack of the week, you would have rolled out Cam Newton and Christian McCaffrey who proceeded to provide some nice return on investment. Newton put up a solid game tossing two touchdowns and 250 yards while McCaffrey went for over 150 total yards and added a pair of touchdowns on the ground. You can feel safe using CMC in FanDuel and/or DraftKings every week.
Steelers 23, Ravens 16
The James Conner show continues for Pittsburgh while Le'Veon Bell tweets from the couch. Conner went over 150 yards from scrimmage while adding a receiving touchdown. It was a big win for the Steelers who are now 5-2-1 after splitting the season series with Baltimore, and hopefully we don't have to worry about the Ravens sneaking into the playoffs, nobody wants to see that.
Texans 19, Broncos 17
Denver had a chance to end Houston's current win streak but a Brandon McManus game-winning field goal attempt sailed wide right as time expired. Demaryius Thomas' debut with the Texans turned out to be fairly successful, securing all three of his targets for 61 yards, but it was DeAndre Hopkins who once again found the endzone as he hauled in 10 receptions for 105 yards. It's likely time to panic in Denver as the Broncos now have six losses while the Chiefs and Chargers continue to rack up wins.
Chargers 25, Seahawks 17
Definitely an exciting finish as the Seahawks received an untimed down from the Chargers' one yard line but Russell Wilson's pass was tipped at the last second as the Chargers hung on for their sixth victory of the season. Despite Keenan Allen's first game over 100 receiving yards since Week 1, Melvin Gordon stole the show rushing for 113 yards and a touchdown on just 16 attempts. As long as he's healthy he'll be leading fantasy teams as we enter the time of the season where you need to start making your playoff push.
Saints 45, Rams 35
The game of the week lived up to the hype as these two high-powered offenses combined for nearly 1,000 yards and 80 points. There's literally way too many things that happened in this game to stick with the theme of giving quick hitters, so I suggest watching the highlights when you get a free second. But if there's one thing you should take away from this game it's Michael Thomas and his 12-catch, 211-yard performance, which turned out to be the most in franchise history. Oh yeah, and the best part, he replicated Joe Horn's hidden cell phone celebration! As Bruno Mars would say, don't believe me – just watch.
For more instant reactions to Week 9 in the NFL, check out our 10-minute recap in latest YouTube video!
Ben Morgan is a co-host and blogger for the Loaded Box Podcast. Check out his article archive and find more from the Loaded Box on Twitter & Facebook