Written by Mikey Ostrowski
Season-Long record: 41-23 (64%) on Start Ems, 38-26 (59%) on Sit Ems
Notable teams on week 6 BYE: Lions, Saints
Quarterbacks:
Start of the Week: Matt Ryan (ATL)
Ryan disappointed as my start of the week last week, but I'm leaving him in the exact same spot. He draws a matchup against the Buccaneers, who have been the worst team defensively in the entire league. This game has shootout written all over it, and I'm taking both of the quarterbacks to have pretty big games in the air.
Start: Jameis Winston (TB)
Speaking of the other quarterback, here he is! Winston is making his first appearance on my Start/Sit column and has found himself on the right side of it. I think this is going be a game where he's playing from behind and will have to showcase his abilities to keep his starting role in the offense. If you're someone who streams quarterbacks, Winston could very well be the answer to your prayers this week.
Start: Andy Dalton (CIN)
Dalton faces off against a Pittsburgh defense that is practically non-existent. Though it is a division game, I see no reason for Dalton to score less than 20 fantasy points this week and he should be locked in for QB1 numbers in week 6.
Start: Kirk Cousins (MIN)
Arizona is a bad football team and should get completely massacred by the Vikings this week. With a giant question mark at the run game, Minnesota will rely on Cousins heavily to make this happen. Not that you were gonna bench him anyway, but fire him up as your starter this week.
 Sit of the Week: Alex Smith (WAS)
Carolina just got Thomas Davis back from his 4-game suspension and it is going to completely fire up that defense. This is a game that I expect Carolina to run away with, and though Smith may see some garbage-time points, I would not rely on him to carry your fantasy team to a win this week… Carolina's defense is NOT a friendly matchup.
Sit: Jared Goff (LAR)
Goff's receivers are hurting, which means Goff's fantasy value is hurting. He's a great quarterback (obviously), but with his receivers either not playing at all or playing at less than 100%, he will be a shaky play in week 6, especially against a Denver defense that has been decent thus far.
Sit: Philip Rivers (LAC)
Rivers shows up as a Start or a Sit in this column every week… weird right? However, he ends up in the Sit column this week due to his matchup. He should still post a respectable stat-line (maybe 17.5 to 18.5 fantasy points), but he won't be a world-breaker for you in week 6. The Browns defense looked good last week against the Ravens and should be fired up after their last-second OT win. I say this every time Rivers is a sit: start him if you need to, sit him if you can.
Sit: Marcus Mariota (TEN)
Mariota has been ugly this season (aside from one game) and faces the Ravens this week. I can't imagine many of you were planning on starting him, but here's my thoughts on the idea of that: Yuck!
Running Backs:
Start of the Week: James White (NE)
Kansas City's defense won't be able to contain Tom Brady on Sunday night, and who's his favorite target? James White. White will be the start of the week for me and should be a top-6 fantasy running back in PPR leagues this weekend.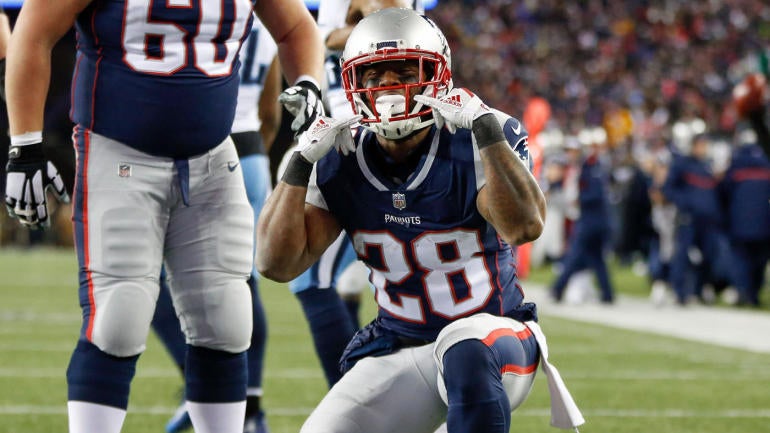 Start: Marshawn Lynch (OAK)
Nobody is going to be surprised if Lynch completely torches his old team. Lynch should be considered a top-15 option at the running back position in week 6. He's looked fantastic thus far this season and he could be in line for his best game of the season. Use him with confidence.
Start: T.J. Yeldon (JAX)
Yeldon really isn't that good, however, for as long as Leonard Fournette is battling his injury, Yeldon needs to be started week in and week out. He's especially good in PPR formats, as Blake Bortles does like to dump the ball off to him a handful of times each game. His RB2 status is purely volume based, but he does indeed have RB2 status, making him a very valuable start this week.
Start: Tevin Coleman (ATL)
I'm starting Coleman over DeVonta Freeman against the Buccaneers because I think this game is going to be a shootout, in which the pass catchers are going to be heavily favored over the running backs. Plus, Coleman and Freeman have practically split snaps in games this season, and I've always been a bigger fan of Coleman anyway. Use him as your RB2 this week, you won't be disappointed.
Sit of the Week: Carlos Hyde (CLE)
Cleveland faces off against the Chargers and I imagine they'll be playing catch up most of the game. I like Hyde, and he's still going to get a couple chances on the goal-line, but I think he's going to be a dud this week. The Browns have the utmost confidence in Baker Mayfield and will lean on him extremely heavy in this matchup. Temper expectations for Hyde in week 6 and leave him on your bench.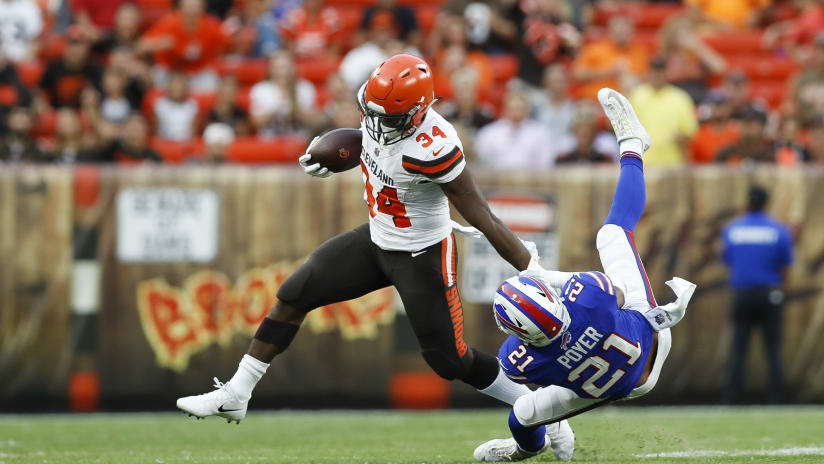 Sit: Jordan Howard (CHI)
Chicago draws a match against Miami, a team that has been looking much more vulnerable over the last couple of weeks. Miami is actually terrible against the run and have been burned by numerous running backs in 2018. However, I'm benching Howard this week for two reasons: 1.) I have no confidence in him and 2.) I think Tarik Cohen is going to start seeing a bigger workload. If you can, I'd sit him in week 6.
Sit: DeVonta Freeman (ATL)
Like I said, I like Tevin Coleman more in this one. Freeman should see his fair share of touches, but I think this game will belong to Coleman. Freeman will be, at best, a high-end RB3.
Sit: Ronald Jones (TB)
I know a lot of people are excited that he'll be starting this week, but please, slow your roll. Nobody should actually be considering starting this guy right now… The Bucs still have a lot left to be desired offensively and it's not just going to be fixed magically overnight. He's worth a stash at this point but should not be in anyone's lineup this week.
Wide Receivers:
Start of the Week: Tyler Boyd (CIN)
Cincinnati has a division game against Pittsburgh and they should be able to find points easily in this one. Boyd is coming off his only disappointing week since week 1 and should be a lock for some excellent numbers this weekend. I'd treat him as a high-upside WR2 this week.
Start: Julian Edelman (NE)
Once a week, I write on here at least one receiver's name that is against Kanas City. This week its Julian Edelman. As I have said countless times, the Chief's don't have much of a defense which means the Patriots will thrive in this one. Edelman should lead the team in targets (well, maybe that'll be James White) and should absolutely be in your lineup this week.
Start: Robert Woods (LAR)
Are the other guys out this Sunday? Only time will tell. However, Woods will in fact be the only fully healthy receiver out there for the Rams which means a big workload could be coming his way. He has done well as a very respectable WR3 this season and could flirt with WR2 status with the big names of that offense being hobbled.
Start: DeSean Jackson (TB)
Jackson hasn't had a great game since week 3 but seeing as how he's coming off of a BYE week, that seems farther away than it actually is. Atlanta's defense is very bad, which means the Buccaneers will have a lot of room to score points this weekend. That should come largely from DeSean Jackson, who should be a safe bet for at least one homerun play this weekend, giving him a very safe floor. Fire him up.
 Sit of the Week: Larry Fitzgerald (ARI)
Most people already have Fitz riding the bench, but in case you're one of the believers… Stop believing. His time in the NFL has virtually come to an end and can no longer be trusted as a fantasy asset. Hold him for the nostalgia if you want, but I honestly think he can be dropped in most formats.
Sit: Amari Cooper (OAK)
If you know me, you know I hate Amari Cooper. I don't believe in him at all, especially in a week against the Seahawks. Their secondary has been surprising, and I think this will be a week that Cooper decides to stay quiet. He may very well be the definition of a boom-or-bust player and should be trending on the bust side in week 6.
Sit: Corey Davis (TEN)
What's worse for Davis? Marcus Mariota or the matchup against Baltimore? Either way, until this offense learns how to click, Davis will be held down from a fantasy perspective. But, last time I had him listed as a Sit, he completely went off. So listen to me if you want, or don't… Who knows?
Sit: Doug Baldwin (SEA)
Seattle is officially a run-first offense now and boy does that piss me off. This offseason, I traded away both of Minnesota's receivers (you know, those two really good ones) because I planned on keeping Baldwin since he's so reliable. Well, it would appear his reliable days are over. After receiving only one target last week, I'm benching him in all of my leagues. Barring a miracle, this will be Baldwin's worse season he's ever had in the NFL.
Tight Ends:
Start of the Week: Eric Ebron (DET)
Do I really need to tell you why to start Ebron? No, didn't think so. Dude's a stud and Andrew Luck loves him. In a season in desperate need of tight ends, you count your blessings that you have this guy.
Start: David Njoku (CLE)
I see him listed as a Sit in most places, but I'm a firm believer in Njoku when Baker Mayfield is on the field. He's seen 7 and 11 targets with Mayfield starting, and I would look for that trend to continue. I know people are scared because "The Chargers have allowed the 7th fewest points to tight ends" but the Chargers have also played against some pretty piss-poor tight ends. Let me put it into perspective: I'm personally starting Njoku over Jordan Reed in my league.
Start: Austin Hooper (ATL)
I had Hooper listed as a start last week… he did well, hope you listened to me. Listen to me again, I dare you. But seriously, start him with confidence against the Bucs.
Start: George Kittle (SF)
I'm not going to lie, it's honestly exhausting figuring out which tight ends won't completely dud-out this season, and it's just as tiring trying to figure out which ones will boom. Here's Kittle, I think he's going to boom this week, just a hunch.
Sit of the Week: Ricky Seals-Jones (ARI)
I don't think Josh Rosen likes him a whole lot, and now that David Johnson is doing David Johnson things again, Seals-Jones will not be the go-to short yardage guy. They also do battle against Minnesota which gives me even less confidence in Ricky. Bench him.
Sit: C.J. Uzomah (CIN)
Once again, not gonna lie, I just have a hunch that this guy is going to dud-out. He's not a Tyler Eifert replacement and I really don't think you can treat him as one.
Sit: Vance McDonald (PIT)
The Steelers will have to rely on their big receivers to keep this game close… I'm looking for McDonald to have a less-than-stellar night. Start if you need to, but don't be surprised if he gets less than 8 points.
Sit: Antonio Gates (LAC)
Stop wasting your time, Gates' career is over. See you all next week.
Be sure to check out the latest episode of the Loaded Box Podcast as the guys get you set for week 6 in the NFL with their daily fantasy sports stacks and bargains as well as their against the spread gambling picks!
Mikey Ostrowski is a blogger for the Loaded Box Podcast.  Check out his article archive and find more from the Loaded Box on Twitter & Facebook