Written by Mikey Ostrowski
Season-Long record: 32-16 (67%) on Start Ems, 29-19 (60%) on Sit Ems
Notable teams on week 5 BYE: Bears, Buccaneers
Quarterbacks:
Start of the Week: Matt Ryan (ATL)
The Steelers have been getting completely lit up this season and there is absolutely no reason to believe that Matt Ryan won't find a tremendous amount of success against them. I'm not sure if it's too early to say this, but Ryan is looking like his MVP self from a couple of years ago, and though I don't think the Falcons are going to even win the NFC South this year, you gotta love what he's doing from a fantasy perspective. Keep rollin' with him.
Start: Ben Roethlisberger (PIT)
Opposite of Matt Ryan this week will be Big Ben. Ben struggled against Baltimore last week, but Atlanta's defense is significantly more generous. This could finally be Antonio Brown's breakout game of 2018, which obviously means big numbers for Ben. On top of that, JuJu Smith-Schuster and Vance McDonald continue to look amazing. There won't be many better plays than Big Ben in week 5.
Start: Marcus Mariota (TEN)
Yeah… I was wayyyyyy wrong about Mariota last week. I've learned my lesson and switched him from a Sit to a Start for this week. Ya gotta love his matchup, as he faces off against the Bills who are practically just a dumpster fire that grows bigger each week. Granted, they shut down Kirk Cousins a couple of weeks ago, but then they got demolished the following week. With Corey Davis trending up, Mariota could finally be the great quarterback he was supposed to be. Let's see if he can repeat his stats from last week.
Start: Blake Bortles (JAX)
This game is going to be the most interesting game in week 5. You have the Chiefs' stellar offense against the Jaguars' stellar defense. However, when you look at the opposites, the Jaguars' offense is simply average, while the Chiefs' defense is god awful. Queue the big day for Bortles. If you have a Jaguars' receiver, start him, because Bortles should have a big day spreading the ball around.
Sit of the Week: Baker Mayfield (CLE)
Baker had a solid week against the Raiders but will face off against a Baltimore team that has had a very strong defense through the first quarter of the season. Though I think Baker is one of the premier QBs of the future for the NFL, I am treating him as a major sit this week.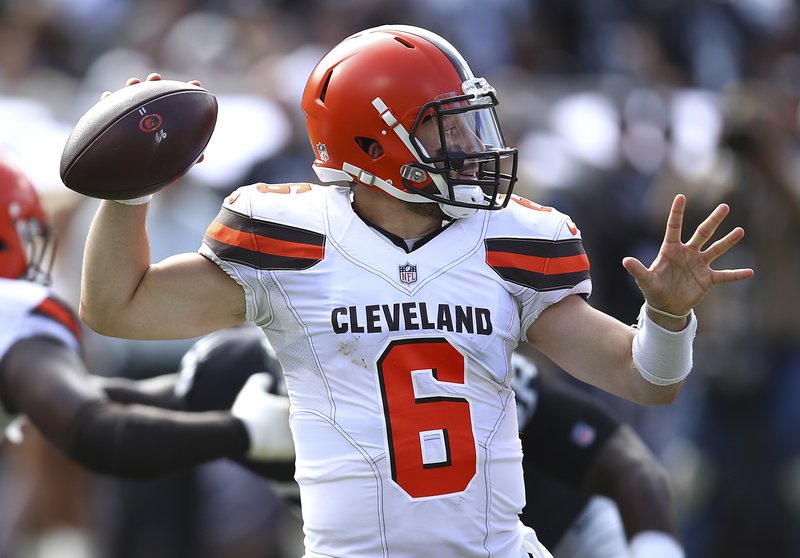 Sit: Russell Wilson (SEA)
Wilson draws a tough matchup against a Rams team that, simply put, does not know how to lose a game. The good news is that he could be playing catch up all game, which would obviously help him with volume. However, I'm not counting on him to have a great game this Sunday and is a sit for me.
Sit: Andy Dalton (CIN)
Dalton faces off against the Dolphins, who have been hit or miss every week. Their defense is decent, while their offense remains pretty sloppy. I think it's just too good to be true to think that Dalton will repeat his success from the past couple of weeks, and I think this is as good of a week as any to leave him on your bench.
Sit: Dak Prescott (DAL)
Not quite sure who the hell is starting Dak these days, but here's your reminder to not do it. He faces off against a Houston defense that has been punishing. Though they just surrendered a big game to Andrew Luck, I can't imagine them doing the same to a significantly less talented quarterback. I would expect Dallas to struggle mightily in this one.
Running Backs:
Start of the Week: Joe Mixon OR Giovani Bernard (CIN)
This one is tricky. If Bernard plays and Mixon doesn't, Bernard is a must start. If Mixon plays and Bernard doesn't, Mixon is a must start. However, if they both play, I'm not quite sure if either one has an incredible amount on standalone value, due to a timeshare for the two hobbled runners. If they both play, Mixon will definitely have more upside, and should be treated as an RB2 in his first week back from injury. Bernard will fall and should not even be considered a Flex option. To summarize, reread that "start of the week". Start Mixon OR Bernard, but pay close attention to the injury reports leading up to the game.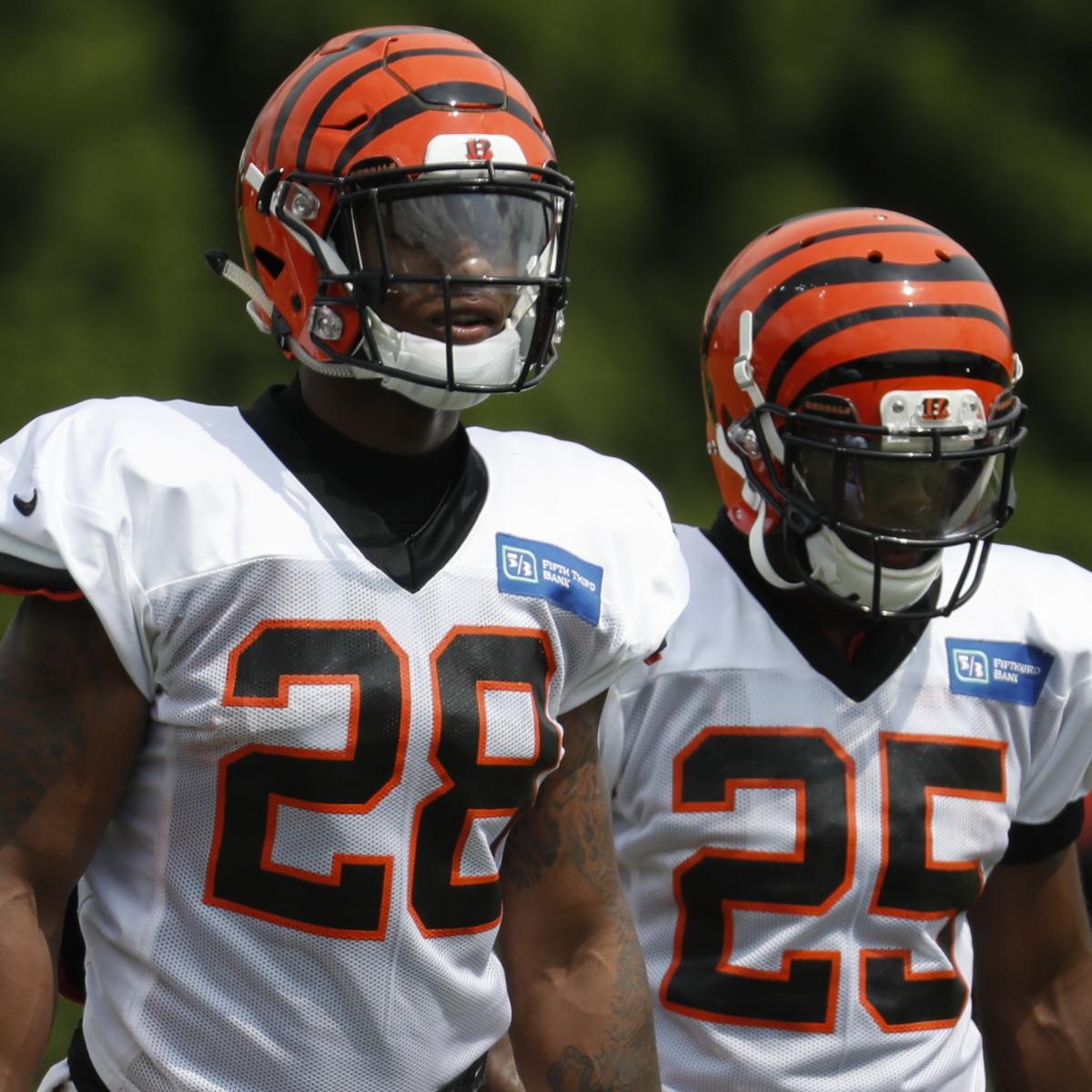 Start: Matt Breida (SF)
Arizona sucks against the run and that's really all San Francisco is going to have going for them for the rest of the season. Breida has also seen his snap share increase over the last few weeks, and I would expect that trend to keep moving in a positive direction. Breida, although will be keyed on hard by the Cardinals, should be considered no worse than an RB2 this week.
Start: T.J. Yeldon (JAX)
Leonard Fournette is out again and its starting to look like Yeldon could have more games played than Fournette by the end of this season. Though he is not as talented as Fournette, he has been and will continue to be leaned on heavily in Fournette's absence, making him an incredibly strong play against a horrible Kansas City defense in week 5.
Start: James White AND Sony Michel (NE)
Another weird double header starter, however this one is telling you to start BOTH of those Patriots running backs. These two combined for nearly 50 PPR points last week and could see a similar trend against an exhausted Colts' defense in week 5. I'd predict another 20+ carries for Michel and another 8-10 touches for White.
Sit of the Week: Jay Ajayi (PHI)
I can't stress this enough: Jay Ajayi is literally the definition of touchdown dependent. However, many of you keep starting him. Stop. Doing. That. I can only put this guy on my Sit 'Em list so many times before I get accused of being unoriginal. Stop playing Ajayi!
Sit: Adrian Peterson (WAS)
Washington draws a matchup against New Orleans, who have been tough on non-catching running backs so far. I would expect Chris Thompson to have a solid game out of the backfield, but I think this is a week that AP is going to need to find pay dirt to really be relevant in fantasy. You could do much better than All Day in week 5.
Sit: Dalvin Cook (MIN)
Yikes… what happened to Cook? I'm not sure if it's the injuries or just the game scripts, but Dalvin Cook looks like a dud. The Vikings draw a tough rematch against Philly, in what will surely be one of the most intense games of the week. I'm still not trusting Cook this week, and probably won't until he has a big game and proves me wrong about calling him a Sit 'Em. Many of you might be stuck starting him this week… but if you picked up a guy like Nyheim Hines off of waivers (I think he's gonna have a really good week by the way…), you could definitely start him over Cook.
Sit: Kenyan Drake (MIA)
Drake was out-snapped and out-played by Frank Gore. I've been saying this since June: Kenyan Drake is a bust. In fact, he's been dropped in half of my leagues, and I sure as hell will not be the one to pick him up. I think the entire Miami offense is dead, and Drake helped kill it. Avoid Drake for the rest of the season unless Gore goes down with an injury.
Wide Receivers:
Start of the Week: Calvin Ridley (ATL)
Ridley is going to destroy the Steelers. Their defense has been absolutely laughable and gives me no reason to believe that Ridley will be held to a mediocre game. Much like you did last week, fire him up with confidence.
Start: Julian Edelman (NE)
He's back and it could not be at a better time for the Patriots. Edelman will immediately regain his WR1 role on that offense and should be targeted heavily (because you KNOW Tom Brady missed him). As I said earlier, the Colts' defense has to be exhausted from their overtime loss to the Texans, which should make for some smooth sailing for Edelman.
Start: Mike Williams (LAC)
Williams disappointed last week but should be able to redeem himself against an Oakland Raiders' defense that surrendered 42 points to the Cleveland Browns in week 4. I would expect Philip Rivers to have a monster game in this scenario, which should bode well for Williams. He's going to bounce back this week and you're going to be pumped that you started him.
Start: Jamison Crowder (WAS)
Much like I said about Sterling Shepard last week, Crowder draws a New Orleans' defense that has allowed at least one receiver each week to completely pop off. This week, I think that could be Jamison Crowder. If you have a guy on a BYE, or are desperate for a Flex start, Crowder could very well be your answer. His floor should be respectable, but his ceiling may be the highest this week that it will be all season. Fire him up if you need a sleeper this week, he could pay off big time.
Sit of the Week: Sammy Watkins (KC)
The Chiefs square off against the Jaguars. The Jaguars are VERY good on the defensive side of the football. I think this is a week where Patrick Mahomes struggles, meaning that the only real receiving threat on the outside in this game will be Tyreek Hill and his ridiculous speed. I've never been sold on Watkins, and I think he is definitely a sit in a tough week-5 matchup.
Sit: Devin Funchess (CAR)
Funchess has seen a huge decrease in usage this season… speaking as a Panthers' fan, I could've told you that was coming. Carolina's OC Norv Turner loves leaning on Cam Newton and Christian McCaffrey. That's exactly what they'll do in their matchup against the Giants. I think Funchess should be a bust this week, and given the amount of receivers we've seen on the waiver wire, you could do much better than him for fantasy purposes in week 5.
Sit: Josh Gordon (NE)
If you read my article last week, you know how I feel about Gordon. Do I think he's going to be a good fit for the Patriots? Yes, yes I do. But I don't think it's his time yet. Plus, the return of Edelman will surely turn Brady's attention to him, and I just don't like Gordon's odds to be a producer on this offense just yet.
Sit: Doug Baldwin (SEA)
Baldwin is a phenomenal receiver but I just can't seem to trust him yet. He's still nursing that injury and he's still drawing top coverage. Granted, the Rams' defense is a bit injury-ridden right now, but Baldwin will still be their prime focus and should be marked up pretty well. I'm hoping that I'm wrong about this one, as I'm forced to start him in my home league this week, but I just can't imagine Baldwin being a real asset in any format this week.
Tight Ends:
Start of the Week: Jordan Reed (WAS)
He's had double-digit fantasy points three weeks in a row now in PPR formats and given that the tight end position is horrendous this year, that's really all you can ask for. Expect another double-digit game from Reed as he faces off against the Saints and their non-existent defense
Start: Jared Cook (OAK)
Cook may just be matchup proof and that… just feels weird to say. I think regardless of who he's playing, you gotta start him. I'm definitely firing him up with confidence against the Chargers this week.
Start: Austin Hooper (ATL)
As I keep saying, the Steelers' defense is atrocious, and the tight end position is so shallow this year. Put 2 and 2 together… start Hooper this week.
Start: Vance McDonald (PIT)
This is the same as Hooper's definition, except replace the world "Steelers" with "Falcons". Plus, McDonald has actually been a valuable part of the Pittsburgh offense. I like him a lot in week 5.
Sit of the Week: David Njoku (CLE)
Man, I am so tired about writing about this guy. Just bench him. I don't trust him anymore. It took him five quarters of football to scrap 10 points last week and would've had yet another week of only six points if it weren't for overtime. They're not looking his way, nor do they really need to. You can stash him for now, but I wouldn't play him.
Sit: Kyle Rudolph (MIN)
The Eagles hold tight ends in check, and I think they'll be able to continue that success against Kyle Rudolph. I mean, it's tough to bench him with how terrible the tight end position has been this season, but if you have a different guy that you can stream based on matchups, I'm thinking you gotta do it.
Sit: Antonio Gates (LAC)
He's just another touchdown-dependent guy that really only gets targeted in the redzone. He's practically not needed on the Chargers' offense, and I wouldn't expect them to start heavily using him anytime soon.
Sit: Benjamin Watson (NO)
For an offense as high scoring as this one, it comes to me as a surprise that their tight end is useless. However, Watson is definitely useless, and I wouldn't even say he's touchdown dependent… he's just not roster-able in general.
Be sure to check out the latest episode of the Loaded Box Podcast as the guys get you set for week 5 in the NFL with their daily fantasy sports stacks and bargain plays of the week to go along with their against the spread gambling advice!
Mikey Ostrowski is a blogger for the Loaded Box Podcast.  Check out his article archive and find more from the Loaded Box on Twitter & Facebook