One of the best days of the year – the opening day of the NFL Draft – is in the books and we're here to bring you our grades and recap for all 32 selections.
In a first round that featured several head scratchers and an array of trades, the night did not disappoint as the Cardinals, Giants and Redskins all selected their future franchise quarterbacks while the Redskins also capitalized on the fall of edge rusher, Montez Sweat.
Before we all fall back into draft mode Friday evening with the second and third rounds, let's dive into the first-round picks with recaps and grades for all 32 picks!
1. Arizona Cardinals: Kyler Murray, QB, Oklahoma
The Cardinals milked the clock – interpret that however you'd like – and ended up selecting the player most of us expected them to take with the first overall pick. The writing is now on the wall for Josh Rosen, who didn't last long in Arizona, but the team now belongs to Murray who will try to become the next "undersized" QB to find success at the next level
Grade: B
2. San Francisco 49ers: Nick Bosa, EDGE, Ohio St.
San Francisco continues to invest in its defensive line by adding this draft's most complete edge rusher. In a hypothetical draft where the team picking first isn't in the market for a QB, Bosa would likely be the first-overall pick, so adding this type of playmaker on the edge is a potential game changer down the road for a team that should improve drastically in 2019 with a healthy Jimmy Garoppolo
Grade: A
3. New York Jets: Quinnen Williams, DT, Alabama
Adding Williams provides the Jets with another young stud on defense, joining the core of Jamal Adams, C.J. Mosley, Leonard Williams, and Marcus Adams. Despite the offseason addition of Le'Veon Bell, they still need to add offensive playmakers in this draft, but adding Williams helps strengthen the defense and takes some pressure off Sam Darnold by not having to compete in shootouts each week
Grade: A-
4. Oakland Raiders: Clelin Ferrell, EDGE, Clemson
The first shocker of the draft! Oakland decided to play it safe and select Ferrell to fill in at the edge rusher position rather than Kentucky's Josh Allen. Ferrell can impact the game both as a pass rusher and as an edge setter in the run game, so despite the pick looking like a reach, I see it more as getting a quality player with a safer floor than some of the alternative options at edge rusher
Grade: B+
5. Tampa Bay Buccaneers: Devin White, LB, LSU
After losing Kwon Alexander in free agency, White becomes a mixture of best player available while addressing a position of need, making it one of the best picks they could have made at No. 5 in the draft. White can fly sideline to sideline and is a tackling machine, so even though he doesn't play what's considered the most impactful position in football, he should be a staple of this defense for years to come
Grade: A
6. New York Giants: Daniel Jones, QB, Duke
Why? With another pick in the top-20, you mean to tell me the Giants had to pick Jones here? I get the idea of selecting your guy when you're on the clock, but this pick – unfortunately for Giants' fans – is par for the course when you consider Dave Gettleman is calling the shots
Grade: C-
7. Jacksonville Jaguars: Josh Allen, EDGE, Kentucky
Landing one of the most explosive edge rushers in the draft at No. 7 is a win for the Jaguars. While I think they should have invested in an offensive lineman to protect recently acquired QB Nick Foles, it's hard to pass on a dynamic edge rusher who most didn't think would escape the top five. For a team that prides itself on its defense, Allen will benefit by playing alongside some talented teammates
Grade: B+
8. Detroit Lions: T.J. Hockenson, TE, Iowa
The Lions elected to go with a tight end at No. 8 despite never showing the ability to successfully utilize a TE during the Matthew Stafford era. While Hockenson is the best tight end in the draft, the Lions have plenty of other needs that would have been better options here, in my opinion
Grade: C+
9. Buffalo Bills: Ed Oliver, DL, Houston
Commonly mocked to the Bills, Oliver was a consensus top-five pick prior to the 2018 college football season. Replacing recently retired Kyle Williams with Oliver is a solid move for the team, but Oliver is alleged to have some personality issues, so it'll be interesting to see how his career plays out. Buffalo was most intimidating when it had a dominant defensive line, so adding Oliver may help the Bills get back to their roots of winning games thanks in large part to the defense
Grade: B+
10. Pittsburgh Steelers (via trade w/ Den): Devin Bush, LB, Michigan
The Steelers have been in the market for a solid playmaker at linebacker since the injury to Ryan Shazier basically ended his career a couple years back, so moving up to get their guy in Bush was likely the right move. After dealing Antonio Brown to the Raiders this offseason, I thought there may be a chance they were targeting a wide receiver after trading up, but Bush likely wasn't going to last to No. 20, making this a nice pick for Pittsburgh
Grade: B+
11. Cincinnati Bengals: Jonah Williams, OL, Alabama
Williams is a nice pick for a team looking to address the offensive line, but this was the Bengals' opportunity to address the quarterback position with Dwayne Haskins and Drew Lock still on the board. So while Williams is a nice pick at this point in the draft, I believe it's one they'll regret three years from now while they're still struggling at the QB position
Grade: B
12. Green Bay Packers: Rashan Gary, EDGE, Michigan
Green Bay added both Za'Darius Smith and Preston Smith in free agency this year, but did the smart thing by continuing to add to the edge rusher position by selecting Gary. While Gary never lived up to his reputation as the No. 1 ranked defensive lineman recruit while in high school, the potential is there and being eased into the game as a situational pass rusher his rookie year may be a nice advantage for him. It would have been nice to see the Packers add another offensive playmaker for Aaron Rodgers, but the defense has been a liability for quite some time now, making Gary's selection a good one for Green Bay
Grade: B+
13. Miami Dolphins: Christian Wilkins, DL, Clemson
The Dolphins' beat writers had this one pegged, and the team stayed true to their word by not selecting a quarterback in the first round of the 2019 draft. Miami has holes at multiple positions on both sides of the ball, so the selection of Wilkins is another example of what the team considered best player available/addressing position of need. With the Dolphins looking to incorporate both 4-3 and 3-4 defensive looks this season, Wilkins provides the versatility to stay on the field regardless of the defensive front they're in
Grade: A-
14. Atlanta Falcons: Chris Lindstrom, OL, Boston College
Another shocker as it looked like the Falcons would select a defensive player with this pick, but instead, they opted to solidify the offensive line and add more protection for Matt Ryan. I personally feel that if Lindstrom was their guy, they could have possibly traded back into the 20's and grabbed him, but obviously that ended up not being the case. Are we in for another year of the defense being the weak link in Atlanta?
Grade: C-
15. Washington Redskins: Dwayne Haskins, QB, Ohio St.
The Redskins stayed put and grabbed arguably the most NFL-ready QB in the draft. What I like about this pick is the Redskins realized that Case Keenum isn't the long-term answer at the position, unlike Denver last season, and made a move to do something about it. He won't be asked to start on day one, which will allow him time to grow, and if he can get the correct coaching while incorporating a healthy diet, he could turn out to be the most impactful player selected in this draft
Grade: A-
16. Carolina Panthers: Brian Burns, EDGE, Florida St.
Burns is an interesting prospect with high upside, but Jawaan Taylor should have been the pick here with the need the Panthers have at offensive line – especially since very few saw him falling to No. 16. Burns is a tall, lighter-sized edge rusher so he my struggle early in his career before he puts on some extra weight; but he'll be an interesting project for a team that still had a need at the position
Grade: B
17. New York Giants (via trade w/ Cle): Dexter Lawrence, DL, Clemson
It's hard to deny the impact that Lawrence provides on the defensive line, I'm just a little surprised offensive line wasn't the pick after selecting their future QB at No. 6. The Giants had a need at defensive tackle as well, so the pick hits on a team need, but it will be interesting to see which of these three Clemson defensive lineman struggles at the next level since it's hard to believe they all find instant success
Grade: B
18. Minnesota Vikings: Garrett Bradbury, OL, NC St.
The Vikings selecting a first-round offensive lineman was the worst-kept secret in the entire 2019 NFL Draft. They grabbed some versatility here with Bradbury, and the pick should hopefully benefit the likes of Dalvin Cook and Kirk Cousins in the very near future as there isn't going to be a lot of competition for Bradbury from day one
Grade: B+
19. Tennessee Titans: Jeffery Simmons, DT, Mississippi St.
Tennessee has a need for interior defensive line, unfortunately, Simmons won't be filling that need anytime soon as he's likely going to miss the entire 2019 season following his offseason injury. Additionally, Simmons has some off-field issues, as we saw the video during the broadcast of the NFL Draft, so this pick seems a little risky for a team with plenty of other holes to fill
Grade: C-
20. Denver Broncos (via trade w/ Pit): Noah Fant, TE, Iowa
Joe Flacco is your quarterback. Let me repeat that – Joe Flacco is your quarterback. I get that Fant can be impactful at tight end for years to come, but does he warrant pick No. 20 with the needs Denver has and the high-quality players that are still on the board? Not a huge fan of this pick, seems like a move they'll regret in the not-so-distant future
Grade: C
21. Green Bay Packers (via trade w/ Sea): Darnell Savage, S, Maryland
Not gonna lie, I did not see this coming. First, I didn't think Green Bay would trade up to this spot, and second, I'm shocked Savage was the first defensive back selected. Despite rumors of Savage climbing draft boards, I think they could have stayed at No. 30 and landed Savage; but hey, they had the draft capital and took their shot
Grade: D+
22. Philadelphia Eagles (via trade w/ Balt): Andre Dillard, OL, Wash. St.
With the top cornerbacks all still on the board, the majority of analysts believed the Eagles trading up to No. 22 meant they were going after one of the draft's best CB's. Dillard makes sense for a team that needs to protect Carson Wentz while also committing more to the run, but it's still a bit of a head scratcher
Grade: B
23. Houston Texans: Tytus Howard, OL, Alabama St.
Who? Sure, the Texans needed help on the offensive line, but Howard? Did they forget Jawaan Taylor and Cody Ford are still on the board? This is last year's Rashaad Penny selection. Easily the worst pick of the first round
Grade: D
24. Oakland Raiders (via trade w/ Chi): Josh Jacobs, RB, Alabama
The Raiders, as several predicted, are the first team to select a RB in the 2019 draft. Jacobs made a name for himself in this last year's College Football Playoffs and has parlayed his performance into a first-round selection on a team that needs help at running back. Jon Gruden gets his new toy on offense after going edge rusher at No. 4, so despite additional needs on the defensive side of the ball, Jacobs will make an impact on this team sooner rather than later
Grade: B+
25. Baltimore Ravens (via trade w/ Phi): Marquise Brown, WR, Oklahoma
The Ravens made the right call by addressing the WR position, however, I'm not sure Brown is the right pick here to pair with the skillset of Lamar Jackson. A.J. Brown would have been the wide receiver I preferred here, but the Ravens may be looking for playmakers that can spread the field and connect with on deep shots after lulling opposing defenses to sleep with the run game
Grade: B
26. Washington Redskins (via trade w/ Ind): Montez Sweat, EDGE, Miss. St.
You could say that the drop of Sweat was the story of Thursday's first round. This guy's NFL Combine performance propelled him into the top 10 of most mock drafts, so falling to No. 26 is quite a surprise. The Redskins are the early winners of the draft after selecting their quarterback of the future while stealing one of the top-rated edge rushers late in the first round. We'll have to monitor Sweat's health as we move forward, but as far as tonight goes, it looks like a steal to me
Grade: A-
27. Oakland Raiders (via trade w/ Dal): Johnathan Abram, S, Miss. St.
I went into this draft feeling that it would be considered a success for Oakland if it landed two future starters on the defensive side of the ball. I'm a little surprised they didn't go CB here, but Abram is a nice pick they can count on to help solidify the secondary for years to come
Grade: B
28. Los Angeles Chargers: Jerry Tillery, DL, Notre Dame
The Chargers entered the draft with the luxury of truly selecting best player available due to being a fairly balanced team. Tillery adds depth as a quality player at a position that several feel they needed to address this offseason, so the Chargers should be able to walk away from the first round feeling pretty confident in their selection
Grade: B+
29. Seattle Seahawks (via trade w/ K.C.): L.J. Collier, EDGE, TCU
A bit of a surprise, but Collier is an athletic pass rusher that flew under the radar playing at TCU. He's the type of player you want on the field due to his athleticism and playmaking ability, it just may take a little time for him to fully develop into a starting-quality rusher for the Seahawks
Grade: B
30. New York Giants (via trade w/ Sea): Deandre Baker, CB, Georgia
The Giants traded back into the first round to land the first true cornerback off the board. The selection fits a need in New York, and you could argue he was one of the best players available at this point in the first round. I'm a little surprised the pick wasn't Greedy Williams or Byron Murphy, but I can't argue too much with the pick since they addressed a position of need and got their top-ranked guy at the position
Grade: B+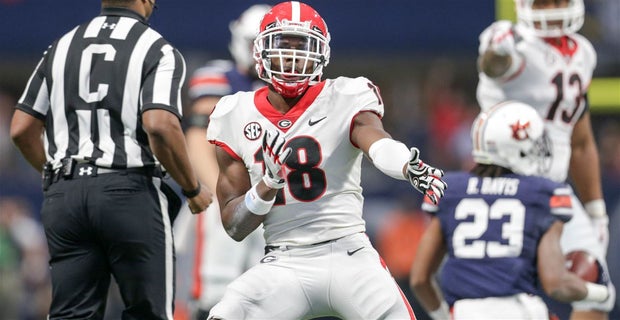 31. Atlanta Falcons (via trade w/ LAR): Kaleb McGary, OL, Washington
I'd be lying if I tried to tell you much about McGary's on-field performance, but I will tell you that I'm really surprised that the Falcons traded up to snag another offensive lineman on day one. I didn't see them going o-line at No. 14, and definitely didn't think o-line would be the selection once they traded back into the first round. It's a pair of unsexy picks for Atlanta in the first round, but sometimes that's what it takes when you want to build inside out
Grade: C+
32. New England Patriots: N'Keal Harry, WR, Arizona St.
Surprised that this pick was a wide receiver not named D.K. Metcalf or A.J. Brown, but the selection of Harry is another example of the Patriots not making any drastic moves in the first round and still landing a quality player at a position of need. Harry will benefit from playing with and learning from Tom Brady, and will be a player the team counts on to produce in the post-Brady era
Grade: A-
Let us know your thoughts on the first round in the comments below!
Ben Morgan is a co-host and blogger for the Loaded Box Podcast. Check out his article archive and find more from the Loaded Box on Twitter & Facebook