Saturday's New Year's Six College Football games are 2018's ultimate convergence of occurrences. Now that I've gotten that first weird sentence out of the way, let me explain.
Take a look at how perfect everything lines up here:
The New Year's six games (Florida vs. Michigan, 11am CST; Notre Dame vs. Clemson, 3pm CST; Oklahoma vs. Alabama, 7pm CST) not only project to be exciting games for different reasons, but (obviously) the final two games determine who plays for the College Football National Championship
These games fall on a Saturday this year, compared to Monday last year, allowing you to indulge in everyone's favorite pastime, day drinking
In the event you don't handle hangovers like you did in your early 20s, these games being played on Saturday allow you all day Sunday, and the majority of Monday, to recover in time to join everyone drinking again Monday night on New Year's Eve
On Sunday after you've pried your eyes open, found your Vitamin Water and downed that greasy breakfast sandwich, your couch will be waiting for you to give it a 10-hour workout as you soak in 16 NFL games since there is no Monday Night Football in Week 17 of the NFL
If this doesn't sound like something you're interested in, you can stop reading at this point and we can part as friends. However, if you're intrigued by this amount of football, alcohol and pure bachelorism, take a look at how I'd go about tackling the day.
Chick-Fil-A Peach Bowl
Florida Gators vs. Michigan Wolverines
Line: Michigan -6; Over/Under: 51
Before this game even kicks off you have some homework to accomplish that will be essential to your weekend.
Water. Water. Water.
I recommend putting down at least 100 ounces of water throughout the day on Friday to prepare your body for this marathon. If you're of a certain age and hangovers don't set you back a day or two yet, this isn't as important, but for those of us who wake up feeling like they were ran over by the beer truck that we emptied into our bodies the day before, this is a crucial step you'll want to follow.
So now that you're hydrated, here's the way to attack Saturday's first game – start with beer.
Some people believe drinking beer will fill you up, but I have a feeling that if you're reading this article, you've done your fair share of beer drinking and this won't be an issue.
Sticking to beer for the entirety of the first game will do a few different things for you. First, you're not going to be tempted by mixing up a couple of home pours, causing you to get too drunk too early. Second, putting back a few beers is going to allow you to catch a little buzz by the third or fourth quarter, putting you in the perfect position to perform at peak performance later in the day. And lastly, it's convenient, allowing you to either fire up the grill or make a solid meal inside (weather dependent on this one) providing you some much-needed nutrients to form that base that you'll need in order to drink throughout the day.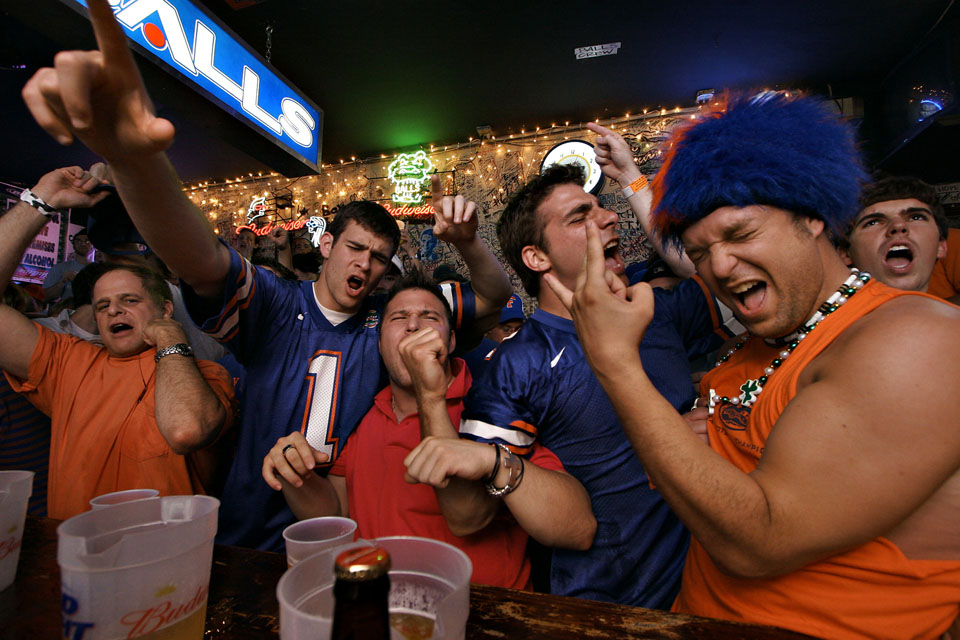 Goodyear Cotton Bowl Classic
Notre Dame Fighting Irish vs. Clemson Tigers
Line: Clemson -13; Over/Under: 56
This is the game where you can start working in those mixers. The beer and food from game one has provided you with the base you need to turn things up a little bit, so give it a go.
Just before kickoff go ahead and give yourself one of those home pours. If it goes down well, which you know it will, go ahead and mix another one up.
However, how you handle these first few mixers can make or break your day. If you find yourself a tad more intoxicated than you imagined by halftime, it might be time for you to switch back to beer. If you don't want to switch back to beer, change your home pour to a more standard mixed drink. There's no shame in slowing down a bit to ensure you make it to game three.
This game is perfect for appetizers/snacks. You're going to be busy mixing up drinks, putting down those drinks, and getting a little nervous that Notre Dame isn't going to stay within 13, so you won't have time to prepare another meal.
Throw in a frozen pizza or set out some chips and dip for you and your crew to snack on as your buzz from game one turns into a comfortable drunk.
Capital One Orange Bowl
Oklahoma Sooners vs. Alabama Crimson Tide
Line: Alabama -14; Over/Under: 76
This is it. The night cap. It's time to take your drunkeness to the next level, ensuring that you're loud and slurring as you scream for more points after thinking betting the over would be a good idea since points are fun when you're drunk.
At this point in the night you've gotta go with the drink that's gotten you this far. If you were feeling the beer and you want to keep pounding, keep popping those tops. In the event those home pours were hitting the spot, make sure that bottle is never too far away.
Food is likely the least of your worries at this point, but the drunk version of you is going to be craving something. You're in no position to play around with the grill again, and you're not going to want to spend your time preparing another meal, so this is where you pull out the wild card.
Make sure that you bought some wings earlier in the week that you can throw into the oven just before halftime of this game. Wings are simple, everyone likes them, and they aren't going to fill you up or kill the drunk that you've spent all day crafting.
Also, here's where you ensure that you'll be ready to pass out shortly after the game. It's time to break out some shots.
There are a few ways to do this and it's dependent on what you and your drinking buddies prefer. If you're hardcore and can really handle some liquor, go ahead and start shooting the straight shots of whisky (or whatever your prefer). If you just like the idea of passing a bottle around when you're good and wasted, I recommend a flavored liqueur such as Dr. McGillicuddy's. Or if you don't want to feel tied down and you want some variety in your life, you can always find variety packs of different shots at your local liquor store.
If you followed all of these steps it's pretty safe to say you're going to have yourself one of the best Saturdays you've had in 2018. If you followed all of these steps and didn't enjoy your day, I'm curious to know why you read the article and followed through with it. And if you followed all of these steps and somehow didn't end up in the fetal position for the majority of Sunday, please let me know so that you can write the 2019 version of this article.
I've also taken the liberty of creating your shopping list for you. So grab a screenshot of this and take it to the grocery store so that you're prepared.
Shopping List:
Vitamin water
Beer
Hard liquor
Eggs
Bacon
Bread/your preference for what holds your sandwich
Frozen pizza
Wings
Wing sauces
Chips
Dip for chips
Meat for grilling
Charcoal (if needed)
Lighter fluid (if needed)
Ice (if needed)
Paper plates (no one wants to do dishes hungover)
Paper towel (you're going to spill)
Enjoy – and let us know how you're feeling if you decided to play along!
Be sure to check out the latest episode of the Loaded Box Podcast as the guys talk bargain plays for your NFL Week 17 DFS lineups and discuss their top hits/misses from the fantasy season!
Ben Morgan is a co-host and blogger for the Loaded Box Podcast. Check out his article archive and find more from the Loaded Box on Twitter & Facebook